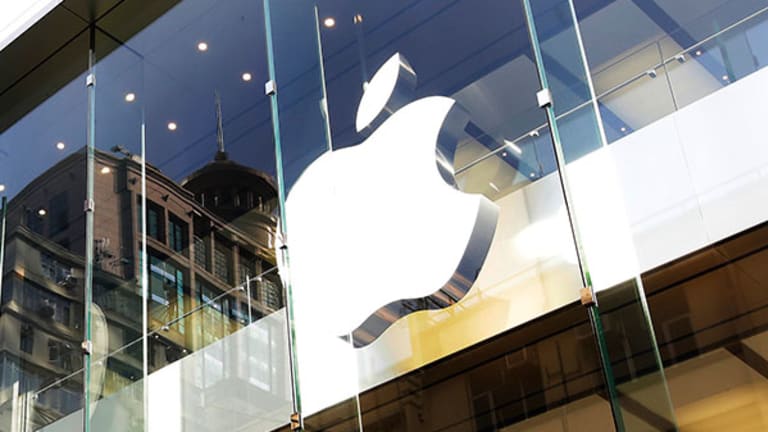 Apple Q2 Earnings Live Blog Recap
Apple's fiscal second-quarter earnings blew past Wall Street's estimates sending shares roughly 8% higher in after-hours trading.
This story has been updated from 4:08 p.m. EST.
NEW YORK (TheStreet) -- Apple's  (AAPL) - Get Apple Inc. Report fiscal second-quarter earnings blew past Wall Street's estimates sending shares roughly 8% higher in after-hours trading.
Apple reported second-quarter earnings of $11.62 a share, generating $45.6 billion in revenue. The company shipped 43.7 million iPhones, 16.4 million iPads, and shipped 4.1 million Macs during the quarter. Gross margin, a highly watched level for Apple, came in at 39.3%.
Shares were up 7.7% to $565.15 in post markets.
"We're very proud of our quarterly results, especially our strong iPhone sales and record revenue from services," said Tim Cook, Apple's CEO. "We're eagerly looking forward to introducing more new products and services that only Apple could bring to market."
"We generated $13.5 billion in cash flow from operations and returned almost $21 billion in cash to shareholders through dividends and share repurchases during the March quarter," said Peter Oppenheimer, Apple's CFO. "That brings cumulative payments under our capital return program to $66 billion."
Analysts surveyed by Thomson Reuters were expecting the Cupertino, Calif.-based Apple to report earnings of $10.18 a share on $43.53 billion in revenue, which would be a slight decline in revenue year over year, as Apple continues to promise new products and new categories.
Apple also announced that it was upping its capital allocation program to over $130 billion by the end of calendar year 2015. As part of the program, the Board increased its share repurchase authorization to $90 billion from $60 billion, and boosted its quarterly dividend by 8%, to $3.29 a share. "The Company also plans to increase its dividend on an annual basis. With annual payments of $11 billion, Apple is among the largest dividend payers in the world," the company said in the release.
From August 2012 through March 2014, Apple has spent $66 billion in cash on its capital return program.
Apple will access the public debt markets this year to help paying for the program, and raise an "amount of term debt similar to what the Company raised during 2013."
"We are announcing a significant increase to our capital return program," Cook said, when discussing the allocation program. "We're confident in Apple's future and see tremendous value in Apple's stock, so we're continuing to allocate the majority of our program to share repurchases. We're also happy to be increasing our dividend for the second time in less than two years."
The Board of Directors also announced a seven-for-one stock split, effective June 2, 2014. Shares will will begin trading on a split-adjusted basis on June 9, 2014.
For the fiscal third quarter, Apple expects revenue between $36 billion and $38 billion. Gross margin is expected to be between 37% and 38%, while operating expenses are expected between $4.4 billion and $4.5 billion.
Apple said on the call that $46 billion of the current $60 billion buyback has already been used and that $66 billion of the total $100 billion in buybacks and dividends has been used already. Cook added that Apple wants to make its stock more accessible to a larger number of investors and a reason for the split.
Apple executives did not mention any details in regards to the next iPhone on the call, but Cook said the key thing for Apple is to "stay focused on things we can do best, and do things at a really high level of quality that our customers have come to expect." Cook added that the company cares about "every detail."
"Apple delivered a strong sales and EPS print in 2Q:FY14, while the company's 3Q:FY14 sales outlook is inline with our projections but below the Street; however, this is good enough to satisfy investors, in our view," writes Cantor Fitzgerald analyst Brian White in a research note.
Shares of Apple closed the regular session lower, falling 1.3% to close at $524.75.
--Written by Chris Ciaccia and Laurie Kulikowski in New York
>Contact by Email.