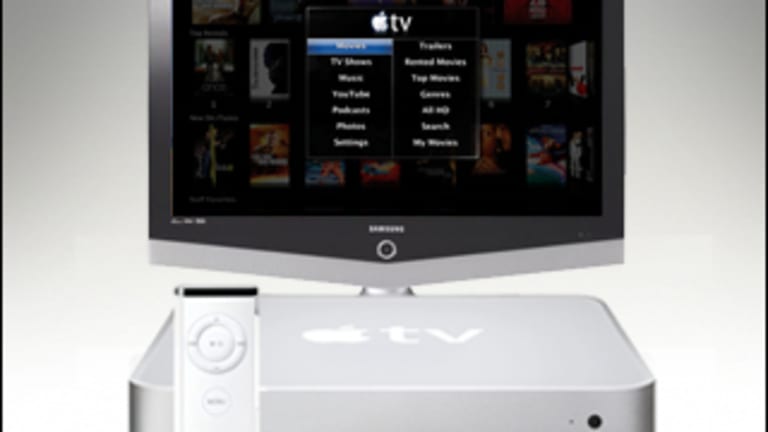 Apple Preparing a Mystery Feast for Hungry Fans
Apple is a company long known for its exceptionally aesthetically pleasing products that are simple to use and loved by millions. However, the company hasn't released anything new since the iPad in 2010, simply refreshing the iPhone, iPad and Mac over the past few years.
Updated from 10:10 a.m. to include news about Beats new product.
NEW YORK (TheStreet) -- Apple (AAPL) - Get Apple Inc. Report is a company long known for its exceptionally aesthetically pleasing products that are simple to use and loved by millions. However, the company hasn't released anything new since the iPad in 2010, simply refreshing the iPhone, iPad and Mac over the past few years.
That's all about to change, though.
Last night at the Re/Code conference, Apple Senior Vice President of Internet Software and Services Eddy Cue talked about Apple's product lineup for the second half of 2014, boasting that the company's product portfolio is the best in the 25 years he's been there.
Update: Though not done under Apple, Beats, which Apple just said it will acquire, announced a new headphone, the Solo2.
"I have been working with Tim [Cook] since 1997," Cue said during the interview with Walt Mossberg and Kara Swisher. "We started the online store together. Cook is extremely thorough, he has tremendous vision. He cares tremendously about building great products. Looking at the executive team, the reason we are successful is because of our focus. We are not smart enough to do 100 great things. We want to do a few incredible things, and that hasn't changed. We're going to keep going down that path... Later this year, we've got the best product pipeline that I've seen in my 25 years at Apple."
Given that Apple is a company known for looking at industries, be it music (iTunes and iPod), phones (iPhones) or tablets (iPad), waiting them out, and then surpassing the competition, it's surprising to hear Cue talk about a product portfolio and pipeline that is that strong, especially given how secretive Apple is with its plans. While Cue obviously did not give anything away, it's clear he's talking about several new initiatives and areas where Apple does not currently play, a fact that CEO Cook has said publicly in the past.
Recent speculation has surrounded Apple moving into wearable technology, with a device known as the iWatch, being one area where Apple does not currently participate.
Apple's rumored device is not set until at least the third quarter (most likely a Sept. release), so wearable technology market and its players have some time to figure it out before Apple comes in and dominates, just as it did with the iPod, iPhone and iPads.
The iWatch could initially be a much larger revenue driver for Apple than the iPod or the iPhone was, though that comes off a much larger customer base. "Our working assumption is that iWatch will largely be adopted as an accessory device and therefore sold into the existing customer base like the iPad rather than to new customers like the iPod or iPhone," Morgan Stanley analyst Katy Huberty wrote in February research note about Apple. "Assuming an ASP of $299 and Apple customer base penetration rate similar to the iPad, we see up to $17.5B of revenue in the first 12 months compared to $12B for the iPad and $2.5B for the iPhone."
With wearable technology set to become the next big thing, Apple is intent on moving into the health and fitness market from a software perspective, as well as a hardware perspective.
Apple may wind up announcing Healthbook, an app similar to Passbook, that will store all of your health and fitness related data in one place, on the software side.
Of the more notable features included in Healthbook, it tracks steps taken and calories, as well as monitoring things like blood pressure, oxygen levels, sleep activity and even monitors your breathing. There are several other features included in the app, but these are some of the most important.
It's expected that Apple will unveil Healthbook at next month's Worldwide Developer Conference, where it's expected to show off its next mobile operating system, iOS 8.

WATCH: More tech videos on TheStreet TV | More videos from Debra Borchardt
Following that, there's the potential for Apple to get into the mobile payments industry, something that has been seeking leadership and a standard for a few years. Companies like eBay (EBAY) - Get eBay Inc. Report with its PayPal unit, Square, BrainTree (also owned by eBay), Google (GOOG) - Get Alphabet Inc. Class C Report Wallet and a host of others have competed in the mobile payments space, but there appears to be no industry standard, as of yet.
On a recent earnings call, Cook noted the opportunity for Apple with mobile payments, using TouchID, a feature on the iPhone 5s. "The mobile payments area in general is one that we've been intrigued with, and that was one of the thoughts behind Touch ID," Cook said on Apple's fiscal first-quarter earnings call. "But we're not limiting ourselves just to that. So I don't have anything specific to announce today, but you can tell by looking at the demographics of our customers and the amount of commerce that goes through iOS devices versus the competition that it's a big opportunity on the platform."
Then there are other potential products, including the long-awaited Apple branded television, an iPad-MacBook hybrid, as well as product refreshes to the iPhone and Apple TV.
In a research note yesterday, Jefferies analyst Peter Misek laid out Apple's product roadmap, noting we can expect to see the next iPhone later this year, with the iTV potentially coming in 2015.
While the timeline of the product roadmap isn't quite clear yet, judging from Cue's boastfulness, as well as recent public comments from Cook, Apple's product pipeline is in terrific shape, countering a trend that has plagued the company since Steve Jobs passed away in Oct. 2011.
For all that's left to do, we simply play the waiting game.
Also See: How Apple's iWatch Can Help Wearables
Also See: Apple's Next Product Is Here
Also See: Here's Apple's Next Big Innovation
--Written by Chris Ciaccia in New York
>Contact by Email.