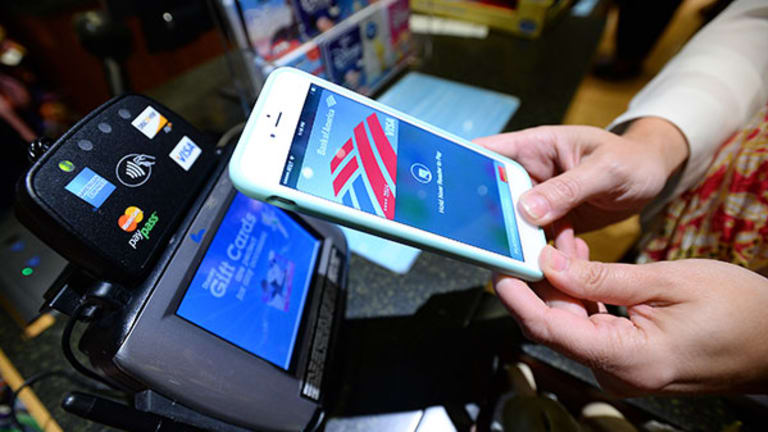 Apple Pay Is Steadily Making Gains on PayPal -- Report
More and more consumers seem to be trying out Apple Pay, possibly at the expense of PayPal.
More and more consumers seem to be trying out Apple Pay, possibly at the expense of PayPal.
NEW YORK (TheStreet) -- Just six months since its launching, Apple (AAPL) - Get Report Pay is already shifting the needle in the mobile payments space.
Apple Pay is the preferred method of mobile payments over both eBay's (EBAY) - Get Report PayPal and Google's (GOOG) - Get Report Wallet, according to a new survey from 451 Research's ChangeWave Service, which asked 4,168 consumers about their planned use of mobile payments. San Jose-based eBay is set to spin off PayPal later this year.
When asked which mobile payment service they planned to use in the next 90 days, 45% of respondents said Apple Pay, 28% said PayPal, and 13% said Google Wallet. That marks a 5-point jump for Apple Pay since December, and a 4-point drop for PayPal.
In June 2014, the roles were completely reversed, with 54% of respondents planning to use PayPal. That was before Apple Pay had launched, so the survey asked consumers about plans to use Apple Passbook, and 19% said they would.
Nine months later, the tables have turned.
Not only are consumers using Apple Pay more than PayPal, but they are also better pleased with that experience. Sixty-six percent of Apple Pay users were very satisfied with the service, compared with 45% of PayPal users and 33% of Google Wallet users.
"Apple has a unique ability to command a halo effect around nearly every product that it launches," said Jordan McKee, 451 Research's senior mobile payments analyst. "Paired with this, it has the largest issuers in the U.S. promoting its product in their branches and media ads, elevating the level of awareness significantly. Apple Pay is also a central component of the onboarding process of a new iPhone 6 or 6 Plus, thus eliminating steps on the path to adoption. Clearly, without an operating system, PayPal has more hurdles to overcome to gain users."
The survey also found that consumers who planned to own the Apple Watch were twice as likely to be interested in mobile payment apps as those who didn't.
While Apple is making strides, the survey also pointed to serious challenges in the mobile payment space overall. Only 11% of respondents said they were very likely to use mobile payment apps in the next 90 days, while another 14% said they were somewhat likely to do so. The total of 25% who are likely to use mobile payments is only up 1 point from December and up 6 points from a year ago.
One of the main factors holding consumers back is security.
Among those likely to use a mobile payment app, 84% said that the secure storage of financial account information was the most important feature.
Overall, 27% of respondents believe that mobile payment apps are less secure than traditional credit cards, and 24% believe the apps are more secure. That's an improvement from a year ago when 43% of respondents believed that apps were less secure, but it still demonstrates a significant obstacle for Apple, PayPal, Google, and any other players.
And as Apple continues to make gains, everyone involved is rushing to improve their mobile payment app and become the service of choice for consumers.
"The introduction of Apple Pay has catalyzed a wave of strategic moves across the mobile payments ecosystem," McKee said. "In the wake of Apple's entrance, Google and PayPal have made significant acquisitions, while players such as Facebook and Samsung are rolling out payment products to remain competitive. Moving forward, the pace of activity will only accelerate as vendors look to capitalize on the growing contactless payments infrastructure and secure a foothold in this rapidly evolving sector."