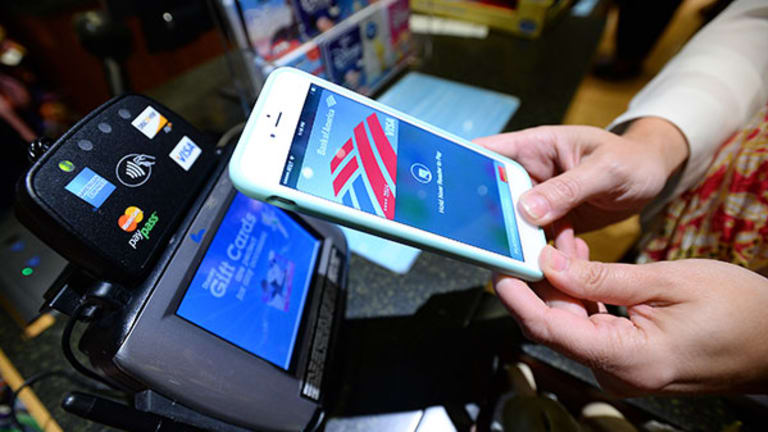 Apple Pay Adoption Rates Show It Still Has a Long Way to Go
While Apple Pay is gaining steam more quickly than its competitors, a new report suggests it still has a lot of work to do.
NEW YORK (TheStreet) -- When Apple (AAPL) - Get Apple Inc. Report announced its mobile wallet service Apple Pay last fall, it arguably brought the whole discussion around mobile payments to a new level. Nonetheless, a survey that came out Wednesday shows a long road ahead for the tech giant.
Just 13% of consumers who have the option to use Apple Pay have already done so, according to a survey from Kantar Worldpanel ComTech. Kantar surveyed 20,000 U.S. consumers, 3,800 of which owned an iPhone 6 or 6 Plus, the only smartphones that support Apple Pay.
Within that select pool of iPhone 6 or 6 Plus users in the U.S., only 13% have already used Apple Pay, and only 11% plan to do so in the future. The most common reason given for not using it was that their credit card worked just fine. Some cited a lack of understanding of the mobile wallet, and a few pointed to security concerns.
While the usage numbers may seem low, Kantar's Chief of Research Carolina Milanesi finds them to be encouraging, especially when compared to results for Google (GOOG) - Get Alphabet Inc. Report. Google introduced its mobile wallet program, Google Wallet, several years ago, and a March report from Kantar found that only 7% of U.S. Android users had used it. Apple on the other hand, has been in the game for less than a year.
"My sense was that they were positive numbers for Apple," Milanesi said. "If you compare it to the 7% of the Android side that is four years in and has a much broader availability of handsets that are compatible with NFC, then that 13% is looking pretty encouraging." NFC stands for near-field communications and is the technology that's used to tap a phone or device on a terminal to pay. 
Some of the other interesting findings in the report were that men tended to be more interested in Apple Pay than women, with men accounting for 59% of those who had tried Apple Pay and 55% of those who intended to use it. Not surprisingly, younger consumers accounted for more of the Apple Pay users as, well. Thirty percent of Apple Pay users fall between the ages of 25 and 34, and 23.5% are 16-24.
Apple's developer conference WWDC takes place next week, so it's likely that we'll hear more about Apple Pay then. The company is reportedly announcing new loyalty features, which could help spur adoption.
Google just unveiled more details about its alternative to Apple Pay at its developer conference IO. Android Pay is essentially Apple Pay for Android phones that are NFC-enabled. Samsung is also working on its own version, Samsung Pay, that would directly compete with Android Pay, though its plans have since been delayed slightly.
As the mobile payments race gets more and more crowded, reports like this one from Kantar raise the question of why all these technology companies are interested in it in the first place. Yes, they stand to gain data and lock consumers into their ecosystem, and perhaps get transaction fees, but consumer adoption has been very slow.
"At the end of the day, why consumers haven't taken on mobile payments more broadly is force of habit," Milanesi said. "What we're using currently, credit cards, it's not a broken system, so why do I need to do something else?"