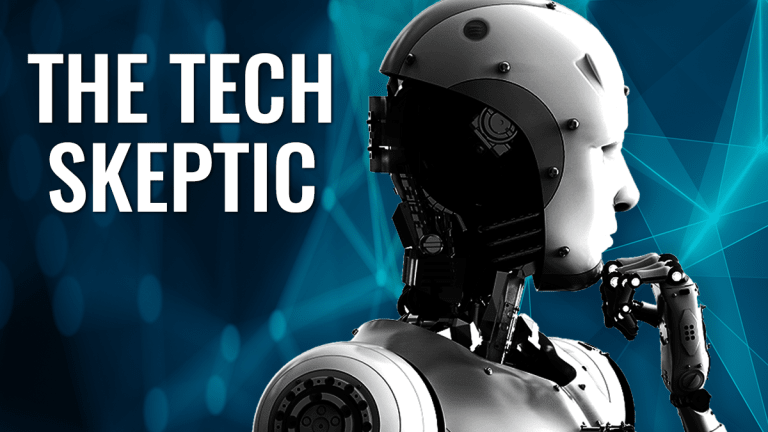 Apple's Next Big Breakthrough May Have Nothing to Do With the iPhone
Apple unveiled three new iPhones on Sept. 12, but the Apple Watch's forthcoming electrocardiogram app truly stole the show. Is Apple's next big breakthrough a common medical screening?
The latest iPhone X's may have set hearts aflutter this week, but worry not—if they fluttered a little too far, the newest Apple Watch just might save their lives. 
At Apple's September 12 event, the latest in an annual extravaganza that draws hundreds of journalists from across the world to see Apple's latest products up close, it was the Apple Watch Series 4—not the iPhone XS, XS Max and XR that Apple unveiled—that truly stole the show.
The Series 4 boasts a 30% bigger display, but its most interesting features aren't cosmetic. Thanks to two new sensors, Apple (AAPL) - Get Apple Inc. Report says that the Series 4 watch can detect heart abnormalities like atrial fibrillation, and you can use an app to take your own electrocardiogram (ECG/EKG).
The ECG app is FDA-approved; and to add some gravitas to the announcement, Apple brought onstage the president of the American Heart Association, Dr. Ivor Benjamin, who hailed the app as a "game-changing" tool to help doctors assess cardiovascular symptoms, which don't always present themselves during patient visits.
The ECG app earned some of the biggest applause at the event, and for good reason: Heart disease is the leading cause of death in the U.S., accounting for one out of every four deaths according to the CDC.
"Effective diagnosis of [atrial fibrillation] in particular can be very difficult and is often missed because it is irregular, and traditional approaches require the patient to be monitored while doing a stress test on a running machine for 15 minutes or wearing a halter monitor for a weekend," said Chris Steel, global healthcare lead at PA Consulting. "There is no guarantee that an episode will occur during those periods, which can lead to delays in diagnosis. I have personal direct experience with that."
So do millions of others—and millions more with either a family history or a loved one predisposed to heart disease. For individuals, the smartwatch could mean—at minimum—heightened awareness of heart health; and for Apple, it could mean a large untapped market: Evercore ISI analyst Ross Muken called the ECG app, which is the first over-the-counter consumer tool of its kind, "a pretty big deal" that shows how serious Apple is about health applications.
"This update really establishes the company's increasing efforts to push the watch as a serious medical device," Muken wrote in a note to investors.
Will customers shell out for the $399 Series 4 Apple Watch just to keep tabs on heart health? For some anecdotal evidence, I asked people on my Facebook page whether they'd consider buying the smartwatch for the ECG tool. Several said they'd strongly consider buying one for themselves, a spouse or a parent prone to heart issues, and some of the most enthusiastic responses came from people working in the medical field.
"I almost fell out of my seat when I heard Apple's EKG announcement," said Arnold Valentino, 36, a registered nurse in the San Francisco area, who said the feature made him more likely to buy the Series 4 watch.
Apple's ECG app isn't the first consumer ECG app on the market—there's another one called Kardiaband for example, which is a sensor attachment that's compatible with Apple Watch. And some experts are cautioning that Apple's ECG feature could produce false positives for people at low risk, sending people clamoring unnecessarily for medical attention at any sign of irregularity. Moreover, you need to own an iPhone to access the smartwatch's full range of utility—which could limit how many people would be willing to invest in the watch. 
"Apple will need to expand its marketing beyond the typical Apple Watch wearer to reach more at-risk populations," said Scott McFarland, president of health tech company HealthBI and former head of population health at Cleveland Clinic.
For Apple, it's hard to know what the precise impact of the ECG app could be on Apple Watch sales. Apple doesn't break out Watch sales in its earnings reports, but CEO Tim Cook said on Apple's July earnings call that the Apple Watch saw "record June quarter performance" withrevenue growth in the mid 40% range.
In a showcase that was otherwise dominated by three new versions of the iPhone X, differentiated largely by a new A12 chip, improved photo portraiture features and a lower price point for the iPhone XR—the Apple Watch stood out. 
Investors seem somewhat optimistic so far, with Apple's stock climbing about 1.3% since the Sept. 12 announcements. While iPhone sales have been an obsessively-watched metric in quarters past, no doubt investors will be keeping close watch on how the Apple Watch, which Apple COO Jeff Williams labeled the "ultimate guardian of your health," is received by customers. The Series 4 watch ships on Sept. 21 and the ECG app comes out later this year. 
Everybody loves a snazzy new phone, of course, but a healthy ticker is even more essential. And before long, we'll find out if it's also Apple's next big breakthrough.
Apple is a holding in Jim Cramer's Action Alerts PLUS member club. Want to be alerted before Jim Cramer buys or sells AAPL? Learn more now.
Start, and end, your trading day right with TheStreet's 'Daily Snapshot' on your favorite smart-speaker. Learn more about TheStreet's market coverage for your trusted smart-speaker here.