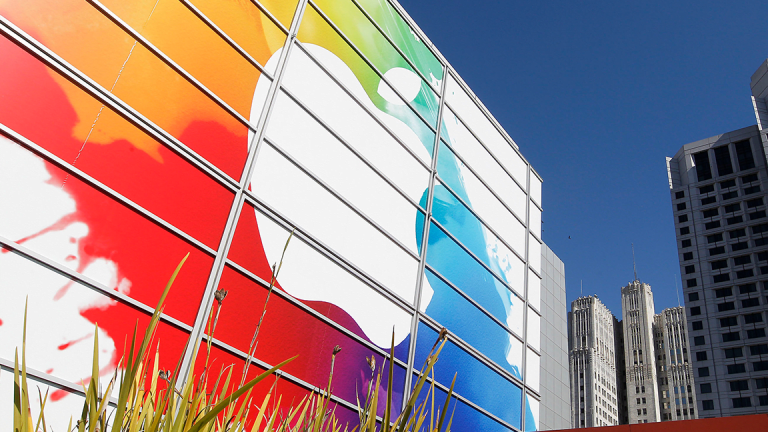 On Wednesday evening, a report hit the wires regarding a partnership between Apple Inc. (AAPL) - Get Apple Inc. (AAPL) Report and Volkswagen ADR (VLKAY) for self-driving cars.
Now we're talking, right?
A tech giant worth nearly $1 trillion partnering with a global automotive titan that shipped more than 10 million vehicles last year and owns high-end brands like Bentley, Audi, Lamborghini, Porsche and Bugatti.
This could be an epic partnership -- and maybe someday it will. But it won't be this year.
Instead, Apple partnered with Volkswagen to retrofit some of its T6 Transporter passenger vans to use as autonomous shuttles for its employees at Apple's headquarters. Things like the frame, wheels and chassis will remain the same as Volkswagen's design, as Apple is replacing things like the dashboard and seats, while adding its own computers, sensors and other equipment. According to sources familiar with the project, the vehicle was supposed to be ready by the end of this year, but will likely miss that deadline.
It makes you wonder, what the heck is Apple doing?
Let's Put It in Reverse
When it comes to self-driving cars, Apple has been all over the map. The company is notorious for its secret plans and keeping things pretty well under wraps. But how they've handled the car project -- at least from the outside looking in -- has been questionable at best.
Apple initially planned to build its cars in-house and had even been willing to pour hundreds of millions of dollars into the project. The team soon realized that this was a difficult endeavor and looked to partner up instead. It held talks with manufacturing partners (so Apple could still design the car, while the partner built it), then it looked for a company that could help build its own cars. That's where the speculation led after Apple was meeting with McLaren.
Ultimately, Apple wanted to find a partner that already made cars but could be retrofitted with Apple's touch -- mainly on the computer, sensor and software side. BMW turned them down and so did Mercedes-Benz, largely because Apple was commanding too much control. Now it's working with Volkswagen on some autonomous campus shuttles.
This is where we've landed, with the largest company in the country with an unimaginably large pile of cash partnering on shuttles. It's led to years of shuffling its autonomous driving team and changing direction countless times, spending who knows how much money. 
Apple's New Direction in Autonomous
Even though autonomous cars aren't swarming our highways and wiggling through our cities, the technology is advancing really fast. Whether it's Nvidia Corporation (NVDA) - Get NVIDIA Corporation Report and Intel Corporation (INTC) - Get Intel Corporation (INTC) Report building self-driving products, Alphabet Inc.  (GOOG) - Get Alphabet Inc. Class C Report (GOOGL) - Get Alphabet Inc. Class A Report working on its own complete package via Waymo or General Motors Co.  (GM) - Get General Motors Company (GM) Report and Ford Motor Co.  (F) - Get Ford Motor Company Report coming up with their own solutions.
The industry is moving quickly in one direction and Apple is still stuck in neutral -- and that's putting it kindly.
We're talking about a company that could buyback $100 billion worth of its stock in 12 months and still have another $100 billion in the bank to do it again next April. The point is, Apple has the resources to be dominant, so why not dominate? And if being dominant isn't in the plans, then just shut the whole thing down and focus on consumer products, services and A.I.
With the advances that Waymo, Uber, automakers and tech companies are making, there's really no reason to be fiddling around with some autonomous Transporters for a campus. Honestly Apple could probably just buy a few dozen of these vehicles now for less than it's paying to develop its own.
The one caveat here is Apple's past. It didn't make the first smartphone and it didn't create the first MP3 player. Other companies beat Apple to the punch, but it did a better job designing these products and making them the most user friendly. Ultimately, Apple could do the same with an autonomous car, although waiting it out seems like a dangerous game.
These vehicles and the technologies behind them take years to build out. Even from a software perspective, this is a huge undertaking. It's hard to imagine giving Waymo, let alone a number of other companies, this type of head-start and clawing back any meaningful market share down the road. 
Maybe the partnership with Volkswagen will be more expansive than it appears, but it seems like Apple needs to commit to the autonomous driving initiative or get out of it completely. Because this toe-dipping approach will only be a drag on its bottom line (however minor) without offering any meaningful upside. We generally applaud Apple for its capital discipline. But at times -- think Netflix, Inc. (NFLX) - Get Netflix, Inc. (NFLX) Report for example -- it costs shareholders a lot of value too.
This article is commentary by an independent contributor. At the time of publication, the author had no positions in the stocks mentioned.