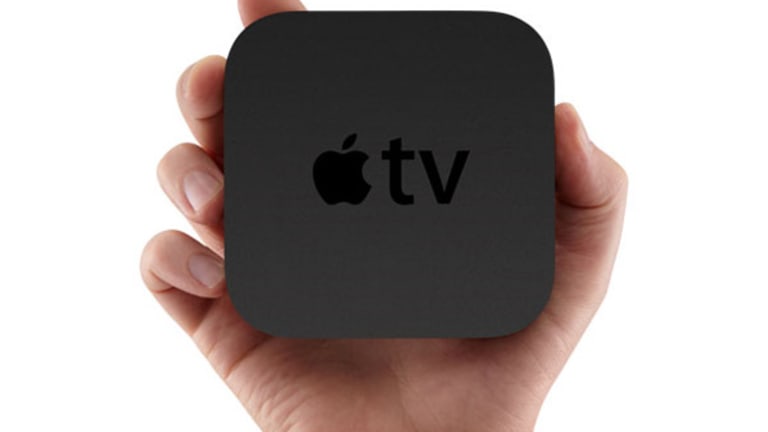 Apple May Have Dropped a Huge Hint About Its Next New Product
Most are focusing on Apple's iPhone sales and how it's doing in China, but they may have missed an important hint about Apple's role in television.
Updated from April 28th to include comments from Time Warner earnings call.
NEW YORK (TheStreet) -- While most analysts, investors and media observers were focusing on Apple's (AAPL) - Get Apple Inc. (AAPL) Report iPhone sales and China expansion, they may have missed a big hint about the company's next big thing: television.
With conspicuous enthusiasm, Apple CEO Tim Cook showered Time Warner's (TWX) HBO Now -- which recently launched on Apple devices exclusively -- with praise, noting the premium channel has "some incredibly great content." Cook went so far as to mention the new service in his opening remarks, highlighting its importance to the future of television.
"HBO Now has been incredibly popular with Apple TV users since its debut, and it has been one of the top downloaded apps on the U.S. App Store as well," Cook said on the call. At the end of the call, Cook expanded on that sentiment, emphasizing that the marriage of Apple and HBO Now is about putting great content on Apple TV, inside Apple's ecosystem.
"And so where could it go? I don't want to speculate, but you can speculate probably as good as I can about where that can go," Cook stated. "I think we're on the early stages of just major, major changes in media that are going to be really great for consumers, and I think Apple could be a part of that."
Update: On Time Warner's earnings call on Wednesday, Jeff Bewkes furthered the idea that Apple may launch its own service. "We're pretty confident that Apple will do that," Bewkes said.
Plus, TheStreet's Jim Cramer says Apple stock is still cheap. "With a stable gross margin outlook, the ongoing iPhone 6 product cycle, strong momentum in emerging markets and substantial share repurchases, we believe Apple is well-positioned to continue beating expectations," Cramer wrote.
As the so-called over-the-top, or OTT, online TV market expands, more companies are likely to enter a space currently occupied by Dish Network's (DISH) - Get DISH Network Corporation Class A Report Sling TV, Netflix (NFLX) - Get Netflix, Inc. (NFLX) Report, Amazon's (AMZN) - Get Amazon.com, Inc. Report Instant Video, Hulu, Sony (SNE) - Get SONY GROUP CORPORATION SPONSORED ADR Report PlayStation Vue and HBO Now. Chief among them may be Apple, which rumor says may debut its own service at this year's Worldwide Developer Conference, scheduled for June.
In February, Re/Code reported that Apple was talking to TV programmers about deals to offer its own TV service. Earlier this month, TheStreet reported that Apple and Disney (DIS) - Get Walt Disney Company Report were in discussions for Apple to carry most if not all of Disney's channels, including the sports juggernaut ESPN. Currently, the only OTT service to offer ESPN is Dish's Sling TV, which includes the cable sports network as well as other ESPN channels in its core package for $20 a month.
Apple had no comment for this story.
The potential for Apple and other companies that enter the OTT TV market is enormous. The pay TV market reaches as many as 100 million households in the U.S. According to Statista, the pay TV market is forecast to generate over $100 billion in revenue domestically in 2015, but that will drop to $90.7 billion in 2020, as more consumers turn towards the slimmer TV bundles.
There may be as many as 30 million U.S. households that switch to these types of services, Sling TV CEO Roger Lynch said in an interview earlier this month. "What I would expect is that the traditional pay-TV business will continue to decline, you'll see OTT grow, but the net of the two -- assuming 100 million pay-TV subscribers -- you might see 80 million pay-TV, but 30 million go to OTT."