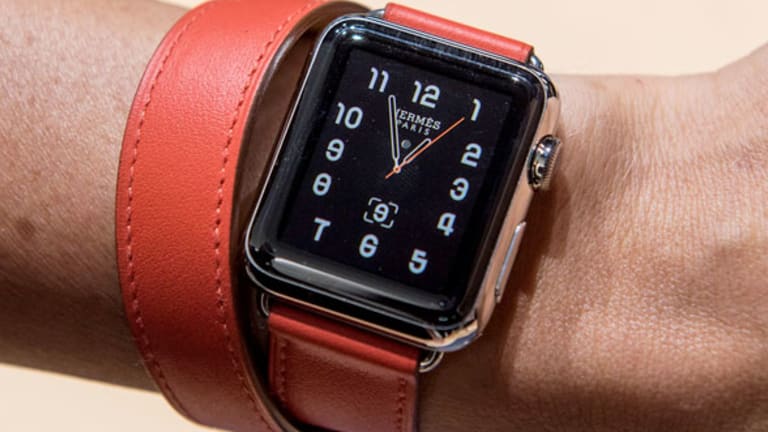 Apple May Be Planning a Huge Event Next March -- Tech Roundup
On Tuesday, 9to5Mac reported Apple intends to reveal the second-generation Apple Watch at an event in March and start shipping it by April.
On Tuesday, 9to5Mac reported Apple intends to reveal the second-generation Apple Watch at an event in March and start shipping it by April.
On Tuesday, 9to5Mac reported that -- according to credible sources -- Apple (AAPL) - Get Report intends to reveal the second-generation Apple Watch at an event in March and start shipping it by April, about a year after the original came out. Among the upgrades the tech giant has reportedly been working on are a better camera, improved wireless and new health sensors, though until we see it there's no way to know what improvements will make it into the Watch 2.
The other big rumor for the March event: We may see the debut of a new "iPhone 6c" with a 4-inch display. 
Now, regarding the Apple Watch, there's been a growing sense among many serious tech-watchers that enthusiasm for the device has waned a bit. It's still a huge seller, dominating the high-end wearable business, but there's a feeling that maybe people who own them might not love them as much as they'd hoped they would.
A new poll from Reuters/Ipsos suggests otherwise: Not only does it show 91% of Apple Watch owners say they're using their device as much as or more than when they purchased it, and 63% are wearing it every day, but an impressive 62% of them say they intend to buy an Apple Watch as a holiday gift for someone else this season.
More broadly, Reuters said, 7% of U.S. adults surveyed said the intended top give an Apple Watch as a gift this month. That could translate to sales of up to 16 million watches over the holidays, well above the range of 10 million to 12 million that analysts have forecast for the holidays.
Sure beats a fruitcake.
Circling back to iPhones, there's a bit of further news on that front too. Those of us who own them know that the battery life can leave something to be desired. Now Apple is tacitly admitting it knows that too. On Tuesday, it began marketing a new external battery case for the iPhone 6 and iPhone 6s that extends battery life for up to 25 hours of talk time. Third-party vendors have already been selling charge-extending devices. Now, you'll be able to get one straight out of Cupertino.
Apple closed Tuesday down 0.1% at $118.23.
Big Blue just got a little bit bigger. IBM (IBM) - Get Report announced today it has bought cloud-based video service startup Clearleap. Though it's a small company, it's an important deal. The amount of video online is growing at an accelerating rate, and Clearleap's bread-and-butter is helping clients such as Time Warner's (TWC) HBO, the National Football League and Verizon (VZ) - Get Report put video into their apps and manage their digital video assets and the data around them more effectively.

Clearleap CEO Braxton Jarrett called the deal, which will see IBM's cloud data centers giving a major scale boost to its services, a "perfect fit."
IBM closed Tuesday down 1.1% at $138.06.
Amazon (AMZN) - Get Report on Tuesday announced its latest move to lure more cord-cutters into its ecosystem: its Streaming Partners Program, which lets members subscribe to some premium channels through their Amazon Prime Video service.The first pay networks to be made available are Showtime and Starz, which between them offer some highly popular films and original series.
In essence, this begins to do for cord-cutters what their pay-TV provider used to -- it manages all the billing details for multiple streaming subscriptions and puts more of your shows in one place -- like the Apple TV box does, for example.
In other Amazon news, Pacific Crest Securities initiated coverage of the e-commerce giant, rating it overweight with a price target of $800. The firm also began covering the e-commerce sector broadly, opening with the prediction that e-commerce could account for 20% of the all retail sales within five years, up from 7.4% now.
Amazon closed Tuesday up 1.1% at $677.33.
It's good to be a big fish, but not when you get caught using your size to monopolize control of the chips.
The Wall Street Journal reports European Union antitrust regulators announced Tuesday they were charging semiconductor giant Qualcomm (QCOM) - Get Report with anticompetitive behavior: To wit, secretly paying a large customer to use only Qualcomm chips, and dumping its chips at less than cost to drive a rival out of business. If the European Commission finds it guilty of those charges, Qualcomm could face fines in the billions of dollars.
Naturally the company said it was cooperating with investigators, and denied wrongdoing. QCOM shares ended the day down 5.6% at $49.48.
Finally, if Netflix (NFLX) - Get Report can do it, so can AT&T (T) - Get Report . AT&T CEO Randall Stephenson said Tuesday his company is looking at producing or purchasing original, unique content as it expands its video services in the wake of its DirecTV acquisition.
AT&T is a little late the party -- Netflix, Hulu and Amazon have all found critical success and viewership with their original shows, and there's so much new content available it can be hard for even excellent new shows to get traction. But AT&T does have the advantage of a vast built-in audience: a wireless subscriber base that hit 121.7 million as of September.
AT&T closed Tuesday down 1.3% at $33.84.
This article is commentary by an independent contributor. At the time of publication, the author held no positions in the stocks mentioned.