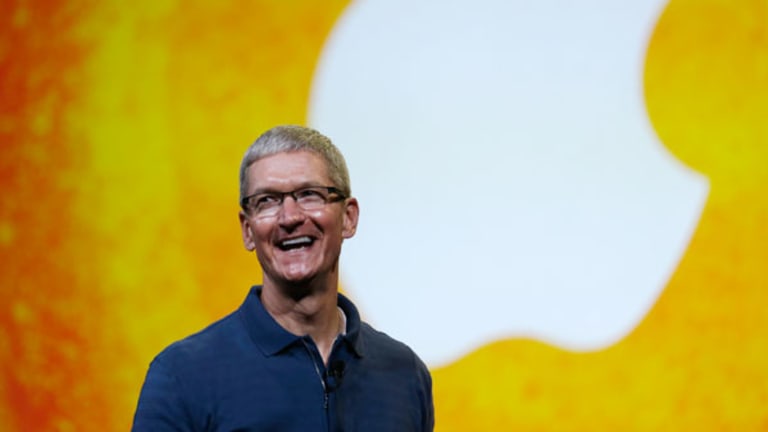 Apple Maps: Turning a Corner
CEO Tim Cook was serious when he said Apple would work non-stop until Apple Maps lives up to the company's standards. Its latest purchase could help speed up the process.
NEW YORK (
) --
Apple
(AAPL) - Get Free Report
suffered a serious public relations hit when its Apple Maps product was unveiled to the world. Its latest purchase may be about changing that perception, even if it comes six months later.
Over the weekend, Apple
WiFiSLAM
, a indoor-GPS company. According to
The Wall Street Journal
, Apple paid around $20 million for the company, but the impact could be far greater as it pertains to Apple Maps.
When it was released, Apple Maps didn't live up to the standards of Apple. The negative outrage from the public ultimately forced CEO Tim Cook to
, saying Apple would keep working to improve the product. Cook went so far as to recommend other products, including
Google
(GOOG) - Get Free Report
and
Nokia
(NOK) - Get Free Report
offerings, while Apple worked on improving its own product.
Also see: 7 Things You Should Be Doing to Live to 100
Though the product wasn't atrocious by any means, it certainly did not live up to the standards of other mapping products, such as Google Maps, the aforementioned Nokia, or other popular mapping software. Apple had egg on its face, especially as it made a point to remove Google Maps from its latest mobile operating system, iOS 6. The public gaffe may have ultimately led to the
from the company of Scott Forstall, who reportedly refused to sign the apology letter along with Cook.
While Apple wouldn't discuss its plans for WiFiSlam, there are a few facts known about the company which could hint that Apple is really serious about improving Maps.
The Silicon Valley-based start-up has developed a way for mobile apps to know a user's location inside a building using Wi-Fi. This will allow maps and location sharing services to more accurately portray positions of businesses, people, etc., especially as it pertains to being inside a building. If accuracy is improved using the company's technology, that would make Apple's data that much more reliable and perhaps change the perception that Apple Maps is inferior to other mapping solutions.
Also see: Cramer Greets the 21st Century: Twitter
People are increasingly (right or wrong, you decide) turning to mapping solutions, such as GPS locators, and apps to help them navigate their travels. A technology that increases the accuracy of GPS data, especially in hard to navigate areas such as inside a building, is invaluable.
Google is already offering something similar to this, but not as in-depth. WiFiSLAM is intent on changing the way we view and use mapping location services in areas that aren't as accurate as unobstructed areas, such as a park or major intersection.
Cook and Apple were serious when they said they were intent on improving Apple Maps to Apple's high standards. "Everything we do at Apple is aimed at making our products the best in the world," Cook wrote in the apology.
Also see: Tax Audit Horror Stories: What To Do When The Unthinkable Strikes
It seems as if all it cost Apple was some time, and roughly $20 million. Now let's see what Apple does with it.
--
Written by Chris Ciaccia in New York
>Contact by
.
Follow @Commodity_Bull