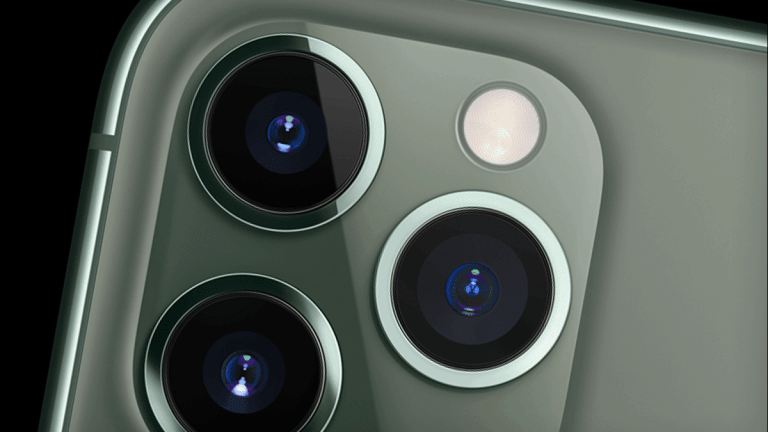 Apple Banks on Cameras, Battery Life and Revamped Pricing to Lift iPhone Sales
Against a backdrop of low near-term sales expectations, Apple can lean on a few different selling points as it tries to get owners of older iPhones to upgrade.
As expected, camera improvements are meant to be a major selling point for Apple's (AAPL)  just-announced iPhone 11, 11 Pro and 11 Pro Max phones.
But in the cases of the 11 Pro and 11 Pro Max, Apple is also looking to sell consumers on major battery life gains. And when it comes to iPhones other than the 11 Pro and 11 Pro Max, the company is wagering more aggressive pricing will provide a sales boost.
Camera Improvements
As expected, the 5.8-inch iPhone 11 Pro and 6.5-inch 11 Pro Max
, one more than what's found on the iPhone XS and XS Max. And the 6.1-inch iPhone 11
, one more than what's found on the iPhone XR. In each case, an ultra-wide angle lens is being added for the first time.
But the iPhones' camera improvements go well beyond adding another lens and image sensor on the back. Other new features include:
New TrueDepth front cameras that can take 12-megapixel shots -- the TrueDepth cameras on the iPhone XS and XR have 7-megapixel sensors. The front cameras are also now able to shoot slo-mo videos at 120 frames per second (fps), as well as record 4K video at 60 fps.
A feature called semantic rendering that uses machine learning to detect objects within a shot and relight them in response.
A Night Mode that's promised to automatically deliver better low-light shots (Alphabet/Google (GOOGL) and Samsung have launched similar features for their smartphones).
Deep Fusion, a feature rolling out this fall that takes 9 shots at once and uses machine learning to deliver a final shot that's optimized on a pixel-by-pixel basis. Apple SVP Phil Schiller declared it to be "computational photography mad science."
Much better video recording abilities, aided by support for an extended dynamic range and other software enhancements. In addition, developers will be able to create apps that can record video from more than one camera at once. Apple goes as far as to claim the iPhone 11 Pro and Pro Max deliver "pro-level" video recording experiences.
An overhauled Camera app that features a host of new video-editing tools, and supports the ability to take wide-angle Portrait mode shots.
Though Apple is by no means the only smartphone OEM to be investing heavily in camera features -- Google and Huawei aren't slouches in this department either -- the company's ongoing innovations in this department do at a minimum make the cameras on its high-end phones pretty competitive.
Better Battery Life
Apple disclosed that the iPhone 11 Pro will deliver up to 4 hours more battery life than the iPhone XS, and that the 11 Pro Max will deliver up to 5 hours more battery life than the XS Max. The iPhone 11 was said to deliver 1 hour of additional battery life relative to the iPhone XR.
Apple has claimed the iPhone XS delivers up to 12 hours of web browsing battery life, and up to 14 hours of battery life while watching video. For the XS Max, the figures are up to 13 hours and up to 15 hours. In that context, the 11 Pro and 11 Pro Max's stated battery life improvements are pretty meaningful.
More energy-efficient OLED displays contribute to the 11 Pro and 11 Pro Max's battery life gains, as does the power efficiency of the A13 Bionic system-on-chip (made using Taiwan Semiconductor's (TSM) new 7 nanometer-plus manufacturing process) powering all three of the new iPhones. Apple asserts that the A13's two high-performance CPU cores (in addition to being 20% more powerful) consume 30% less power than the ones in the A12 Bionic SoC that powers last year's iPhones. Meanwhile, the A13's four high-efficiency cores (meant to handle less demanding tasks) are said to consume 40% less power while being 20% more powerful, as is its GPU. The A13's Neural Engine, which handles machine learning workloads, is said to be 20% more powerful and consume 15% less power.
Revamped Pricing and New Promotions
The iPhone 11 Pro and 11 Pro Max carry starting prices on par with what Apple was charging for the now-discontinued XS and XS Max ($999 and $1,099, respectively). However, the iPhone 11's $699 starting price is $50 below what the iPhone XR previously carried.
The XR, meanwhile, is being kept around at a $599 starting price. The iPhone 8 and 8-Plus are also getting $150 discounts -- they now respectively start at $449 and $549. The iPhone 7 and 7-Plus, which were previously sold for what the 8 and 8-Plus will now sell for, are being discontinued.
The iPhone 11's price, together with the iPhone XR and 8 price cuts, spells a somewhat more aggressive pricing stance for Apple as it battles for more cost-sensitive users in emerging markets and elsewhere. The moves come after Apple cut iPhone prices in China and certain other foreign markets in recent months to boost sales, and has improved its iPhone trade-in offers at Apple Stores.
Apple also announced a couple other moves at its iPhone event that could boost iPhone sales a little: It plans to give iPhone owners trading in old models the option to pay for new models via monthly installments, and it's now giving buyers of new iPhones, iPad, Macs, Apple TVs and iPod Touches a free year of its TV+ streaming service, which launches on Nov. 1st.
The Big Picture
It's safe to say that near-term iPhone sales expectations haven't been very high. Apple's iPhone revenue respectively saw annual declines of 15%, 18% and 12% during its December, March and June quarters, as soft Chinese demand and lengthening smartphone upgrade cycles both weighed (non-iPhone businesses, it should be noted, have been faring much better). Moreover, media reports have long been suggesting that 2019 would be a year that saw more incremental iPhone improvements than what's expected in 2020, when iPhones sporting 5G modems and perhaps also a 3D rear camera system are due to arrive.
All of this helps explain why on average, analysts polled by FactSet have forecast iPhone revenue would be down 12% annually during Apple's September quarter and (though annual comparisons will get a lot easier) down 3% in during its December quarter.
In that context, the camera and battery life improvements delivered by Apple's newest iPhones, together with the pricing that was announced for the iPhone 11 and older models, could be enough to top a low bar.
Given the length of smartphone upgrade cycles, the new iPhones are aimed far more at owners of iPhones launched in 2017 -- back when its largest iPhone was the 5.8-inch iPhone X -- or before than they are at iPhone XS and XR owners. And arguably, what Apple shared at its event is enough to drive reasonably healthy upgrade activity among these iPhone owners.
TheStreet's Eric Jhonsa previously covered Apple's iPhone event through a
.