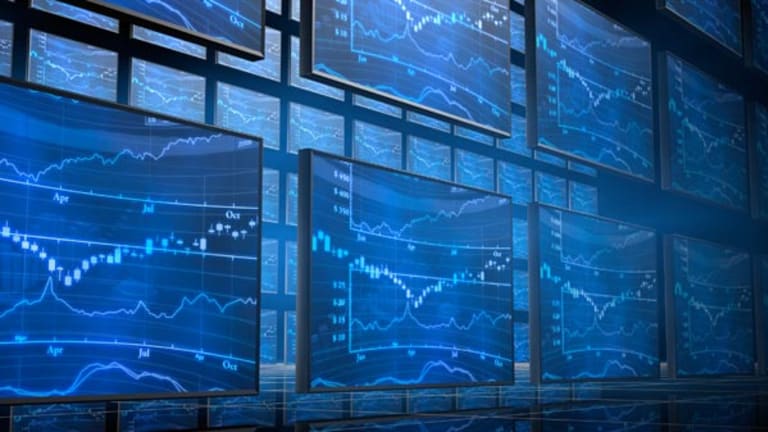 Apple Keeps on Bucking
Apple continues to defend its No. 1 position in tech by launching a new offense -- or two.
NEW YORK (TheStreet) -- As the retail world tanks on weak consumer sentiment, Appleundefined will -- as always -- try to buck the trend with a reported major revamp of its Apple Stores this weekend, an event that coincides with the retail concept's tenth anniversary.
The
sleek, minimalist outlets have become a staple
of the retail landscape since Apple threw open the doors of its first store in McLean, Va. in 2001, and have proved incredibly beneficial to the consumer tech giant's balance sheet.
Last quarter, Apple's store sales grew 90% above year-ago levels and operating profits in retail more than doubled to $807 million. With $3.2 billion in retail sales and 323 stores in 11 countries, the average Apple store pulls in $10 million a quarter.
Apple's store in the Liverpool ONE shopping center in Liverpool, England.
But more than that, the stores exemplify what Apple does better than any other tech company: Focus completely on what the user wants to turn out memorable products and experiences.
"Most of the competition, like
Microsoft
(MSFT) - Get Free Report
, want to emphasize everything, which is functionally convoluted -- that's the thinking of the last decade," said Trip Chowdhry, an analyst with Global Equities Research. "If you look at Apple, every design they've come up with all fits very well together. Apple is all about innovation and experience; it's the experience you get from the stores, your software and
from customer support. They've nailed that perfectly."
Another thing Apple has nailed: protecting what sets it apart from any other technology, hardware or manufacturing firm. In one of the more recent lawsuits it's filed against rivals, Apple is suing online retail giant
Amazon.com
(AMZN) - Get Free Report
for trademark infringement over Amazon's use of the phrase "Appstore," which Apple sees as too similar to its own App Store moniker.
"Apple denies that, based on their common meaning, the words 'app store' together denote a store for apps," the company said in a federal court filing Thursday. Apple went on to say that "App Store" isn't a generic term, and that it isn't commonly used by businesses to describe downloaded programs.
"Apple has never been known to be shy about protecting its turf -- it's the company that went to war with the Beatles over the Apple trademark," said Laura DiDio, principal analyst at tech consulting firm ITIC. "If you're Apple, staying No. 1 is difficult, and you do that in part by protecting your IP, your copyrights, everything."
While DiDio notes that many of these types of trademark and patent lawsuits end in settlements, Apple, of course, is likely to continue its strong offense, especially as tech companies continue to bump into each other as they launch products in new markets.
Apple's New, Off-Line Offense
As for its brick-and-mortar stores, Apple is apparently stepping things up. Citing an unnamed source,
9to5Mac.com
reports that Apple CEO Steve Jobs and design guru Jony Ive have been working on a revamp, which will include dedicated areas for setting up customers' purchases, dubbed "startup sessions." Apple will also replace paper signage with interactive iPads, and new sound systems are in the works for certain stores.
A new Apple Store iOS app is also said to be on deck, which will offer a greater level of interaction when Apple users visit stores -- they will be asked via iPhone, for example, if they want to speak to a specialist.
Now with a vast global footprint of 323 stores, Apple recently said it's planning to open 40 new stores in fiscal 2011, nearly three quarters of which will be outside the U.S.
The iPhone maker has not yet responded to
TheStreet's
request for comment on this story.
Apple shares were down 0.62% to $338.42 in afternoon trading Thursday.
--Written by James Rogers in New York, with additional reporting from Olivia Oran.
>To follow the writers on Twitter, go to
http://twitter.com/TheStreet_Tech
.
>To submit a news tip, send an email to:
.