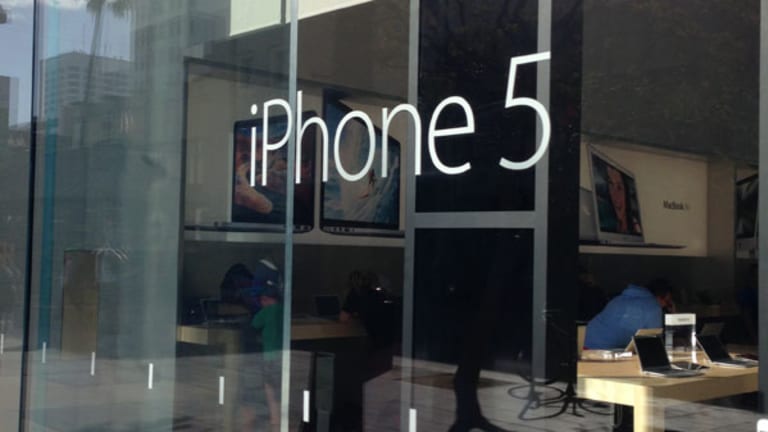 Apple Earnings Preview: It's Not All Bad (Update 2)
Apple is scheduled to report second-quarter earnings after the close, and while the news flow in recent months has been less than stellar, it's not all bad.
Updated from 10:41 a.m. EST to provide analyst comments in the 11th paragraph.
NEW YORK (
) --
Apple
(AAPL)
is set to report second-quarter earnings, and while the
are heightened given the lagging stock price, perceived lack of innovation and concerns about its cash hoard, it isn't all bad at Apple.
Apple is in a dogfight in smartphones that it appears to be losing to
Samsung
. Samsung uses
Google's
(GOOG)
Android operating system, which is the leading operating system on smartphones by market share, but Wall Street analysts, the media, and traders would have you think the iPhone is on its death bed. That's simply not true, says Societe Generale analyst Andy Perkins.
"Our research on Asian imports/exports shows that volumes for the first calendarquarter remained reasonably strong with robust ASPs," Perkins wrote in his note. "We believe that this in part reflects solid on-going demand for the iPhone models, one of the key determinants of the Asian ASP level." He believes the speculation that Apple has suffered a strong downturn in iPhone demand is way overblown, and kept his iPhone estimate for the quarter at 38 million units. He rates shares "buy" with a $560 price target.
Also see: Apple Confronts Near-Mother of All Earnings Reports >>
Analysts polled by
Thomson Reuters
expect the tech giant to earn $10.01 per share on $42.31 billion in revenue. Analysts surveyed by Estimize are looking for earnings of $10.70 per share on $42.76 billion in sales.
There is a
in the market place that the iPhone 5 is not a major technological advancement over the iPhone 4 and iPhone 4S. The iPhone numbers from
Verizon
(VZ)
tend to support that notion, with 50% of the iPhone mix being iPhone 5 units, lower than some were forecasting.
AT&T
(T)
reports after the close today as well, so there will be no iPhone read from AT&T in this quarter that can help prior to Apple's report.
Also see: Here's Why Apple Is Really Screwed >>
While Apple generates over 50% of its revenue from the iPhone, the iPad may be the bigger market, in terms of overall users. In the past, CEO Tim Cook has said the iPad has a bigger opportunity, as tablets continue to
at PC sales. Research firm
IDC
showed the iPad had the
lead in the tablet market
at the end of the fourth-quarter 2012, at 51%.
While that may come down in 2013 due to additional Android tablets, it's clear people still want the iPad and iPad mini in droves.
Crowell, Weedon & Co.
analyst James D. Ragan believes Apple will sell 19.6 million iPads this quarter, up from 11.8 million in the year-ago quarter. For the full year, Ragan believes Apple will sell 81 million iPads, a growth rate of 40% year-over-year.
Many have said that 2013 is a year to forget for Apple, as the smartphone market begins to mature, and Apple had tough year-over-year comparisons.
Topeka Capital Markets
analyst Brian White believes that 2014 will see a new product cycle, complete with
an
and a possible Apple television, that will stoke the top line growth. "Looking forward, we believe a new product cycle will ramp in FY14 that opens up new growth opportunities," White penned in his note. He rates Apple "buy" with a $888 price target.
There's also the question of what Apple does with its enormous cash hoard. At the end of last quarter, Apple had just over $137 billion in cash and equivalents on its balance sheet. That figure has prompted investors, including
Greenlight Capital's
to call on the company to return more to shareholders.
UBS
analyst Steven Milunovich
Apple could raise its cash return to shareholders to at least $65 billion over the next three years, up from $45 billion, thus alleviating some pressure from shareholders.
Also see: Beware Deteriorating Cash Flow in Netflix, Amazon, Google Earnings >>
The way Apple has traded since the release of the iPhone 5, the stock has acted like the company is on its death bed. Shares have lost over 40% of their value, compared to a 1.8% gain in the
Nasdaq
. There is little faith the company can deliver the products customers want, and return to its growing ways. Options are pricing in a 6.3% move after the company reports earnings.
Hudson Square Research
analyst Dan Ernst believes 2013 is a lost year for Apple. Ernst notes the company refreshed nearly its entire product portfolio in its fiscal fourth-quarter last year, and 2014 is where he believes Apple will innovate again. "If you're investing in Apple today, I don't think you're investing for the next one or two quarters. You can't invest for this year," Ernst said over the phone. "If Apple does all these whacky things, they won't impact earnings this year. The real driver of earnings from new products or categories would be next year."
data by
Over time, Apple has demonstrated that when its back is against the wall, it does its best work. The picture might be bleak now for the stock, but the majority of Apple's core leadership team, led by Cook, Jony Ive, Bob Mansfield, Peter Oppenheimer and others, are still there. It's not all bad at Apple right now; it just appears that way.
--
Written by Chris Ciaccia in New York
>Contact by
.