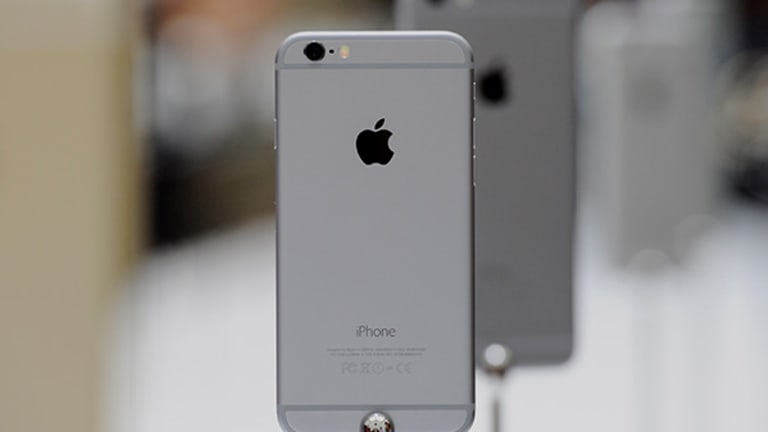 Publish date:
Apple Is Trying to Get the Court Order Thrown Out -- Tech Roundup
Apple files a motion to gets its court order dismissed, Foxconn is having second thoughts about its multibillion-dollar acquisition of Sharp and Salesforce soars after reporting earnings.
Apple files a motion to gets its court order dismissed, Foxconn is having second thoughts about its multibillion-dollar acquisition of Sharp and Salesforce soars after reporting earnings.
The drama between Apple (AAPL) - Get Report and the U.S. government rages. The tech giant has now filed a motion to dismiss the court order that was issued in an attempt to force the company to hack the iPhone of the San Bernardino terrorist.
Instead, Apple claims the court order violates the company's constitutional rights, among its other flaws, according to USA Today. Apple had previously argued creating a software update -- which doesn't exist -- to hack into the iPhone would leave other users at risk should that technology fall into the wrong hands. 
Although the FBI said this case wouldn't set a precedent, it's hard to image how it won't, and Apple has already outlined just how exactly that could happen. 
As a result, Apple is reportedly working on making its iPhones even more secure to prevent the government from hacking the devices in the future. CEO Tim Cook has also made it clear the company is willing to go all the way to the U.S. Supreme Court, cementing the fact that Apple really doesn't plan to back down from this one -- as if that weren't clear enough. 
Apple closed $96.76 on Thursday, up 0.7%. 
Foxconn's acquisition of Sharp for roughly $6 billion has gone through... oh wait, no it hasn't. 
After Sharp agreed to the buyout, the Chinese manufacturer Foxconn has reportedly held back on signing off "because it harbors concerns over Sharp's financial future," according to TechCrunch. Apparently, a previously unknown $3.1 billion in Sharp liabilities is holding up Foxconn on the deal. 
Foxconn is better known for its affiliation with Apple than anything else -- manufacturing millions of devices per year including the iPad and iPhone. The company also manufactures devices for BlackBerry , Sony (SNE) - Get Report , Microsoft's (MSFT) - Get Report Xbox and Amazon's (AMZN) - Get Report Kindle. 
Shares of Salesforce (CRM) - Get Report closed near session highs, ending Thursday at $69.41, up 11% on the day after the high-growth cloud company reported earnings. Salesforce reported in-line EPS results and topped analysts' revenue expectations. 
The report prompted TheStreet's Jim Cramer, co-manager of the Action Alerts PLUS portfolio, to say the stock has further to run. 
While the initial results looked just OK, the company guided for 1Q earnings per share of 23 cents to 24 cents on $1.885 billion to $1.895 billion in sales. Both metric topped analysts' estimates, calling for 21 cents per share on $1.86 billion in revenue. 
Analysts' came in at the bottom of Saleforce's full-year guidance, with management looking for 99 cents per share to $1.01 per share in earnings, on $8.08 billion to $8.12 billion in revenues. 
"No one is growing like us at our scale," said CEO Marc Benioff. 
Who's going to win the electric car race? It's way too early to tell but many investors would likely bet with Tesla Motors (TSLA) - Get Report . And while that makes sense, it's still too early to rule out the other large manufacturers such as Ford (F) - Get Report , General Motors  (GM) - Get Report , BMW, Chrysler and Mercedes-Benz, to name a few. 
Especially if the electric vehicle sales are going to represent 35% of global new cars by 2040.
Oil prices, and thus gas prices, have fallen off a cliff and made it much more affordable for drivers to get around. While that's only likely to have a temporary impact on electric vehicles (because, like solar, this is a movement toward a cleaner world), there's another thing in the way: Cost. 
It costs a lot of money for a new Tesla and other top-of-the-line EVs. Most of that cost comes from the higher costs of building the vehicle to begin with. But as Bloomberg New Energy Finance suggests in the link above, battery prices for EVs are going to come down a ton in the 2020s. 
If that's the case -- and Tesla, GM and BMW are already working to make EVs far more affordable -- then prices should come down dramatically, making it easier for them to compete against tradition vehicles. It's also pretty plausible that gas prices will go up at some point in the next 25 years. 
The study predicts EV sales will hit 41 million by 2040, up a casual 90-fold from 2015's level of roughly 462,000. 
It only makes sense that, at least in the very, very long term, this is good news for Tesla and other EV manufacturers. 
Shares of Tesla closed at $187.43 on Thursday, up 4.7%. 
This article is commentary by an independent contributor. At the time of publication, the author held no positions in the stocks mentioned.