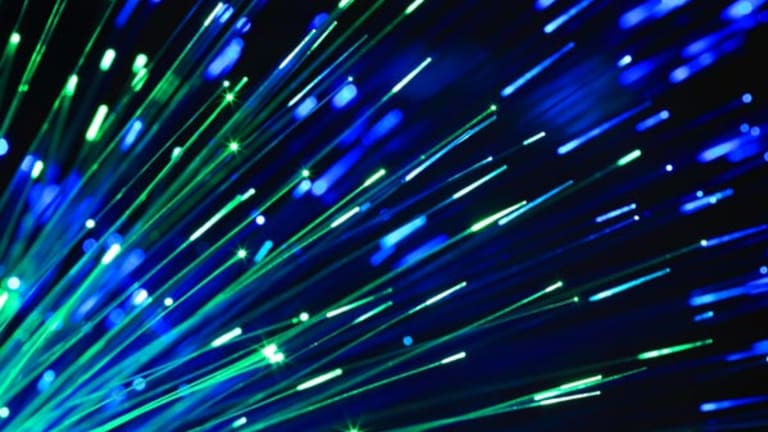 Apple Sings Cloud Tunes
Apple and EMC, both to post quarterly earnings Wednesday, reportedly inked a deal that will take iTunes into the cloud.
Apple and EMC, both to post quarterly earnings Wednesday, reportedly inked a deal that will take iTunes into the cloud.
CUPERTINO, Calif. (
) -- Could storage maker
EMC
(EMC)
be the catalyst for
Apple's
eagerly-anticipated shift to
? Quite possibly, according to a bevy of analysts, who say that Apple's cloud plans are finally taking shape.
Apple and EMC, which report quarterly results Wednesday, are said to have clinched a deal that could soon take iTunes into the cloud. There is also chatter that Apple has lured one of
Microsoft's
(MSFT) - Get Report
top data center executives to its staff, further fueling cloud expectations.
Last week,
reported that Apple had purchased 12 petabytes of storage from EMC's Isilon -- in real world terms, that's enough space to store the contents of all U.S. research libraries
. The Web site, citing a source within EMC's Isilon business, said that Apple was EMC's largest customer during the December quarter.
>>4 Tech Giants Searching for Upside
"This report further supports our view that Apple is leveraging its recent data center investments to deliver media content through an innovative cloud architecture," said Bill Shope, an analyst at Goldman Sachs, in a note. "At first, this may launch as a service for storing users' existing iTunes content remotely, but over time it could morph into a full-fledged streaming media platform for iOS devices."
EMC declined to comment when contacted by
TheStreet
, while Apple, notorious for keeping supplier details closely guarded, has not yet responded to a request for comment on this story.
Analysts are convinced Apple's cloud is on deck. "We believe that Apple will most likely be using this storage capacity for streaming audio and video services that it will launch by the fall," said Barclays Capital analyst Ben Reitzes. "Isilon's capabilities dovetail nicely with our vision for Apple's upcoming Cloud Tunes -- an extension of iTunes into the cloud that allows easy access to digital content from any Apple device."
Apple, however, is unlikely to discuss its cloud plans during its second-quarter results, which will be released after market close on Wednesday. Apple is expected to report second-quarter revenue of $23.34 billion and earnings of $5.35 a share, according to analysts surveyed by Thomson Reuters.
The tech giant has, however, promised "to unveil the future of iOS and Mac OS," at its Worldwide Developers' Conference in June, an event normally set aside for the launch of new iPhones. This year's software-heavy WWDC just might feature some cloud play, say analysts.
"If
the EMC deal proves to be the case, it would seem another signal of Apple's intent to deliver some kind of cloud based service, and iTunes is the logical platform," said Charles King, president of research firm Pund-IT.
It was also
last week that
Microsoft's
(MSFT) - Get Report
recently-departed data center guru Kevin Timmons could end up at Apple. "
This looks like another piece falling into place," said Pund-IT's King.
Microsoft confirmed with
TheStreet
that Timmons is no longer working at the software giant, noting that he decided to pursue other, unspecified "career opportunities."
There have already been signs that Apple is planning a cloud onslaught, reportedly spending $1 billion to build a vast new data center in Maiden, North Carolina.
Touting cloud-based consumer services is nothing new.
Amazon's
self-hyped
(AMZN) - Get Report
lets customers store music and play it on their smartphones or computers. The Web giant also debuted two Cloud Players last month, an attempt to challenge iTunes.
Barclays Capital's Reitzes, however, thinks that Apple is prepping a much more sophisticated cloud offering, encompassing its MobileMe service for synchronizing different devices.
"We believe the launch of Apple's service is much more complex than Amazon's given its millions of users with years worth of files," he wrote. "We look for Apple to use its cloud-based iTunes/MobileMe service to further lock in customers to its ecosystem by making content available seamlessly on all of its devices -- including iPhones, iPads and Macs."
Reitzes added that cloud-based content also lets Apple (and other cloud bulls) offer cheaper versions of its devices with less on-board memory. "
This would help the company get more gadgets into the hands of consumers," he explained.
Apple has already dispensed with hard disk drive storage on its new MacBook Air in favor of Flash and its
Internet Services
, a move that seems tied to its broader cloud plans.
Apple's rumored storage purchase could also spell good news for EMC, which reports its first-quarter results before market open Wednesday.
"If this all turns out to be true, the news would be a significant boost for EMC," Pund-IT's King told
TheStreet
. "Apple is a marquee customer by virtually any measure -- the company's singular focus on innovation would represent a huge vote of confidence for
EMC's Isilon as a leading cloud storage platform."
Kaushik Roy, an analyst at Wedbush Morgan, agrees. "In the past there have been concerns about EMC where investors have questioned that if data or information storage is moving from the corporate datacenter to the cloud then it could be negative," he said in an email to
TheStreet
. "But, as you can see now, even if data or information storage moves to the cloud, it benefits storage systems vendors such as EMC or
NetApp
(NTAP) - Get Report
."
--Written by James Rogers in New York.
>To follow the writer on Twitter, go to
http://twitter.com/jamesjrogers
.
>To submit a news tip, send an email to:
.