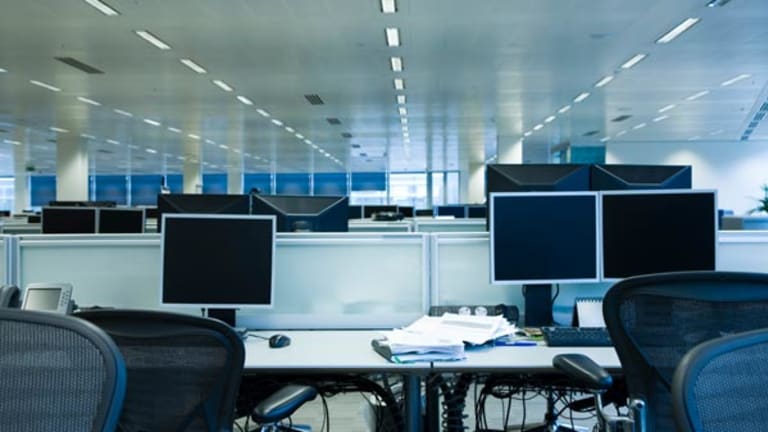 Apple iPhone 5 May Hit AT&T, Verizon Earnings
Verizon's earnings and low Apple iPhone 5 subsidies aren't a panacea for AT&T.
NEW YORK (
) - Although
Verizon's
(VZ)
third quarter earnings proved some telecom sector
on the impact of
Apple's
(AAPL)
iPhone 5 to profits, some analysts are still bracing for the smartphone to cut into earnings by year-end.
In reacting to Verizon's third quarter, which was bolstered by higher-than-expected wireless margins and subscriber additions, Shing Yin of Guggenheim Securities highlights that competitor
AT&T
(T)
is likely to see a greater iPhone 5 earnings hit this quarter. The analyst also suspects carriers will face margin pressures headed into 2013 as the iPhone 5 goes global.
According to a Friday analysis by Yin, AT&T is still poised to show large iPhone 5 subsidy payments to Apple in its third-quarter results, due on Wednesday, which could hit margins. That's because Yin estimates AT&T took more iPhone 5 handsets for delivery in the quarter than Verizon, and its customers are nearly twice as likely to be due for a subsidized smartphone upgrade.
"
We believe lower-than-expected iPhone 5 volumes (650k, compared to our expectation of ~1 million) and a lower upgrade rate (6.8%, in line with our expectation but lower sequentially from an already-low 7% rate in 2Q12) were positive factors," wrote Yin, in a note that highlighted impressive operating trends, like the activation of 6.8 million new smartphones in the quarter.
While Verizon earnings indicated near-5% dividend yielding telecom sector leaders like it and AT&T may continue to benefit from strong smartphone-based earnings, handset subsidy risks may yet materialize. "Verizon's strong 3Q12 margins may lead some investors to expect AT&T to similarly beat wireless margin expectations, but we believe such a conclusion is unwarranted," notes Yin.
In an analysis of what Verizon's earnings mean for the telecom sector, Yin also highlights that strong subscriber additions are likely the result of market share losses by industry also-rans like
Sprint
(S)
,
T-Mobile
and
MetroPCS
(PCS)
. In particular, as Sprint retires its iDEN network, some customers aren't switching onto its CDMA network, according to Yin. In addition, Yin sees Verizon's subscriber gains as an indication T-Mobile lost post-paid market share in the quarter, calculating up to 400,000 network switchers.
Regardless of whether the iPhone 5 will hit AT&T when it reports earnings, operating trends through the first nine months of the year are adding to conviction that large carriers are poised for an earnings renaissance as they try and profit from increasing smartphone data loads coming from Apple iPhones and
Google
(GOOG)
-Android powered devices.
On Monday, Credit Suisse initiated Verizon and AT&T with 'neutral' and 'outperform' ratings respectively, citing price increases on data plans, lower subsidies for the iPhone 5 in contrast to earlier models like the 4S and overall margin improvements for the wireless business.
"We believe AT&T and Verizon will continue to report solid results for 2H12, with wireless churn continuing to improve y/y and margins significantly better," writes Credit Suisse analyst Stefan Anninger, in a Monday initiation that gives price targets of $36.50 and $45 for AT&T and Verizon respectively.
Just over a month ago Apple unveiled its newest smartphone -- the iPhone 5 - in a blockbuster launch that set opening records for the company. Amid all the iPhone 5 hysteria, however, not everyone was cheering.
As launch numbers rolled in, investors and analysts following
AT&T
(T)
and Verizon began to wonder aloud whether the adoption of Apple's latest smartphone would
wreck telecom sector profitability
and disprove an emerging notion that, after spending billions to build national networks, both carriers' investment would pay off in steadily rising profits.
Verizon's
earnings signal that, for now, doom and gloom scenarios on the interplay between iPhone 5 sales and wireless carrier profitability may not be borne out.
At issue is whether the carriers can use new smartphone launches to profitably steer users onto their networks. On one hand, carriers pay in the range of $500 a phone in subsidies to handset makers like Apple to lure in customers - or to meet the terms of upgrade schedules - in a relationship that can cost big money. Over the long term, carriers expect to make their money back on subsidized handsets by way of the monthly cost of wireless contracts, and in particular, the tiered pricing of smartphone data usage.
Verizon's earnings, and, in particular, record wireless revenue and profit margins prove that iPhone 5-related fears are unproven. At least for now, the company's earnings momentum continues to build.
As profit margins grow, Verizon also appears to be adding new iPhone and Google Android-addicted subscribers at a faster-than-expected clip, potentially disproving a theory peddled by analysts that waves of subscriber additions and phone upgrades could turn stable telecom earnings
.
The results indicate that the carrier can lure subscribers onto its network using flashy iPhone and Android devices without wrecking its profit margins. That contrasts sharply with some analyst expectations, forcing some to backtrack from projections that the iPhone 5 would take the air from a so-called telecom sector
.
In the wake of Verizon's earnings, Bernstein Research's Craig Moffett suspended his thesis that Verizon's earnings momentum would tip negative on the iPhone 5 launch.
"The test we all knew about was wireless margins. Even solid growth (which brings commensurately high customer acquisition cost) and a new iPhone (available for a single week in Q3) couldn't derail the
Verizon Wireless margin juggernaut," wrote Moffett, in a Thursday note to clients. The analyst highlighted softer wireline revenue - the company still gets nearly 50% of revenue from cord-attached phones -- as a reason overall earnings estimates met expectations, in spite of Verizon Wireless's clear beat.
It isn't the first time in October Moffett's had to step back from his negative outlook on the telecom sector. In March, he began handicapping
Sprint's
(S)
eventual bankruptcy, but
readily available debt financing
and the company's
to
Softbank
of Japan forced the analyst to suspend odds making on the carrier's demise.
For now, telecom investors can breathe a sigh of relief on the impact of the iPhone 5 on carrier profit margins.
The bigger question for investors and analysts to answer is whether earnings reflected Apple's issues in maintaining iPhone 5 supplies, or if they signal the math behind iPhone subsidy bearishness simply doesn't add up. Watch for AT&T's earnings to add evidence of a pickup in wireless profits or to signal iPhone-related profit risks remain.
Meanwhile, the implications of a telecom sector reshuffle on Sprint's takeover and
T-Mobile's
merger with
MetroPCS
(PCS)
on Verizon and AT&T's earnings outlook are yet to be fully understood, and may yet
turn wireless earnings and pricing momentum negative
.
For more on the impact of the iPhone 5 on corporate earnings, see whether iPhone 5 sales can buy
. See why AT&T is still
and how a tower deal
twists consolidation
for more on the wireless industry.
Follow @agara2004
-- Written by Antoine Gara in New York