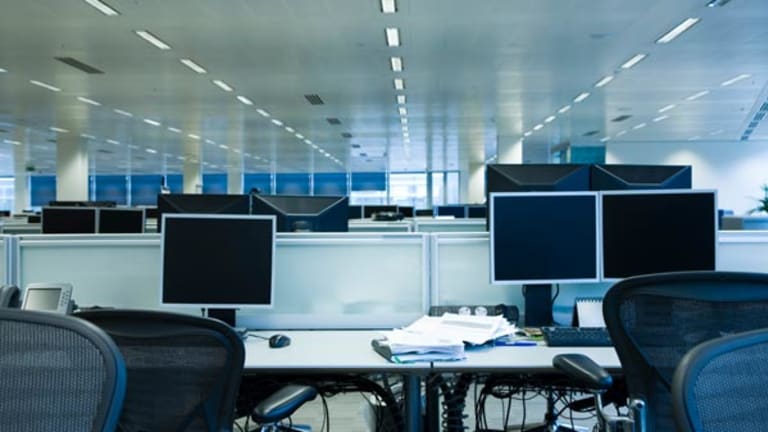 Apple iPhone 5 Launch May Pop Telecom Dividend Bubble
Apple's iPhone 5 could reveal the vulnerable side of telecom stocks, turning defensive dividend payers into cyclical earnings stories.
NEW YORK (
) -- As investors brace for the launch of
Apple's
(AAPL)
iPhone 5, everyone is dialing up the excitement. Maybe the companies most closely tied to what is expected to be Apple's best-selling phone yet, the cell carriers, shouldn't be getting carried away.
Telecom giants are poised to either enter a golden age of profitability -- after spending tens of billions to build out nationwide wireless networks to handle smartphone data loads -- or enter a never-ending cycle of subsidies paid to Apple for the latest iPhone launch controlling the destiny of telecom sector profitability.
The launch of the iPhone 5 may be the biggest test of consumer addiction to Apple's smartphone product line, with the prospect that entrenched demand cuts at the profit margins of telecom giants
AT&T
(T)
and
Verizon
(VZ)
. Already, analysts are bracing for what could be a $1 billion hit to AT&T and Verizon's third quarter earnings on the sooner than expected launch of the iPhone 5, to be unveiled at an event in San Francisco on Sept. 12 (Apple sent out an invitation to the media on Tuesday, with a graphic of the number "5" shading the background of an otherwise vague invite.)
If the iPhone 5 confirms that every new Apple product will lead to billions in telecom subsidies, it could indicate that the sector's defensive stocks are more cyclical than dividend-seeking investors may appreciate. A bombastic iPhone launch could also be the biggest dent in investor expectations for AT&T and Verizon, which have both risen over 20% in the past year on strong earnings and the safety of their near 5% dividend yields.
In the past, new iPhone launches have been a profit-draining proposition as carriers pay as much as $500 a phone in subsidies. Were subsidies to return as a drain on earnings, investors might need to reassess whether top carriers are entering an era of earnings growth, or if strong first and second earnings reports simply indicated a cyclical easing in smartphone subsidies ahead of a new iPhone launch.
"There is a sense that the carriers are in a sweet spot of higher profitability, but evidence suggests we are really seeing a calm before the storm as we wait for the new iPhone," said Bernstein Research analyst Craig Moffett in an August interview. If the iPhone 5 buying pattern proves that AT&T and Verizon subscribers will upgrade their smartphones with each new Apple product launch or reset in their handset upgrade contracts, Moffett says it would show unambiguously strong first half earnings in 2012 are "cyclical rather than secular."
Moffett, a noted bear on telecom stocks, argued in August research notes that "Goldilocks" carrier earnings reflect cyclical trends, while a long-term consumer addiction to heavily subsidized iPhones lasts as a problem for telecom investors. For AT&T and Verizon, "dividend crowding has reached epic proportions," Moffett wrote.
To be sure, there will be an earnings hit caused by the iPhone launch; the debate is whether it merely pushes forward a one-time earnings hit from the fourth quarter to the third, or whether it is a new data point for how investors should view telecom earnings over the long-term.
Other analysts and investor fund flows suggest that Moffett's bearish views are poised come to a head in the third quarter.
"We believe the iPhone 5 release could be the largest consumer product launch in history," stated Thomas Seitz, a telecoms analyst with Jefferies, in an August note to clients. While that is bolstering expectations that Apple may be the first U.S. company to reach $1 trillion in market cap, it also exposes the threat to the telecom giants.
"The earlier than expected launch of the iPhone 5 is likely to have a major impact on the
third quarter 2012 service EBITDA margin expectations for the carriers," Seitz wrote, estimating AT&T and Verizon could see profit margins fall by as much as 6%, on roughly $1 billion in iPhone subsidy expense. Seitz ultimately argues that the longer-term case for AT&T and Verizon's earnings remains intact.
Investors may also be smart to follow investor flows as a sign of what's to come in telecom. In late August, telecom stock outflows were the greatest since 2008, according to a report from Bank of America Merrill Lynch equity strategist Savita Subramanian.
"After clients poured into Telecom during the first half of 2012 and the sector's relative P/E hit all-time highs, we have observed accelerating outflows from Telecom and the other defensive sectors in the second half and a rotation into cyclicals-- most notably Industrials and Tech," wrote Subramanian.
The investor stampede may signal expectations of the dividend hit that Moffett has been crowing about amid a 2012 telecom sector rally. Subramanian highlights record post-crisis telecom sector outflows as indicative of a rotation from dividend-yielding defensive stocks to cyclical stocks.
Investors fleeing "defensives" like telecoms for "cyclicals" may be a final irony: if Moffett is right about telecoms morphing from defensive into cyclical stock plays, it's the telecoms themselves that are becoming cyclical in nature.
-- Written by Antoine Gara in New York