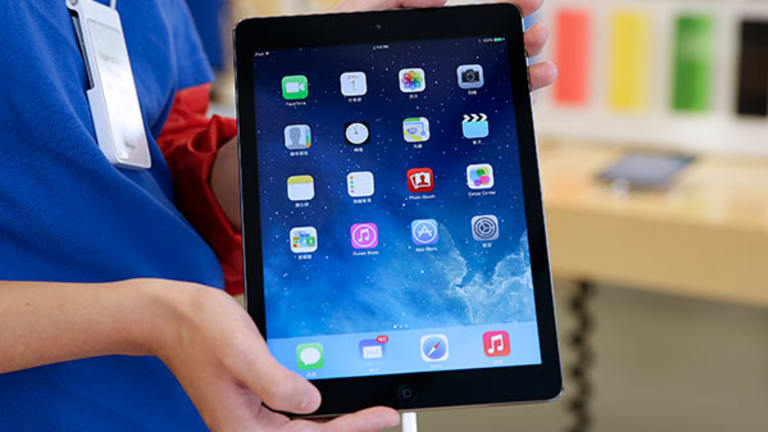 Apple iPad's Downward Slide May Not be Reversible as Consumers Go for iPhones and Macs
Apple iPad shipments may be down and not likely to recover, but the company probably isn't concerned because iPhone and Mac sales are making up the difference.
NEW YORK (TheStreet) -- Apple (AAPL) - Get Free Report iPad sales are falling and may not regain their former glory as the entire tablet market is tanking. Apple probably isn't too concerned with this trend, however, because iPhone and Mac sales are making up the difference.
Apple reported iPad shipments were down 23% for its second quarter to 12.6 million units, and tech analysts do not see any increase taking place over the next few years, but this is not necessarily a negative for Apple. The primary reason for the iPad's slipping numbers is that the iPhone and Macbook are cannibalizing the tablet's sales.
"For the first time, Tim Cook said that the big-screen iPhones and Macs were taking share from the iPad," said Mark Hung, an analyst at Gartner. Hung said Apple most likely does not care which of its products do well as long as overall sales and profits grow.
The iPad's slide apparently did not have a huge negative impact on Apple as the company on Monday reported a strong second fiscal quarter. Earnings per share came in at $2.33, compared to the average analyst estimate from Thomson Reuters of $2.16. The tech giant posted sales of $58 billion, ahead of the $56.06 billion Wall Street was looking for.
In early February, IDC reported Apple's iPad market share will continue to decline throughout 2015 to 25.6% from 27.6% in 2014 with the situation rebounding slightly by 2019 when the company is expected to see a slight uptick in unit shipments. In 2014, Apple, along with most of the tablet vendors, saw shipments decline as the replacement cycle for tablets turned out to be something of an unknown. Apple suffered a 17.8% decline on 21.4 million units shipped worldwide. Shipments for the iPad hit their peak in fiscal 2013 when more than 71 million shipped worldwide.
Top Five Tablet Vendors, Shipments, Market Share and Growth, Fourth Quarter 2014 (Preliminary Results, Shipments in millions)
| | | | | | |
| --- | --- | --- | --- | --- | --- |
| Vendor | 4Q14 Unit Shipments | 4Q14 Market Share | 4Q13 Unit Shipments | 4Q13 Market Share | Year-over-Year Growth |
| 1. Apple | 21.4 | 28.1% | 26.0 | 33.1% | -17.8% |
| 2. Samsung | 11.0 | 14.5% | 13.5 | 17.2% | -18.4% |
| 3. Lenovo | 3.7 | 4.8% | 3.4 | 4.3% | 9.1% |
| 4. ASUS | 3.0 | 4.0% | 4.0 | 5.1% | -24.9% |
| 5. Amazon.com | 1.7 | 2.3% | 5.8 | 7.4% | -69.9% |
| Others | 35.2 | 46.2% | 25.8 | 32.8% | 36.2% |
| Total | 76.1 | 100.0% | 78.6 | 100.0% | -3.2% |
Source: IDC Worldwide Quarterly Tablet Tracker, Feb. 2, 2015
One of the few bright spots during the most recent quarter for the iPad was in the Chinese market where sales flourished. On the company's earnings call, CEO Cook said Apple had "an all-time record for iPad sales in China."
Kevin Kelly, a managing partner at Recon Capital Partners said, "Sales have been declining every quarter for so long and there is no turnaround in sight. China could not even save the iPad and it appears that consumers are content with the larger screen iPhones."
Not only are iPad's now losing out to other Apple products, but some of the company's own actions are impeding sales.
"Apple does a very good job keeping old models up to date, so people don't have to update what they own," said Jitesh Ubrani, a senior research analyst at IDC. Ubrani also said the tablet market may be maxed out.
Gartner's Hung added that what is happening to the iPad has happened throughout the table market: The replacement cycle has remained slower than those of other products, as evidenced by the data above.
"For what people use a tablet for, which is mainly media consumption, a two-, three- or four-year-old model is just fine," he said.
Neither analyst believes the iPad will see sales like those during its early days, but there are some niche markets where it could do well.
Apple is rumored to be rolling out a larger version of the iPad aimed at the enterprise market, which may boost sales. The company also has partnered with IBM (IBM) - Get Free Reportto expand the tablet's presence (as well as those of other devices) in the commercial market.
"There is a business opportunity here," said Jeff Orr, senior practice director at ABIResearch. "There could be decent incremental growth if businesses are willing to adopt them." 
Another area Apple could look at is the hybrid tablet/laptop market. Currently, Apple is the only major consumer electronics company without a model in this space, but this segment is seeing decent growth. Gartner reported in January that about 9 million hybrids will ship this year, increasing to 11 million in 2016.
"The hybrid market is interesting," said Ubrani. "It is growing, and if Apple had [a hybrid] I would presume it would do well."
This article is commentary by an independent contributor. At the time of publication, the author held no positions in the stocks mentioned.