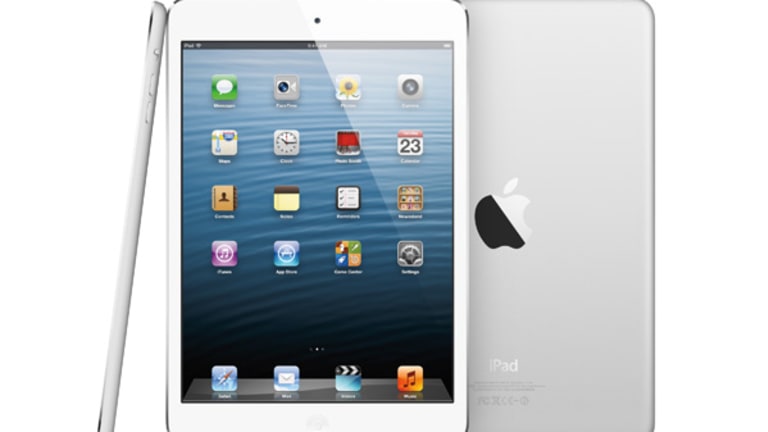 Apple iPad Mini: First Impressions
The iPad Mini and the fourth-generation iPad look set to continue Apple's tablet lead.
SAN FRANCISCO (
) -
Apple
(AAPL) - Get Apple Inc. Report
announced a slew of new products
on Tuesday, including the
. After demoing the product, as well as Apple's new fourth-generation iPad, it's clear that the tech giant still has a lead on its tablet competition.
The smaller iPad Mini, which starts at $329 for the 16 GB Wi-Fi version, looks exactly like the larger iPad, but there's a whole lot more to it. The iPad Mini has a screen size of 7.9 inches, significantly larger than the smaller tablet offerings from
Amazon
(AMZN) - Get Amazon.com Inc. Report
and
Google
(GOOG) - Get Alphabet Inc. Report
when you take into account actual viewing size. It's 49% larger when viewed in a portrait setting, and 67% larger in landscape mode, said Phil Schiller, Apple's senior vice president of marketing, during the presentation.
The first thing I noticed was how light it felt. Apple CEO Tim Cook said it was as light as a pad of paper, and at 308 grams, it feels light and airy in your hands. It doesn't feel like a toy or flimsy, however. Apple did an excellent job of reducing the thickness (7.2 millimeters), while making sure it feels sturdy. "It's as thin as a pencil," Schiller said during the presentation. The tablet doesn't have Retina Display and uses the A5 chip Apple used on the iPad 2, so it's not the greatest tablet ever made, but it's definitely a step above the competition for lower-end tablets.
Apple: Don't Believe Haters, Hype and Hysteria
Apps and Apple's mobile operating system, iOS 6, continue to look as stunning and are as responsive as they ever have been. All 275,000+ apps designed specifically for the iPad will work on the iPad Mini, so there's no need to worry about that. In the few short minutes I had to play with the smaller iPad, I had no problems whatsoever. Apple just continues to make products that work.
The screen resolution is comparable to the other smaller tablets out there, at 1024 x 768. The screen packs 163 pixels per inch (ppi). The screen quality isn't as nice as the new fourth-generation iPad, which has 264 ppi and a screen resolution of 2,048 x 1,536, but, for the price, it's good value.
The iPad Mini is a little light in terms of memory at 512 MB of RAM, but again, it's comparable to the other lower-end tablets at that price point.
Apple turned a few heads by announcing iPad Mini pricing from $329, when the fourth-generation iPad starts at $499, and the iPad 2 starts at $399. Some where expecting $299 or lower, but my sources told me $329, which proved accurate. At $329, Apple is appealing to those who think $499 is a bit much for a tablet, while keeping their premium pricing mantra alive. Apple has never competed on price, and it doesn't look like it's going to anytime soon. The iPad Mini, along with the fourth-generation iPad, will be available for pre-order on Friday, Oct. 26, and will go on sale Nov. 2.
Apple iPad Mini Event: 3 Most Important Takeaways
What's surprising is not only that the tech giant was able to make it significantly smaller, while keeping the production quality high, but that Apple also announced LTE capability on the iPad Mini, something which drains battery life. The battery on the iPad Mini is 10 hours, so this isn't the case at first glance. It's an impressive technological feat for something so small and so light to have LTE capabilities. Apple announced that, in addition to
AT&T
and
Verizon
(VZ) - Get Verizon Communications Inc. Report
, the iPad Mini, as well as the fourth-gen iPad, will be available on
Sprint
(S) - Get SentinelOne Inc. Class A Report
.
The 7.9-inch tablet is a good value at $329, and likely will cannibalize some sales of the 9.7-inch larger iPad, especially given pricing levels. It's too early to say whether consumers will choose one over the other, but I suspect more often than not, that will be the case. Apple seems hellbent on expanding its market share and opening up its ecosystem to new users, and the iPad Mini is poised to do that in a big way. The company has reportedly ordered the production of up to 10 million units for the fourth quarter, according to some Asian component suppliers.
While this may not be as Earth-shattering as the new iMac that was announced, or the iPad and iPhone when the world first gazed upon them, Apple has done it again. It's put out a premium product, and refused to compromise on quality, while making it sleek and sexy looking.
--
Written by Chris Ciaccia in San Francisco, Calif.
>Contact by
.
Follow @Commodity_Bull
>To submit a news tip, send an email to: