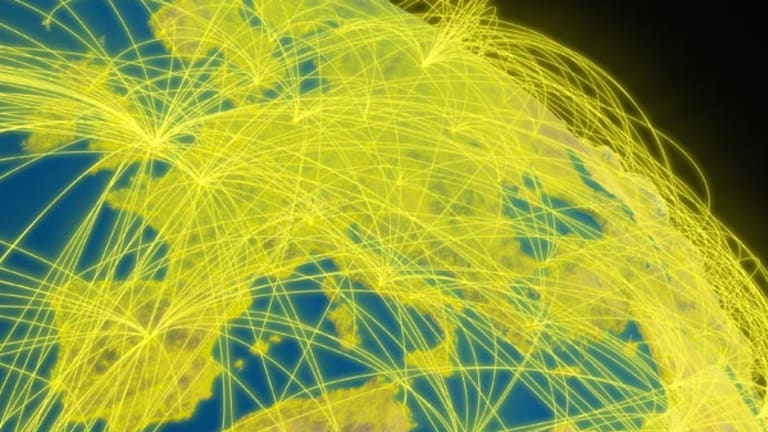 Apple iPad Mini and Google's Gaffe: Tech Weekly
Apple announced what likely is to be its iPad Mini launch next week, and earnings season kicked into high gear.
NEW YORK (
) -- As is usually the case,
Apple
(AAPL) - Get Apple Inc. Report
was the most talked-about name in tech this week. Yet, it did have some serious competition, as several tech behemoths reported results, and there was a major deal.
Apple
that it will hold a major press event in San Jose, Calif., next week, presumably to debut the iPad Mini. The tech giant is also expected to announce other new products at the event, including a
.
TheStreet
will be live-blogging the event, which kicks off at 1 p.m. EDT on Oct. 23.
Even with the looming product announcement and quarterly earnings coming next week, Apple shares dropped 3.2% this past week to close at $609.84.
Google
(GOOG) - Get Alphabet Inc. Report
shares plunged on Thursday as an earnings release gaffe, componded by
, shocked Wall Street.
An
during the middle of the day caused Google's earnings press release to hit the wires hours early at 12:30 p.m. EDT. Google blamed its printer,
R.R. Donnelly
(RRD) - Get R.R. Donnelley & Sons Company Report
for the mistake.
Third-quarter earnings were below Wall Street's expectations. Google earned $9.03 a share on $11.33 billion in revenue, excluding results from
Motorola
. Analysts polled by
Thomson Reuters
were looking for Google to earn $10.65 a share on $11.86 billion in revenue for the third quarter, up from $9.72 a share on sales of $7.51 billion in the year-ago quarter. Last year's results, however, do not factor in Google's acquisition of Motorola, which was completed in May of this year.
Wall Street analysts were expecting cost-per-click (CPC), a key metric for ads, to bottom out this quarter. That didn't happen. Google said CPC fell 15% year over year, and 3% quarter over quarter.
The Internet search giant is having a tougher time than many expected
, as the world increasingly uses devices like tablets and smartphones.
Google shares fell 8.4% this week to close at $681.79.
Intel
(INTC) - Get Intel Corporation Report
beat already
, but the company's guidance spooked investors, as mobile concerns continue to weigh.
The No. 1 chipmaker has
to gain a foothold in smartphones and tablets, as ARM-based competitors take market share.
The
Dow
component posted third-quarter net income of 58 cents a share on revenue of $13.5 billion. The average estimate of analysts polled by
Thomson Reuters
was for earnings of 49 cents a share on revenue of $13.23 billion.
For the fourth quarter, Intel expects revenue of $13.6 billion, plus or minus $500 million. Non-GAAP gross margins are expected to be between 57% and 58%, plus or minus a couple of percentage points. The top-line view is slightly below the $13.74 billion in sales analysts polled by
Thomson Reuters
expect.
Shares of Intel declined 1% this week to close at $21.26.
eBay
shares jumped as
third-quarter earnings
were helped by
PayPal
, which continues to see strong growth.
For the third quarter ending Sept. 30, eBay earned 55 cents a share on a non-GAAP basis, on $3.4 billion in revenue. Analysts polled by
Thomson Reuters
expected the online auction services company to generate 54 cents a share on $3.4 billion in revenue. Ebay's PayPal unit saw revenue increase 23% year over year, with total payment volume rising 20% over the same period to reach $35.2 billion.
The company also provided fourth-quarter outlook and guidance for the rest of 2012. eBay expects non-GAAP earnings of between 66 cents and 69 cents a share on $3.85 billion to $4 billion in sales. GAAP earnings are expected to be between 55 cents and 58 cents a share. Analysts polled by
Thomson Reuters
expect earnings of 68 cents a share on $3.94 billion in revenue.
For the full year, eBay expects full-year revenue of between $13.95 billion and $14.1 billion, with non-GAAP earnings between $2.32 and $2.35 a share. Analysts polled by
Thomson Reuters
expect earnings of $2.34 a share on $14.02 billion in revenue.
Shares of eBay closed the week sharply higher, gaining 4.4% to finish at $49.97.
IBM
(IBM) - Get International Business Machines Corporation Report
dropped sharply after the company reported
, citing a business slowdown toward the end of the quarter.
Excluding items, IBM earned $3.62 a share on $24.75 billion in revenue, down from $26.16 billion in the year-ago period. Analysts on Wall Street were expecting $3.61 a share on $25.36 billion in revenue. IBM reiterated its outlook for non-GAAP 2012 earnings per share of at least $15.10.
"We started the first two months on a stronger trajectory -- we saw a fall off in the third month of the quarter," said IBM CFO Mark Loughridge. "Geographically, we saw a fall off in North America and our growth markets."
Shares of IBM fell 7.0% this past week to finish at $193.36.
Microsoft
(MSFT) - Get Microsoft Corporation Report
had an extraordinarily busy week, launching a music streaming service, reporting its quarterly results, and announcing pricing for its Surface tablet.
Monday saw the
, as Microsoft takes aim at services such as
Pandora
(P)
and
Spotify
. Xbox Music will offer free advertising-supported songs for Windows 8 computers and tablets, but Microsoft is charging $9.99 a month for an advertising-free version on PCs, tablets, phones and Xbox 360.
Microsoft's
was not as well received, with revenue coming in well below analysts' expectations.
The software giant earned 65 cents on a non-GAAP basis on $16.01 billion in revenue. Analysts polled by
Thomson Reuters
were looking for 56 cents per share on $16.42 billion in sales. Microsoft also had $1.36 billion in deferred revenue, as Windows 8 gets set to launch later this month.
Pricing details for the Microsoft Surface were also released this week. Originally Microsoft
pricing for the Surface, which starts at $499. At $499, the Surface is the same price as the iPad. Microsoft subsequently confirmed the pricing on its Web site.
Shares of Microsoft closed the week off 1.9% at $28.64.
Telecom had a busy week, with earnings from
Verizon
(VZ) - Get Verizon Communications Inc. Report
and a deal for
Sprint
(S) - Get SentinelOne Inc. Class A Report
.
Verizon earned 64 cents a share on revenue of $29 billion during the
, in line with consensus estimates. The company said it activated 651,000 iPhone 5s during the quarter.
Sprint received a
from Japanese firm
Softbank
, as the No. 3 wireless provider in the U.S. continues its battle for market share.
Softbank is paying $20.1 billion to acquire a 70% stake in Sprint. Softbank will buy $8 billion of shares directly from Sprint and then another $12.1 billion of shares in the open market, according to the joint statement released by the companies.
Sprint will use the proceeds to continue building out its 4G network and drive its Network Vision strategy forward. Network Vision aims to consolidate multiple network technologies into one network, with the goal of "increasing efficiency and enhancing network coverage, call quality and data speeds."
Sprint shares slipped 1.4% this week to close out at $5.65, while Verizon added 1.2% to close at $45.16.
Next week will be another extraordinarily busy one for tech, with Apple holding its product event on Oct. 23 and reporting earnings on Oct. 25. We'll also see earnings from
Facebook
(FB) - Get Meta Platforms Inc. Report
,
Yahoo!
(YHOO)
,
Juniper
(JNPR) - Get Juniper Networks Inc. Report
,
Amazon.com
(AMZN) - Get Amazon.com Inc. Report
, and
Texas Instruments
(TXN) - Get Texas Instruments Incorporated Report
, among others.
Enjoy your weekend, everyone.
Interested in more on Apple? See TheStreet Ratings' report card for
this stock
.
-- Written by Chris Ciaccia in New York
>Contact by
.
Follow @Commodity_Bull