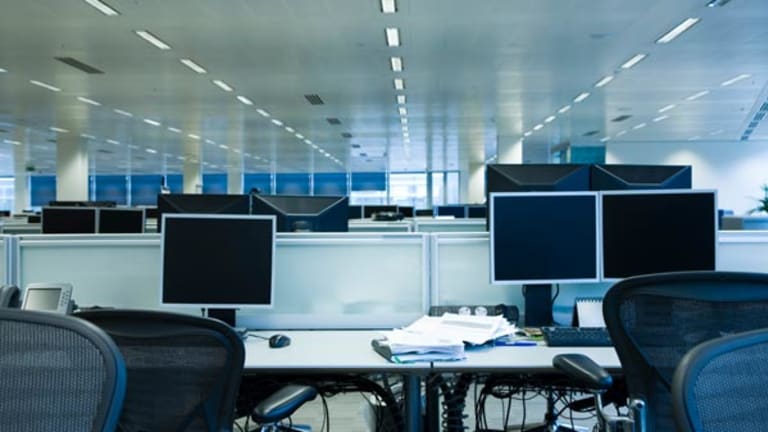 Apple Investors Divided on Dividends
Apple investors are split on what type of dividend strategy the tech giant should implement.
CUPERTINO, Calif. (TheStreet) --
Apple
undefined
investors will be closely monitoring the company's annual shareholder meeting on Thursday to see whether CEO Tim Cook makes a bold dividend move.
A famous dividend non-payer, chatter about a possible dividend has swirled around Apple in recent months, and Cook has already hinted that he may rethink the company's cash strategy. Speaking last week at the Goldman Sachs Technology and Internet Conference, the CEO acknowledged that Apple has
it needs.
Apple holds its annual shareholder meeting on Thursday
Cook, who became CEO shortly before iconic Apple co-founder Steve Jobs died last year, added that the company's dividend discussions are proceeding apace. The investor meeting will be Cook's first since assuming the CEO role.
Apple investors, however, are divided on what type of dividend is best, if indeed the company heads down that path.
"A lot of people are talking about a one-time dividend, which to me doesn't seem like an Apple thing to do," explained Ernie Varitimos, who runs the
. "I don't see the utility of it; it would benefit a few people that are in the right place at the right time -- that's not what Apple is about, they are about creating value and lasting value."
Instead, Varitimos wants Apple to institute a recurring dividend. "I would like to see a regular dividend -- that would be a good use of their cash," he told
TheStreet
. "I think that would spur a lot more institutional investment in Apple and bring it up to parity with other companies."
Not everyone, however, agrees that this would be the best course of action for the gadget giant.
"I, along with many Apple shareholders, would be very disappointed if they simply begin paying a regular dividend of 2 percent to 3 percent," explained Chad Brand, president of Peridot Capital Management and author of the
blog. "Not only would that create no shareholder value, but it would not stop the cash balance from growing -- we really need a large buyback or special one-time dividend or both."
TheStreet
will be live-blogging Apple's shareholder meeting from 12.30 ET:
Brand also called for more clarity from Cupertino on this issue. "The fact that Cook and the board have not even indicated which route is more likely is highly disappointing," he said. "And if their decision is not very bold, cash will keep piling up at a rate of billions per quarter, and we will have to deal with this problem every year or so, assuming the company continues to do so well."
Apple stopped paying a dividend in 1995, although, with a cash position of almost $100 billion, the tech giant has been coming under pressure to reinstate the payment. Some 70% of the respondents to
TheStreet's
recent
said that Apple should start carving off its vast $96.7 billion cash haul. Almost a third of respondents, however, say that a dividend's not necessary, noting that that the iPhone maker has better uses for its cash.
Peridot's Brand, though, doesn't agree. "From a shareholder perspective, the ever-rising cash balance is most disturbing and most important at this stage," he wrote. "The fact that they keep saying they are beginning to think about it more is pretty annoying -- it is not an issue that takes months to figure out -- their options are limited and fairly common at other companies."
Despite the clamor for Apple to carve off its cash, the tech giant is not alone in avoiding dividends.
Google
(GOOG) - Get Alphabet Inc. Class C Report
and
EMC
(EMC)
, for example, are among the handful of large-cap names eschewing payments. At the other end of the scale, companies like
IBM
(IBM) - Get International Business Machines Corporation Report
and
HP
are regular dividend payers, while
Microsoft
(MSFT) - Get Microsoft Corporation Report
made its first payment in 2003, and
Cisco
(CSCO) - Get Cisco Systems, Inc. Report
announced its first-ever cash dividend last year.
Whatever Apple decides to do with its cash, one thing can't be disputed -- the company's off to an impressive start in 2012. Apple's share price recently
for the first time, highlighting the firm's ongoing momentum. Shares of the iPhone maker have climbed more than 26% this year, boosted by stellar first-quarter results and the scintillating prospect of
later this year.
In addition to the iPad 3, which could make its debut as soon as next month, Apple is also expected to launch a new version of the iPhone this year, as well as, potentially, a TV offering.
At least one investor, though, said that he also wants to hear about Apple's innovation engine beyond 2012.
"My focus is on the innovation culture of the company -- how Apple
is deciding on future products, not just products currently in the pipeline" noted Michael Yoshikami, CEO and founder of YCMNET Advisors, in an email to
TheStreet
. "My interest is on the creativity factor as Apple seeks to move past Steve Jobs. Yes, talk about the dividend possibility is important but what makes Apple unique is its ability to bring exciting product to the market."
Apple shares rose $1.80, or 0.35%, to $514.84 shortly after market open on Thursday.
-- Written by James Rogers in New York
>To follow the writer on Twitter, go to
http://twitter.com/jamesjrogers
.
Readers Also Like:
10 Companies in the 'Ultimate Stock Pickers' Portfolio