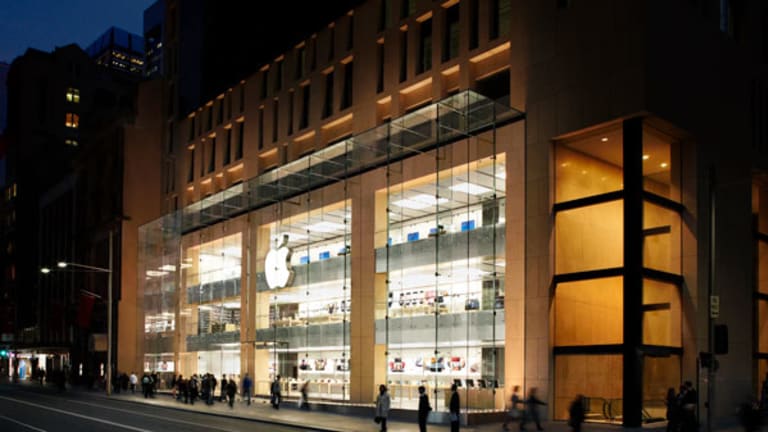 Apple iCar: Not So Crazy?
Before Steve Jobs passed away, Apple reportedly wanted to take on Detroit and make its own car.
NEW YORK (
) --
Apple
(AAPL) - Get Free Report
sells iDevices by the hundreds of millions each year. If Steve Jobs was still around, these products could even include an iCar.
In a
New York Times
talking about a potential Apple iWatch, Nick Bilton touches on Apple's penchant for pushing the boundaries, even taking on the automobile industry. Before Jobs passed away, Apple reportedly wanted to make its own car. Prior to his death in October 2011, Jobs had a meeting with John Markoff of
The New York Times
, telling Markoff that he would've liked Apple to do something with autos.
This isn't the first time we've heard about Apple and autos. Back in August, Apple's Senior Vice President of Marketing, Phil Schiller,
on this subject during the company's patent trial with
Samsung
. "First, Apple had been known for years for the Mac. Then we had a big hit called the iPod -- it really changed the view inside and outside the company," Schiller said. "People were suggesting every idea: make a camera, make a car -- crazy stuff."
Apple has already made some headway into autos, with Siri coming to
Daimler's
undefined
Mercedes Benz
.
Going a step further, some notable Apple employees have deep rooted passion for cars. Schiller lists cars as one of his passions on his
Twitter
bio. Eddy Cue, senior vice president of internet software and services, sits on
Ferrari's
board. Tim Cook
with Ferrari's CEO Luca di Montezemolo last year, further fueling the fire.
Google's
(GOOG) - Get Free Report
working on driverless cars in its quest for domination of every facet of technology. A car either developed solely by Apple, or with the help of, say,
General Motors
(GM) - Get Free Report
or
Ford
(F) - Get Free Report
, could get the attention off Google's driverless car and back on Apple. The Cupertino, Calif.-based firm sorely needs to regain its reputation for cutting-edge innovation, given the
.
As far back as I can remember, there's always been speculation that Apple would move into automobiles, perhaps designing its own car. Several years ago, for example, there were rumors that Apple would work with
Volkswagen
to build the reported iCar.
Perhaps with the recent success of electric vehicles, Apple would move away from traditional automakers, and maybe work with
Tesla Motors
(TSLA) - Get Free Report
, where there are already grounds for a relationship.
How Tesla Plans to Revolutionize the Electric Car
George Blankenship, Tesla's vice president of worldwide sales and ownership experience (who I
), is a former Apple guy. In fact, Tesla's retail experience is a direct result of Blankenship's time at Apple.
I'd be willing to bet dollars to donuts that Apple has (or had) plans for an iCar somewhere in the drawers in Cupertino. You can also guarantee that Siri would (or will) likely play a major role in it too.
--Written by Chris Ciaccia in New York
>Contact by
.
Follow @Commodity_Bull