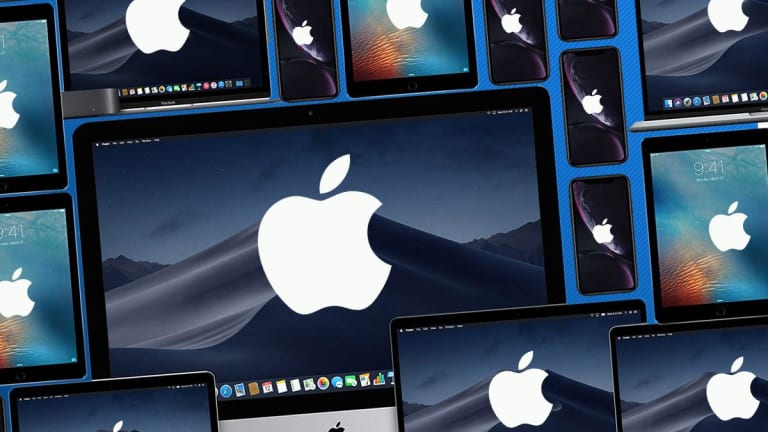 Apple Faces Two Big Challenges That It Can Handle -- At Least For Now
Despite Apple ending its reporting of iPhone unit sales, the thing that really matters is its software pre-eminence.
46.9 million iPhones is the last data point you're going to get out of Apple (AAPL) - Get Report .
That was the number of iPhones Apple sold in its fiscal fourth quarter ending in September. The company said last month it will stop reporting unit sales numbers for its products on a quarterly basis, setting off a mild panic. 
The epic press release cycle of Apple quarterly earnings has been such a source of information arbitrage on Wall Street that it's hard to imagine doing without it.
In truth, those numbers were never part of mandatory financial reporting and providing them wasentirely at the discretion of the company. They giveth, and they taketh away. 
With the elongation of smartphone upgrade cycles around the world, it is no wonder Apple may wish to be done with the speculative frenzy they created. The numbers only get tougher for Apple going forward.
Information arbitrage will likely only increase on Wall Street, now that the ultimate truth of iPhone sales is a hidden affair. Guessing a number that's never officially revealed shall be an even more tantalizing treasure hunt for sell-side analysts.
None of that should overly worry those who are long Apple stock. The company frankly has the upper hand. In a world increasingly dependent on software, Apple has control of one of only two viable consumer software platforms, iOS. Despite its relatively small share compared to Google's  (GOOGL) - Get Report  Android, iOS is integral to hundreds of millions of people's daily lives. 
Developing and maintaining a vast ecosystem of code on which application developers reach consumers is an epic effort, one that's unlikely to be equaled by any entity smaller than Apple or Google anytime soon. They have a comfortable duopoly -- in other words, something that guarantees a certain lock on the customer. 
Apple is up against two challenges, both external to the company. One is the slowing of hardware innovation. Although Apple continues to have a respectable lead over other smartphone makers in integrating new features, it gets harder and harder to deliver hardware innovations that really wow the consumer. Some of that is just the limits of physics. Apple's suppliers, such as the fiber-optic vendor Lumentum Holdings (LITE) - Get Report , struggle to produce enough devices to make possible novel features such as the "True Depth" camera on the front of the iPhone that makes possible facial recognition. 
Apple is no worse-off than anyone else in that situation, and it's arguably better-positioned than most because whatever manufacturing challenges there are, Apple gets first dibs on supply given its sheer purchasing power. 
The second challenge to Apple is more profound. The technology of machine learning is proceeding at a pace that's astounding, with innovations coming in rapid succession. It's possible to see things such as chatbots evolving into a persistent personality that is always with us when we use these devices, as the processing power in mobile devices vastly increases the functioning of neural networks. A kind of avatar, not really "AI" but a friendly companion, will gradually infuse our lives. 
People are bored and they're lonely, much of the time. A rudimentary digital companion, enabled by neural networks, will keep each of us company on those lonely train rides. It will be the first stage in what the Carnegie Mellon Professor Mahadev Satyanarayanan has called "an angel on your shoulder," a voice constantly chatting with you through your headphones, your screen and, someday perhaps, through augmented reality glasses. It will be a constant companion "indistinguishable from the voice in your head."
That advance in neural networks will probably appear first on Apple's and Google's platforms. In some senses, it sounds like an evolution of Apple's Siri or the Google Assistant. But it won't necessarily rest there. If there is enough demand from consumers for the digital companion, it can eclipse the importance of the smartphone, which is really a rather simplistic device, a shrinking down of the personal computer. Apple and Google could both lose their grip on everyday computing by missing this wave.
But it's going to take another decade to get there, at least. In the meantime, we have only the achingly slow progress of today's mobile devices. And that suits Apple's empire just fine. While one can grumble about the lack of disclosure, Apple's dominance is firmly entrenched. 
At a recent price of $158.90, Apple shares trade at just 12 times this year's projected $13.24 per share in GAAP earnings per share, before counting Apple's enormous cash pile. It's a small price to pay for such dominance.
Apple is a holding in Jim Cramer'sAction Alerts PLUS Charitable Trust Portfolio. Want to be alerted before Cramer buys or sells AAPL? Learn more now.
Save 66% with our '12 Days of Holiday Deals' Sale. Join Jim Cramer's Action Alerts PLUS club for investors and get our best deal of the year. Click here for details or to sign up.
The author doesn't own shares in any companies mentioned in this column.