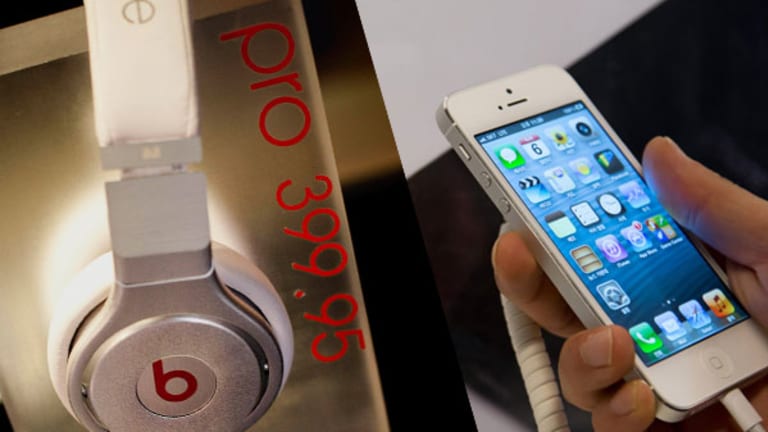 Apple Has Opportunity to Succeed Where Pandora Has Failed
Harnessing the popular appeal of music and the power of data -- that's a piece of the puzzle that ties Apple and Beats together.
NEW YORK (TheStreet) -- At New York Magazine, Kevin Roose published an article asking if Apple (AAPL) - Get Apple Inc. Report and Beats can "fix the economics of streaming music."
Reasonable query I guess, but it lacks the context required to move the streaming radio conversation forward, and accomplish anything otherwise meaningful. If you talk the optimistic approach (the way I always do!), there's nothing to fix. Just more ground to cover. More opportunity to make love to. That's got to be the mindset Apple and Beats share -- otherwise there's no reason to do this deal. 
In any event, here's how Roose lays it out:
"The basic problem streaming music companies face is a math challenge -- in general, the more people who use your service, the harder it is to turn a profit. The only ways to increase your profits while growing are to (a) reduce your overhead costs, (b) bring in a lot more revenue through ads and subscriptions (ideally subscriptions, since ad revenue is notoriously fickle), or (c) use your negotiating leverage to force labels and/or artists to accept lower royalty rates."
Roose made a mistake when he wrote, "The only ways to increase your profits" are (a), (b) and (c). My emphasis on only. That's simply a false statement.
Just because streaming services such as Pandora (P) are not doing something other than reducing overhead (they're not), increasing ads and subscriptions (Pandora's doing both, particularly ads) or "negotiating leverage" for better royalty rates (I don't have all day!) doesn't mean other ways do not exist. Not only do other ways exist, but they will end up making meaningful contributions to streaming radio revenue streams.
For background, see my article history at TheStreet -- there's tons of stuff there on the matter. But you can get an understanding of how streaming radio can generate revenue and increase profits in pieces such as Pandora Is Killing Itself Right In Front of Our Eyes, Google or Yahoo! Buying Pandora Makes a Ton of Sense and Twitter Could Crush Pandora Without Playing a Song. Each one of those articles should stimulate your vision and imagination, but the Twitter (TWTR) - Get Twitter, Inc. Report one segues best into the specifics I get into in this article.
Here are some thoughts on the value of music-related data within the Twitter platform, first from Ben Sisario of The New York Times and second from former Def Jam and Warner Music Group leader Lyor Cohen, sourced from another article I wrote on the subject:
Sisario in the NYT
For the music business, Twitter holds a vast haystack of data with no easy way to find the most valuable needles -- like which acts are attracting the most attention, and where ...
The reading of music's digital tea leaves has become a big business as companies like Gracenote, Next Big Sound and Musicmetric have joined traditional players like Nielsen in providing information about music online. But while music is the most popular topic on Twitter -- users discussed it in more than one billion messages last year -- its depths have not been fully plumbed ...
Lyor Cohen
There was a time not so long ago when we sold music to retailers and they sold to fans, but nobody knew who those fans were ... I've spent most of my life not knowing who the customer is. Isn't that a shame?
That's just with respect to Twitter. The potential blows up -- we're talking like NFL seventh round draft pick type of potential (!) -- when you consider streaming services, particularly a streaming service under the Apple umbrella that's keen on covering ground Pandora refuses to traverse. 

Imagine a scenario where a streaming platform, chock full of both historical and real-time listening, music preference, demographic, geographic and other types of data, opens their mines (and minds) to everybody from record labels to musicians to concert promoters to marketers to major brands. It's all about unleashing "the firehose of data" (as Twitter calls it) and maximizing the largely untapped value in music -- the one thing everybody uses to sell everything.
Record labels use data from Shazam to inform radio airplay:
The company's data from tags of songs is an increasingly-important metric within the industry too. Witness Secretly Label Group's Hannah Overton's comments about its use by radio playlisters in the UK, at the recent Music Connected conference: "It's all about Shazam now really. It's the main factor they look at over all other factors: where something is Shazamming in the pre-release chart," she said.
This use of Shazam's data ties into Cohen's quote about knowing who the customer is. There's a marriage between the two excerpts streaming radio can effectively officiate.
Record labels can take data from streaming services such as Pandora and use it to inform everything from radio airplay to touring schedules, merchandise sales and the real value (beyond the pittance of a royalty) of a particular song with respect to marketing activities. If Pandora's unwilling to step up and provide that data (quite possibility because of competitive reasons, re: informing radio airplay, or strategic reasons, re: the battle over royalties), an Apple/Beats combo could be more than ready to seize the opportunity Pandora leaves on the table. Apple, given its dominant position, simply doesn't have the same strategic-competitive concerns. 
By doing that, it opens the floodgates. Major brands would absolutely love to use the mounds of music data streaming services collect to build consumer profiles and learn how to better move product, quite often with music working as the emotional trigger to prompt purchase and build brand loyalty. It's an area Nielsen (NLSN) - Get Nielsen Holdings Plc Report is already already delving into with broadcast radio.
Would the revenue generated from these and other activities -- from, say, self-serve databases of historical and real-time data, licensed to labels, marketers and brands -- be a windfall to a company like Apple? Probably not. I'm still working various sources to quantify the precise value of the data, but the amount will not be negligible and it absolutely would move the needle at pure playing streamers looking to boost the bottom line, be it Beats as a subsidiary of Apple or an independent Pandora. (Twitter's data licensing business, which includes data derived from all tweets -- not just music-related tweets -- already grosses about $70 million in sales. That's 10% of Twitter's total pie).  
But beyond building a fresh and potentially lucrative revenue stream, data helps complete just one more piece of the puzzle to owning the digital music landscape. If Apple sells data to labels and such, it makes money on top of mobile advertising and subscription revenue, but it also builds goodwill with the labels. That could mean even sweeter royalty deals than the ones Apple already finagles as well as more dynamic promotes and partnerships. Plus you dig deeper into knowing who your users are and, if you play it smart, who the people are who access Beats Music on, say, an Android phone.
Bottom line -- outside of what's happening at Nielsen, Twitter and a handful of other places, building a data business as it relates to music represents a largely untapped area. I know Beats Music has wanted to go there since prior to its public debut. That was going to be a significant part of their business. It's a game Jimmy Iovine talks. I can't imagine a situation where he joins Apple's executive team and drops that mission, because there's wide-ranging value there. Iovine and his colleagues at Beats know this.
That has to be part of what got Apple excited enough to pull the trigger (presumably) on a little multi-billion dollar M&A in the first place.
--Written by Rocco Pendola in Santa Monica, Calif.
>>Read More:
Amazon and Netflix Are Going After Your Kids
Google's CEO Larry Page Outlines Grand Ambitions
The 2015 VW Golf Is a Grown-Up Premium 42-mpg Delight
Rocco Pendola is a full-time columnist for
TheStreet
. He lives in Santa Monica. Disclosure: TheStreet's editorial policy prohibits staff editors, reporters and analysts from holding positions in any individual stocks.