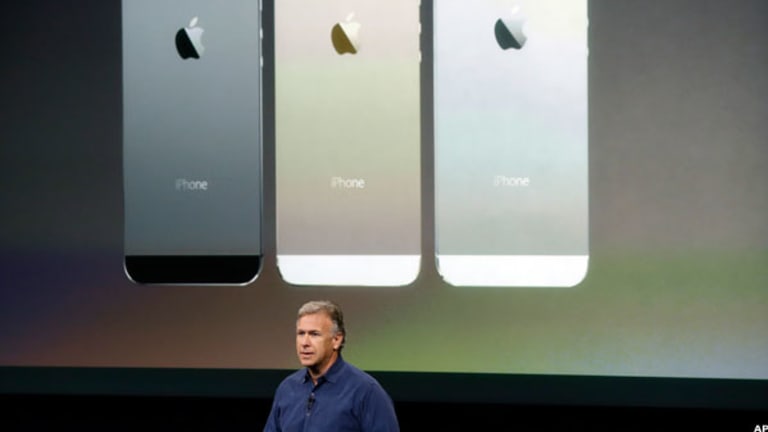 Apple Gets Goldman Boost
Following an exceptionally strong opening weekend for the new iPhones, Goldman Sachs raised its earnings estimates and price target on Apple.
All that glitters is gold/Only shooting stars break the mold
-- All Star , Smash Mouth
NEW YORK (
) -- Spurred by the incredible demand for the iPhone 5s, particularly the gold model,
Apple
(AAPL) - Get Apple Inc. Report
sold more than 9 million new iPhone 5c's and 5's in its
prompting a price target raise from Goldman Sachs analyst Bill Shope.
Shope reiterated his "buy" rating and raised his price target to $560, up from $530, also raising his earnings estimates after yesterday's blowout results. "We are raising our estimates as a result of this significant upside," Shope wrote in the report. "Inaddition, while most investors seemed positively surprised by today's news, we also heard from the bears on the story and we address some of their concerns in this note as well."
He now expects Apple to generate $7.85 per share in earnings on $36.96 billion in revenue, up from a previous estimate of $7.31 and $35.05 billion. Analysts surveyed by
Thomson Reuters
expect Apple to earn $7.47 per share on $35.23 billion in revenue for the fiscal fourth quarter.
Goldman also upped its estimates for fiscal 2014, as it now expects Apple to sell 164.4 million iPhones, helping generate $182.71 billion in revenue, and earning $44.11 per share. That's up from a previous estimate of 156.55 million iPhones, $179.67 billion in revenue, and $42.65 per share in earnings.
Shope noted that this year's 9 million figure is "perfectly comparable to last year's first weekend sales of 5 million units," as Apple uses the same sales recognition policy it always has. However, this year the company launched new phones in 11 countries, vs. nine last year, and China was included in the initial launch. Last year, China didn't get the iPhone 5 until December.
"All of these factors were known before the device launch, however, so the 9 million unit shipments should be largely comparable to the StreetAccount consensus expectation of 6.4 million units," Shope wrote. "In addition, the lack of a preorder period for the 5s likely countered some of the tailwinds from the additional launch countries this year. Overall, we believe the first weekend sales figure was a significant positive surprise for the Apple story."
With regard to the breakdown of the 9 million units, Shope notes there's "no hard data to determine the exact breakdown," but notes that the iPhone 5s appears to have sold out on its first day. He noted there's no way to measure how many 5s units were sold, but believes the initial supply of 5s units was larger than that of iPhone 5 units last year. As such, he believes Apple is recognizing 4 million to 5 million units of 5s sales, and 4 million to 5 million units of 5c sales in the first weekend.
"In addition, the first weekend sales figure does not include online sales of the iPhone 5s that were not shipped to customers over the weekend, and as such, a substantial portion of initial 5s demand will still be recognized in December quarter results."
Shares of Apple were higher in pre-market trading, up 0.8% to $494.59.
--
Written by Chris Ciaccia in New York
>Contact by
.