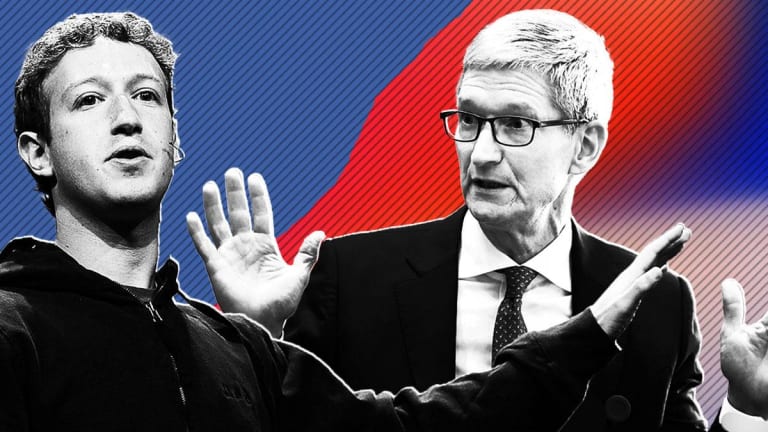 Apple-Facebook Clash Highlights a Battle of Business Models
Apple and Facebook had another public spat over a Facebook test app that hoovered up data from users as young as 13. The two tech giants are staking out their positions on privacy.
Break out the popcorn: Facebook (FB) - Get Meta Platforms Inc. Report  and Apple (AAPL) - Get Apple Inc. Report are bickering again.
It's always fun when tech giants fight (at least, it is to this tech columnist), but in the case of Facebook and Apple, the feud dates back awhile -- and says a lot about how the two companies do business.
Here's the gist: TechCrunch reported that Facebook, a company not generally recognized for its moral courage, had been circulating a research app that compensated users as young as 13 for access to virtually all of the contents of their phone. In short order, an enraged Apple yanked the app's enterprise certificate on the grounds that it illicitly circumvented Apple's rules on distributing such apps to consumers. 
A similar situation occurred in 2018, when Apple banned a VPN app Facebook operates, called Onavo, on the grounds that it harvested other data from other apps, another violation of Apple's App Store guidelines.
What's interesting is that unlike other tech rivalries, Facebook and Apple don't really compete with one another. They're both mega-cap tech stocks with products used by billions of people, but that's about where the similarities end. Apple, with about 60% of its revenue from iPhone sales, is still primarily a hardware company, despite its full-court press into services. Facebook, meanwhile, is a family of social apps that makes a mint hoovering up your data and using it to sell targeted ads.
Yet Apple CEO Tim Cook has emerged as one of the highest-profile critics of this kind of ad-based business model. At a recent keynote Brussels, Cook told an audience of regulators: "Our own information, from the everyday to the deeply personal, is being weaponized against us with military efficiency." At other points, he has called out Facebook specifically, characterizing its business model as "trafficking in your personal life" in an interview with MSNBC last year.
In a subsequent interview, Facebook CEO dismissed Cook's remarks as "extremely glib and not at all aligned with the truth."
So what's really behind all this chest-thumping?
It's important to note that when it comes to privacy, Apple is far from infallible. Just this week, a bug was discovered in FaceTime that made it possible to hear audio before a user picked up a call, within days prompting a lawsuit by the New York State attorney general. And Apple contended with its own privacy critics who point to the company's concessions to the Chinese government, such as barring Chinese users from installing VPN apps to circumvent monitoring.
Meanwhile, Zuckerberg has tried to make the case that its business model is sound. In a recent op-ed in the Wall Street Journal, he repeated the company's assertion that users prefer targeted advertising, and that Facebook's business model creates a "strong incentive" to prevent users' data from being accessed by anyone else.
"Fundamentally, it comes down to business models and over the last year or two you're starting to see this converge," added Greg Sparrow, a security and risk management expert with CompliancePoint. "There's a lot of positioning and jockeying between these organizations, and privacy has brought this to the forefront."
At least right now, Facebook investors are overlooking its long-documented privacy slips. The company posted record profits on Wednesday, sending its stock up 11% by the week's end.
But Apple may be betting that over time, its positioning on privacy -- that they don't peddle your data to advertisers and never will, scrupulously enforce App Store privacy guidelines and won't automatically allow law enforcement to access phones and user data -- will draw more people to Apple products and services than competitors, such as Alphabet (GOOGL) - Get Alphabet Inc. Report , which owns the Android operating system.
It's not yet clear when, or if, that will emerge as a material differentiator for consumers.
"From what we've seen so far, privacy concerns are currently a reason not to choose, or a reason to be concerned with your choice, versus a reason to choose," said Stephen Beck of CG42, a management consultancy that studies consumer opinions about technology. "As humans we're still figuring this stuff out, and consequently, we're not always terribly logical with where we draw the line."
Beck notes that while trust in tech giants has declined overall, Facebook consistently ranks well below others during the time it's been tracking them -- but that Apple has fared a bit worse over time, as well.
As privacy concerns continue to arise in the press, and in the minds of U.S. lawmakers and regulators, however, those perceptions could change. U.S. policy makers are beginning to weigh what a national privacy law would look like, and tech giants -- while agreeing broadly that such a law is needed -- are staking out positions that reflect their own self-interests. 
Turns out tech feuds are more than entertainment -- for investors, they could be a sign of things to come, too. 
Facebook, Amazon and Alphabet are holdings in Jim Cramer's Action Alerts PLUS member club. Want to be alerted before Jim Cramer buys or sells these stocks? Learn more now.