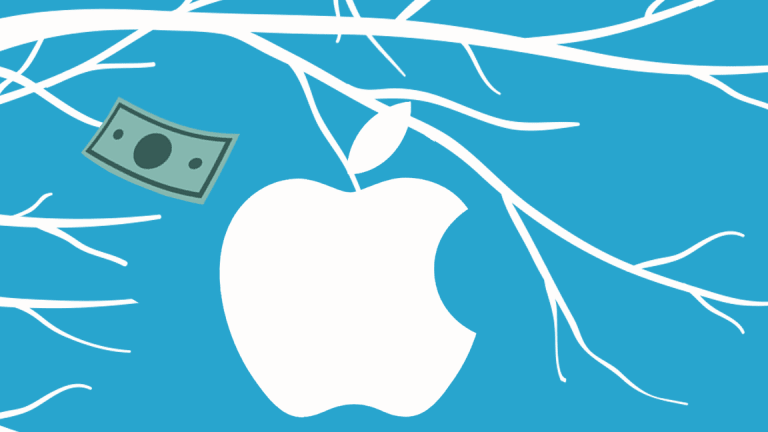 Apple's Stock Still Diving on Fears of iPhone X Demand
Apple is set to open at the lowest level since Nov. 1 amid persistent concerns over the strength of demand for its flagship iPhone X ahead of Thursday's key first quarter earnings report.
Apple Inc. (AAPL) - Get Report shares extended declines in pre-market trading Tuesday, following its biggest single-day drop in more than a month, as investors continue to question the strength of demand for its flagship iPhone X ahead of its first quarter earnings release later this week.
Apple shed $14 billion in market value Monday amid a 2.07% slump that was drive, in part, by a report from Japan's Nikkei Business newspaper which suggested the world's biggest tech company was ready to halve its forecasts for iPhone X shipments to 20 million for the three month period that beings in January, the company's fiscal second quarter.
Apple shares were marked 1.11% lower in pre-market trading Tuesday, indicating an opening bell price of $166.10 each, a move that would push the stock to its lowest level since Nov. 1 and tip it into negative territory since the $999 iPhone X was launched on Nov. 3.
Interesting, amid a series of reports suggesting limp demand for the iPhone X over the holiday season, Japan's Murata Manufacturing Co., a key supplier, told Reuters Tuesday that it hasn't seen a drop off in orders that would match a significant decline in sales for the anniversary edition of the iPhone.
That followed a release Monday from AMS AG (AMSSY) , an Austrian supplier of optical sensors for the iPhone, which showed a upgrade to its 2019 revenue forecasts following stronger-than-expected full year sales that could signal solid demand.
AMS said its 2017 revenue more than doubled to €1.06 billion and that it would lift its 2016 to 2019 compound annual sales growth rate to 60% from 40%, an upgrade that was "particularly driven by a range of revenue pipeline opportunities in smartphone and consumer applications". It also said it sees 2019 revenues of €2.2 billion ahead of its Feb. 6 earnings report.
In its last earnings report, published in October, Action Alerts Plus holding Apple forecast sales of between $84 billion and $87 billion for the three months ending in December, the first quarter of its 2018 fiscal year, a figure that came in at the high end of analysts' forecasts and put to rest speculation of production bottleneck and technical snags related to the much-anticipated launch of its iPhone X.
Apple also said shifted 46.7 million iPhones over the quarter that ended in September, the company said, topping Street forecasts of 46.4 million, although average selling prices slipped to $618, continuing a declining trend. Still, net income rose 18.8% to $10.71 billion and expects is gross margins for the first quarter to improve by 5 basis points to 38.5%
However, the Street's founder, Jim Cramer, said Monday that investors might be too focused on iPhone shipment details and should instead look at the company's robust growth in recurring services revenue, which grew 17% over its last fiscal quarter to a record $8.501 billion.
"Now, I think the service stream is going to be big," he said. "Remember, we went from 135 to 93 on Apple once before ... and then you had to buy it and those who tried to trade around weakness, they didn't."
"But look at that service stream," Cramer advised. "I think that service stream is going to grow, grow, grow and you're got a razor-razor blade system. And I recognize that people won't be able to take the pain, but I also recognize that it was a setup. The super cycle was something I never believed in. I liked the company."
Here's what one top experts thinks about Apple's recent stock dive.
More of What's Trending on TheStreet: