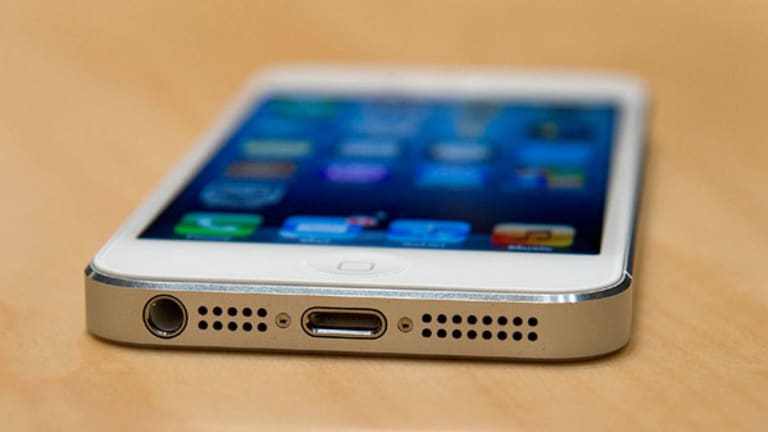 Apple: Everything You Didn't Want to Believe May Be True
Judging from Apple's second-quarter earnings report, Wall Street's growth concerns were correct. But Apple's not dead in the water.
NEW YORK (
) -- To describe
Apple
(AAPL)
, I'm going to borrow some lyrics from Toby Keith. "I ain't as good as I once was/But I'm as good once as I ever was."
Apple's
second-quarter earnings report
seems to bear out Wall Street's growth concerns. The company had a phenomenal 2012, a year that was way beyond expectations, setting 2013 up to be remarkably difficult. CEO Tim Cook acknowledged as much on the earnings call. "
We acknowledge that our growth rate has slowed and our margins have decreased from the exceptionally high level we experienced in 2012," Cook said. That doesn't mean Apple's dead in the water, though.
UBS
analyst Steven Milunovich wrote that Cook talked about new products and new product categories, but that they would be later than Wall Street analysts and the media were expecting, with launches in the fall and throughout 2014.
Also see: Apple's WWDC Kicks Off June 10 >>
"Apple is ramping R&D and marketing in the June quarter, which may mean Sep announcement of the 5S and low-end phone," Milunovich wrote in his note. "We assume the Sep quarter will look much like the June quarter with Dec showing strong improvement." Milunovich rates shares "buy," but cut his price target to $500 from $560.
June guidance was exceptionally weak, much weaker than anyone on Wall Street thought. For the fiscal third-quarter, Apple expects revenue will be between $33.5 billion and $35.5 billion, with gross margins between 36% and 37%. Prior to the announcement, analysts polled by
Thomson Reuters
were expecting $38.2 billion in sales.
Also see: EMC Misses on the Top and Bottom Lines; Shares Slip >>
Competition is clearly affecting Apple, judging by the guidance. Cook acknowledged as much on the call, saying
Samsung
, married with
Google
(GOOG)
, was Apple's toughest competitor on the hardware side.
This demonstrates that Apple is seeing weaker year-over-year growth, and 2013 is essentially a lost year for Apple.
Topeka Capital Markets
analyst Brian White believes Apple "represents an attractive stock heading into a new product cycle in FY14." While this may be true, shareholders are getting antsy with the drastic sell-off in the stock, down more than 40% since the launch of the iPhone 5. The company assuaged some of those fears with a huge capital return program, giving back $100 billion to shareholders in the form of buybacks and dividends over the next three years.
That's extraordinarily generous, but it does show that Apple's cash hoard is outweighing its innovation and product pipeline right now, which is not something shareholders ever want to see, no matter how short-term in nature Apple might want to spin it. At the very least, it should buy Cook and his team time as Apple tries to restart the growth engine.
Cook talked about "new product categories" coming in the fall and throughout 2014, which is sure to whet the appetites of Apple bulls, but a weak June quarter is playing on investors minds right now. JPMorgan analyst Mark Moskowitz believes "the soft Jun-Q outlook could weigh momentarily and our estimate revisions result in our price target declining 25%." Moskowitz rates Apple "overweight," but cut his price target to $545 from $725.
New product categories could be the oft-rumored iWatch, an Apple television and new software and services that Apple unveils as it tries to become more than just a hardware company. In the earnings release, Cook said, "Our teams are hard at work on some amazing new hardware, software and services, and we are very excited about the products in our pipeline."
Also see: Is the Bitcoin Bubble for Real? >>
By mentioning software and services, he is continuing to alter the perception that Apple is more than just iPhones and iPads. This will take some time, and growing software and services revenue to a larger piece of the pie will help do that.
There was one hint that should give investors hope on that front.
Piper Jaffray
analyst Gene Munster asked about the payments industry, and Cook said the industry is "in its infancy," and "it's just getting started and just out of the starting block."
Right now, Apple has become a mature tech company, growing above the rate of the industry, but not at the lofty levels of 2012. In order to get Apple back to what it was, innovation needs to show itself in the form of new products, new categories and strategic acquisitions that will help differentiate Apple from everyone else.
Otherwise, Apple will never be as good as it once was.
--
Written by Chris Ciaccia in New York
>Contact by
.