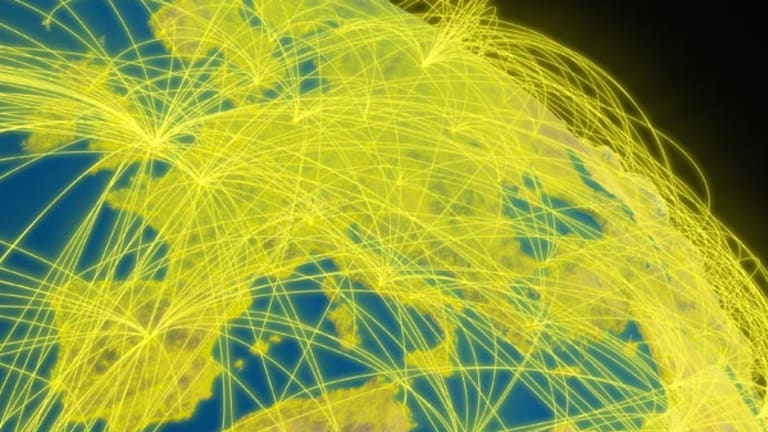 Apple Enterprise Dollars Looming Larger: Analyst
Apple's consumer gadgets may be grabbing all the attention ahead of WWDC event, but its enterprise strategy is quietly gaining momentum.
CUPERTINO, Calif. (
) -- The spotlight might be firmly focused on
Apple's
(AAPL)
latest, greatest consumer gadgets ahead of its Worldwide Developers' Conference (WWDC) next week, but enterprise dollars are looming ever larger in the company's plans, according to Sterne Agee analyst Shaw Wu.
The analyst recently met with Apple CFO Peter Oppenheimer and Eddy Cue, the company's senior vice president, for Internet Software and Services, who outlined the firm's efforts to boost its enterprise revenue.
Apple is bolstering its enterprise strategy, according to Sterne Agee
"In terms of the enterprise market, Apple commented that it is adding to its sales team, spending on its VAR
value-added reseller network, adding briefing rooms in its retail stores, and adding service capability," explained Wu, in a note released on Thursday.
Although Apple does not break out its enterprise revenue, the Cupertino, Calif.-based company has been vocal about the growing popularity of iPads and iPhones in corporate America. Speaking during the company's second-quarter conference call earlier this year, Apple CEO Tim Cook said that 94% of the Fortune 500 and 75% of the Global 500 are either testing or deploying iPads.
Initially, according to Cook, Apple's focus was on working with Fortune 500 and Global 500 firms to get the iPad certified for their particular enterprise. "We are moving our focus away from this and focusing on penetration within these accounts," he added. "It's absolutely the most broad-based product I have ever seen in my whole career in terms of adoption rate into the enterprise."
Apple's iPhone is also gaining significant traction amongst enterprises, increasing the
on rival
Research in Motion
(RIMM)
. Analysts have already noted iPhone share gains, as companies increasingly
iPhones as BlackBerry replacements.
"iPhone momentum in the enterprise has evolved beyond email, calendar and contacts," added CFO Oppenheimer, during Apple's second-quarter conference call. "IT and business line managers across industries see the opportunity to leverage both company and employee-owned devices to improve productivity and efficiencies through iOS in-house app development."
It's not just iPhones and iPads, though, that are enjoying a business boom. Macs are also growing their presence in the
Microsoft
(MSFT)
Windows-dominated enterprise, according to tech consultancy
Gartner
(IT)
.
While
Microsoft
(MSFT)
Windows PCs still dominate the overwhelming majority of desktops, a growing number of businesses are embracing Macs, it says. Speaking at a conference in Orlando, Fla. this week, Gartner analyst Michael Silver noted that 64% of enterprises will likely allow more Macs into the organizations, according to
Network World
.
In his note, Sterne Agee's Wu said that, despite growing business demand for its products, Apple will not provide specially-built offerings.
"
Apple commented it is not providing custom models for enterprise like others, instead opting to provide the same models for both consumer and enterprise markets," he explained.
Wu also discussed the issue of carrier subsidies with Apple, amidst ongoing chatter that telecom firms will rein in the subsidies they pay the tech giant to sell popular gadgets such as the iPhone.
"Apple believes that the iPhone provides a lot of value to carriers with the industry's lowest churn rate of under 2%, efficiency with data, and propensity to drive family plans which have higher Revenue Per User (RPU)," he wrote. "We believe concerns over lower carrier subsidies are overblown and in addition believe a carrier cannot afford to not carry iPhone as it risks losing market share to a carrier who does."
Wu reiterated his buy rating and $780 price target for Apple.
Apple shares gained 0.51% to reach $574.38 on Thursday.
What do you think Apple will announce at WWDC? Take TheStreet's WWDC
and tell us.
--
Written by James Rogers in New York.
>To submit a news tip, send an email to:
.
Check out our new tech blog,
Tech Trends
. Follow TheStreet Tech
.