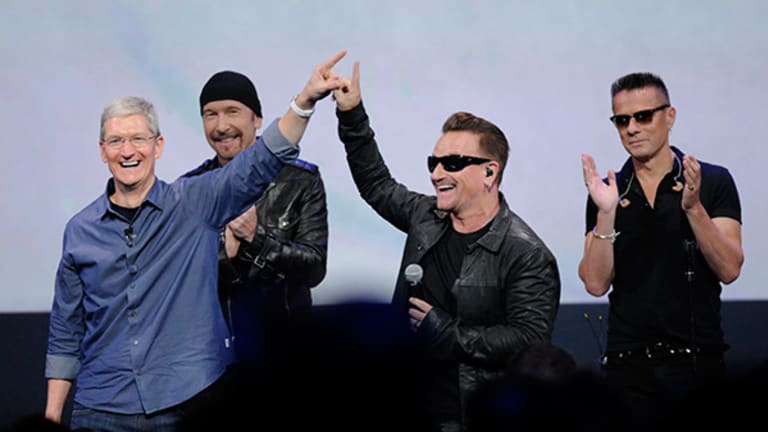 Apple Employees' Favorite Perks -- Here Are 7 of the Best
While Apple isn't as well-known for its perks as Facebook and Google, it does still offer some great ones. Here are some of the best.
Editors' pick: Originally published March 17.
Working for Apple (AAPL) - Get Free Report , the world's largest company by market cap, can mean long hours, stress and lots of pressure to put the company first. Despite that, the tech giant does offer some incredible perks that make working there worth it.

In order to attract the best and brightest and compete with rivals such as Alphabet and Facebook for talent, Apple has to go beyond salary and stock options to get people to join.
Apple is a holding in Jim Cramer's Action Alerts PLUS charitable portfolio.
Exclusive Look Inside:
You see Jim Cramer on TV. Now, see where he invests his money and why Apple is a core holding of his multi-million dollar portfolio.
Want to be alerted before Jim Cramer buys or sells AAPL?Learn more now.
Here's a look at what some current and former Apple employees say are the best benefits that come with working for the technology titan:
1. The chance to make great products
Apple is best-known for its products, from the iPhone and iPad to Mac computers, the Apple Watch and more. Working on products like these can be demanding, but it's also one of the most rewarding parts of the job, especially when you think about how many people use what you've worked on.
"Working at Apple means that the things you work on get into the hands of hundreds of millions of people, literally," wrote one anonymous Glassdoor reviewer who's currently at the company. "It's a lot of pressure to get things right and drives one to do the best work of their lives. 2+ years later I'm still blown away by the talent and creativity of people I work with."
2. The opportunity to work with the best
Apple doesn't just hire anyone. It recruits talent from all over the world -- people like Chief Design Officer Jon Ive (pictured above) or current CEO Timothy D. Cook, who came to Apple from HP after a recruitment visit from co-founder Steve Jobs.
Heck, even the head of Apple Retail, Angela Ahrendts, is a former CEO herself, having led British luxury fashion company Burberry for several years.
As one Glassdoor reviewer put it, "We work with geniuses -- in every department."
3. Generous salaries
Like most places wanting to attract good talent, Apple needs to pay up -- and it does in spades.
According to this Quora post, Apple offers newly graduated software engineers some of the highest pay around, with a starting package around $120,000. According to Glassdoor, that's about 50% higher than the industry average compensation for newly graduated engineers, more than Amazon and right in line with Facebook.
4. Big discounts on company products
Apple products are respected around the world, but they're also some of the more expensive products around the world.
To give Apple employees extra incentive to represent the home team, Apple gives various discounts on different products. According to this Glassdoor post, Apple employees can get 25% off on an iPod, iPad, or computer. A lot of Apple software can be purchased at half off by employees, and after working there for 90 days, you can get $500 off a Mac or $250 off an iPad, an offer that repeats every three years.
5. A sophisticated work culture
Unlike some other tech companies, Apple doesn't play games. 
According to this Quora post from an anonymous Apple employee, most of the people who work there are already established in their careers, including Apple's general counsel Bruce Sewell, pictured above testifying before Congress on encryption and privacy issues. "There aren't any Nerf guns or any of that crap, just people past all that and at the top of their game," writes the Quora poster. "It's not the place for children."
6. Opportunities for professional development 
One of the great things about working at Apple is you're not just there to help build or market the products. "Leadership will help you develop so long as you put in the effort," wrote one Glassdoor user. And you can enhance your career simply by having Apple on your resume.
7. Great food

While the food at Apple isn't free like it is at Facebook, Google or other tech companies, it is quite delicious -- not to mention cheap.
This one Quora post from a current Apple employee said the food is "restaurant quality" in nature. "It's not free, but all the main dishes are $8 or less, and pretty much restaurant grade," the author writes. "And I've never ever heard anyone working here complain about the price of the food."