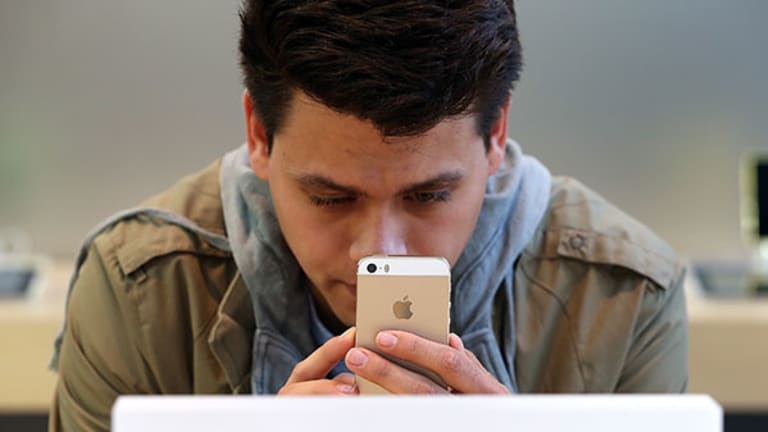 Apple Earnings: What Wall Street Is Saying
Apple's fourth-quarter results beat estimates. Here's what Wall Street analysts are saying.
NEW YORK (TheStreet) -- Apple (AAPL) shares were higher in premarket trading Tuesday, gaining 0.53% to $532.68, following fourth-quarter results that beat Wall Street estimates, led by strength in iPhone sales.
For the fiscal fourth quarter, Cupertino, Calif.-based Apple earned $8.26 a share on $37.5 billion in revenue. The new iPhone 5s and 5c helped Apple sell more than 33.8 million phones during the quarter, accounting for $19.51 billion in revenue. Apple sold 14.1 million iPads and 4.6 million Macs during the quarter, allowing Apple to generate gross margins of 37%.
Analysts surveyed by Thomson Reuters were expecting earnings of $7.96 a share on revenue of $36.93 billion.
Apple expects to generate between $55 billion and $58 billion in fiscal first-quarter revenue, with gross margins between 36.5% and 37.5%. It expects operating expenses to be between $4.4 and $4.5 billion in the first quarter.
Apple's guidance provided some confusion, with the company reporting flat gross margin guidance of 36.5% to 37.5% for the first quarter. That includes $900 million of deferred revenue for the free software upgrades Apple is now doing with iLife, iPhoto, iWorks and Mac OS X Maverick, which would actually bump up margins about 160 basis points.
Following the report, Wall Street analysts were largely positive on the stock. Here's what a few of them had to say.
Oppenheimer analyst Ittai Kidron (Outperform, $560 PT)
"Apple delivered better than expected Sept. results and a solid outlook that should support the shares near term. The key question now is whether the current strong new product interest can be sustained into the next calendar year. On that front we have a positive bias as we see potential for some 4S and 5C driven international expansion and the ability to add China Mobile as a partner. We're a bit more cautious on iPad competition given Apple's pricing strategy, although market expansion should still drive good YoY growth. Mgm't also indicated that any changes to its capital return program would come only in early CY14, which should keep investors engaged on that front. Tweaking estimates, maintain Outperform."
Barclays Capital analyst Ben Reitzes (Buy, $585 PT)
We believe that Apple's execution is in the process of improving on a y/y basis in terms of iPhone and iPads - and the momentum could continue into CY14. With regard to the near term, we believe guidance is conservative and long-term earnings power is actually a bit stronger than it seemed at first blush after factoring in the impact of incremental software deferrals. Apple is now one of few companies in our space that is growing in China and not adversely impacted by the cloud. At this point, we believe focus will turn to a potential expansion in Asia with China Mobile and even a potential increase to its capital return program in C1H14. We raise our estimates and take our price target to $585, and maintain our Overweight rating."
JPMorgan analyst Mark Moskowitz (Overweight, $600 PT)
"We recommend investors take advantage of any near-term weakness in shares of Overweight-rated Apple. Results and outlook were better than expected. The gross margin outlook could be a source of debate for some investors who had sought more upside due to higher mix of iPhone."
--Written by Chris Ciaccia in New York
>Contact by Email.