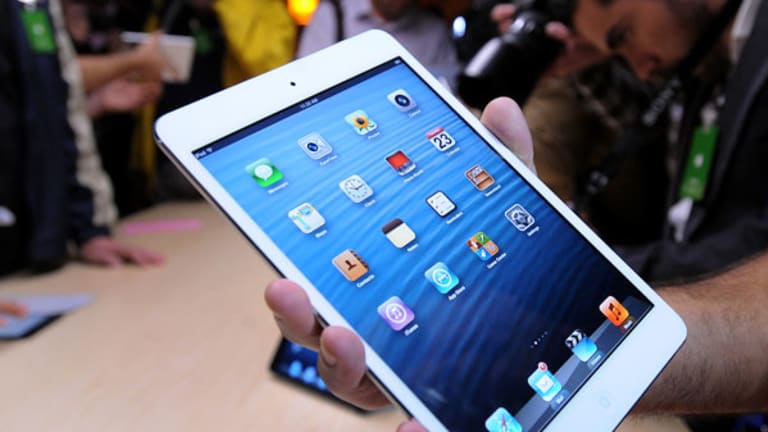 Apple Earnings: The Mother of All Reports (Update 2)
Apple reports fiscal first-quarter earnings after the bell. With shares down 20% over the past few months, it's the biggest report in the company's history.
Updated from 11:12 a.m. EST to provide portfolio manager comments in the third paragraph.
NEW YORK (
) -- It's the mother of all earnings reports.
Apple's
(AAPL) - Get Apple Inc. Report
slated to report earnings and guidance after the close of trading, and given the malaise towards the iPhone maker lately, Apple will need to show something extraordinary to excite investors and regain the aura that's surrounded the company in the past.
There have been countless reports over the past few months that Apple's seeing slowing demand for its products, whether it's the
, or concerns over
.
Expectations have been lowered going into the report, and
Ironfire Capital's
Eric Jackson thinks Apple will meet the expectations, and "that will cause a lot of hand-wringing this afternoon about whether the law of large numbers is kicking in." Going a little further out, Jackson believes shares will be higher, as people start to look toward the rest of 2013. Jackson owns shares in Apple and is a
RealMoney
contributor.
Judging by recent smartphone
from
Verizon
(VZ) - Get Verizon Communications Inc. Report
and
AT&T
, iPhone activations are less of a concern than they were, which should be a positive for Apple this quarter. Verizon activated 6.2 million iPhones in its most recent quarter, with half of them iPhone 5s. AT&T said it
10.2 million smartphones, with most analysts believing that around 75% of them were iPhones.
Last quarter, the iPhone accounted for nearly 50% of Apple's revenue. The Cupertino, Calif.-based firm generated $36 billion in overall sales during its fiscal fourth quarter.
Analysts polled by
Thomson Reuters
are looking for earnings of $13.47 a share on $54.7 billion in revenue. The most important number in the earnings release, in my opinion, is gross margin.
With Apple refreshing its entire product line in a little under two months towards the end of 2012, CEO Tim Cook warned that gross margins would go down, then move back up through the rest of the year.
J.P. Morgan analyst Mark Moskowitz believes Apple can achieve 39.3% in gross margins this quarter, which would bode well for earnings. "For Apple, we believe much of investor anxiety has been related to the potential movement of gross margin over time," he wrote, in a note. "As discussed previously, if Apple is able to improve corporate gross margin closer to the 40% threshold, then we believe the Apple story can come back into favor. Our gross margin estimates for Dec-Q and F2013 are now 39.3% and 40.6%, versus 38.7% and 40.3% previously."
Moskowitz rates Apple "overweight" with a $725 price target.
Margins really are the key to the report, as well as forward guidance, said one hedge fund analyst who declined to be named. "If they guide weak on margins, no EPS number will be good enough because everyone is so worried about the future that the recent past loses its relevance."
Capital Advisors Growth Fund
portfolio manager Channing Smith has his concerns over Apple, particularly regarding gross margins. "We expect overall gross margins to come in slightly under 40% and the coming quarters gross margins to trend to the low 40% range," Smith said in an email. He believes Apple could sell 50 million iPhones and 22 million iPads in its fiscal first quarter, but does have some concerns about Apple. "We are for the first time in years somewhat nervous about the report as there were uncertainties out there during the quarter that are hard to handicap," he said.
Forward guidance, always a curveball with Apple, will be more heavily scrutinized this quarter than most. Apple tends to under-promise and over-deliver (UPOD) on guidance, so its outlook should always be taken with a grain of salt. BMO Capital Markets analyst Keith Bachman believes guidance could be disappointing, with Apple guiding sales between $40 billion and $42 billion for the March quarter. "In years past, investors have bought disappointing guidance and usually have been rewarded over time. However, with such negative sentiment surrounding the stock, we do not think investors will use conservative guidance to buy the stock in the near term," Bachman wrote, in his note.
As long as Apple comes in close to the Wall Street consensus, this could very well alleviate concerns about the company, for at least a little while. Analysts polled by
Thomson Reuters
are looking for $45.38 billion in sales, earning $11.67 a share for the March quarter.
Apple is a company and a stock that has legions of both fans and foes, akin to your favorite rock band or sports team. It's unlike most other companies out there. With shares falling over 20% in the past three months, perhaps the naysayers have gotten a bit too big for their britches, and there could be upside surprise for this quarter and next.
Options are pricing in about a 5.5% move following the report,
options specialist Adam Warner. Warner also noted that the open interest (the total number of options) are way skewed towards calls, especially for a downtrending stock.
data by
Societe Generale analyst Andy Perkins believes that average selling price (ASP) has spiked around the world for handsets, and much of that is due to Apple and the iPhone 5, which could alleviate gross margin concerns. "We believe that much of this surprisingly robust performance in ASPs can be traced back to Apple. Additionally, our channel checks suggest that ordering patterns for the new Apple iPhone 5 and previous models remain robust," Perkins wrote, in a research note. If that is indeed the case, gross margin concerns may be overblown for the world's largest technology company.
Qualcomm
(QCOM) - Get Qualcomm Inc Report
also made the case that ASPs had improved during its most
. With Qualcomm so closely tied to Apple, perhaps gross margin concerns are a bit overblown.
We'll find out after the close whether gross margins and guidance will boost the iPhone maker, or whether Apple's losing its shine.
--
Written by Chris Ciaccia in New York
>Contact by
.
Follow @Commodity_Bull