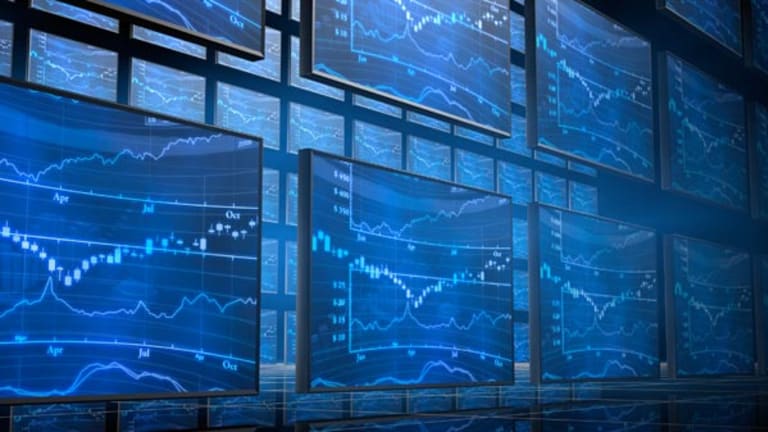 Apple Earnings Miss Can't Mask Growth
Investors are shocked, but the bottom line is the same: The iPhone 4S is flying off the shelves, margins are huge, the company is sitting on $81 billion in cash and its market in China is growing by leaps and bounds.
NEW YORK (TheStreet) -- Apple's (AAPL) - Get Free Report quarterly miss surprised a lot of observers on Tuesday. It is just not what investors have come to expect. In fact, it was the first miss in 26 quarters.
The stock sold off sharply to close the after-hours session at $394.
It seems to be that the main explanation for the miss was due to the fact that the iPhone sales came in at "only" 17 million, rather than the over 20 million that some were expecting.
The iPad numbers and Mac numbers were all good and the gross margins remained above 40% which is impressive.
It is entirely possible that some consumers decided to wait, when they anticipated a new iPhone to be announced in early October. The new 4S has been a fantastic seller in the first week, so many are saying the 3 million shortfall has been made up with the 4S's great opening weekend. I'm not sure I buy that kind of analysis.
The bottom line is that these quarterly numbers for different products can jump around. Remember the low iPad number a couple of quarters ago that made many Apple bears proclaim that there were problems with its staying power? Six months later, that kind of snapshot analysis seems silly. We will just have to see how iPhone continues to sell in the months ahead.
Some other notable data points coming out of the call:
This really could be the beginning of the end for the iPod. The numbers were down 24%. As late as the 4S launch, Tim Cook was discussing how the iPod was a great starter iOS device for many new consumers. Almost half of iPod buyers were buying their first iOS device. That is important. However, we are going to see more and more opt for their first iPod to be an iPhone.
Tim Cook pointed out that China is now Apple's second biggest market after the U.S. That is remarkable. It's grown more than four times compared to the year-ago period. China accounted for 16% of Apple's sales in the quarter -- or $4.5 billion. That's a quarterly number -- not an annualized "headline milestone" like Google likes to trumpet. For example, Google was proud on their call last week that mobile search was doing $2.5 billion annualized. This means that Apple's China sales are now over seven times as big as Google's mobile sales. And Apple has only 5 stores in China.
Apple now has over $81 billion in cash and two-thirds of this is outside the U.S. Cook said he's "not religious" about what to do with this cash in the future. I am not one who thinks paying a one-time or even a regular dividend would be greatly rewarded by shareholders over time. However, many pundits are speculating Cook's words signal some imminent shift. I doubt anything in the near-term. I will be more interested to hear what he thinks about M&A as a use of cash and what kinds of companies he'll go after.
Next quarter's guidance certainly wasn't shy, given this quarter's miss: they expect revenue of about $37 billion and we expect diluted earnings per share of about $9.30.
Bottom line, things are still rolling at Apple. Fourth quarter will see some big positives:
The always-strong holiday quarter
Almost a full quarter with 4S
Good suppy/demand balance for iPad
A new Hong Kong store for the full quarter
iCloud selling for 2 months of the quarter - for extra storage
Readers Also Like:
>>
10 Things Still Made in America
>>
6 Ways to Protect Against Identity Theft
At the time of publication, Eric Jackson was long AAPL.
Eric Jackson is founder and Managing Member of Ironfire Capital and the general partner and investment manager of Ironfire Capital US Fund LP and Ironfire Capital International Fund, Ltd. In January 2007, Jackson started the world's first Internet-based campaign to increase shareholder value at Yahoo!, leading to a change in CEOs in 2007. He also spoke out in favor of Yahoo!'s accepting Microsoft's buyout offer in 2008. Global Proxy Watch named Jackson as one of its 10 "Stars" who positively influenced international corporate governance and shareowner value in 2007.
Prior to founding Ironfire Capital, Jackson was President and CEO of Jackson Leadership Systems, Inc., a leadership, strategy, and governance consulting firm. He completed his Ph.D. in the Management Department at the Columbia University Graduate School of Business in New York, with a specialization in Strategic Management and Corporate Governance, and holds a B.A. from McGill University.
He was previously Vice President of Strategy and Business Development at VoiceGenie Technologies, a software firm now owned by Alcatel-Lucent. In 2004, Jackson founded the Young Patrons' Circle at the Royal Ontario Museum in Toronto, which is now the second-largest social and philanthropic group of its kind in North America, raising $500,000 annually for the museum. You can follow Jackson on Twitter at www.twitter.com/ericjackson or @ericjackson.
You can contact Eric by emailing him at eric.jackson@thestreet.com.