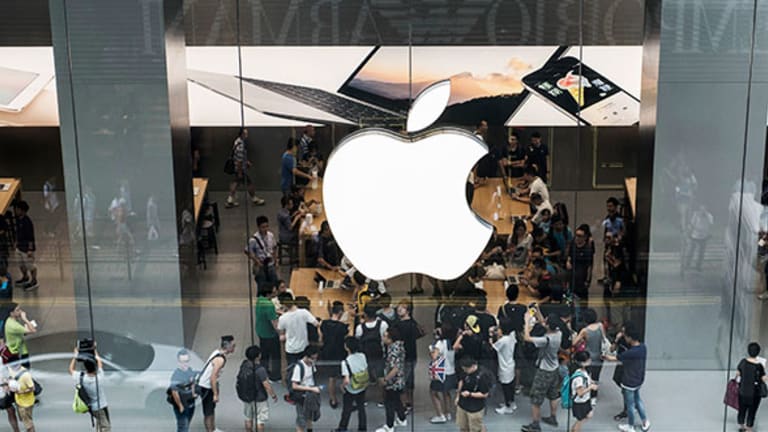 Apple Earnings -- Here's What 10 of the Top Wall Street Analysts Expect
Almost all of the analysts who cover Apple have cut their estimates for iPhone shipments this quarter.
Updated from Jan. 25 to include additional analyst comments.
Apple (AAPL) is slated to report earnings after the close of trading Tuesday, and by all accounts, Wall Street isn't expecting much from the world's most valuable company by market capitalization.
Almost all of the analysts on Wall Street who cover Apple -- including ones who are super bullish, like Morgan Stanley's Katy Huberty, Piper Jaffray's Gene Munster and others -- cut their estimates for iPhone shipments this quarter, on concerns the iPhone 6s and iPhone 6s Plus are not selling well because of a perceived lack of a reason to upgrade.
Whether it's the lack of a "killer feature," the company's advertising campaign or smartphone fatigue, it appears consumers are not upgrading to the iPhone 6s and iPhone 6s Plus in as great numbers as they did to the iPhone 6 and 6 Plus.
Analysts surveyed by Thomson Reuters expect the company to earn $3.23 a share on $76.6 billion in revenue for the fiscal first quarter.
Apple is expected to sell between 75 and 76 million iPhones this quarter. At the mid-point, that would represent just an extra one million iPhones sold compared to the first quarter of 2015, representing 1.3% year-over-year growth. A growth rate of less than 2% is not something investors, or the Cupertino, Calif.-based company, are accustomed to.
By comparison, first-quarter iPhone shipments jumped 46% year over year from fiscal 2014 to fiscal 2015.
Wall Street analysts have taken their cues from companies in Apple's supply chain in recent months, many of which have mentioned weakness about ordering from major customers. Most presume the weakness comes from Apple and Samsung (SSNLF) , which has struggled in recent years as Apple added larger screens to its lineup.
Apple's current iPhone lineup includes the 4-inch iPhone 5s and the iPhone 6/6Plus and 6s/6S Plus, which are 4.7 inches and 5.5 inches respectively. The Apple-focused website 9to5 Mac has reported that the company is holding an event in March where it is expected to show off a new 4-inch iPhone known as the iPhone 5se that will have an updated processor and Apple Pay, as well as the second iteration of the Apple Watch.
Apple is a holding in Jim Cramer's Action Alerts PLUS charitable portfolio. "Don't trade Apple, just own it. If you don't own it yet, wait until the quarter," said Cramer.
Exclusive Look Inside:
You see Jim Cramer on TV. Now, see where he invests his money and why Apple is a core holding of his multi-million dollar portfolio.
Want to be alerted before Jim Cramer buys or sells AAPL?Learn more now.
Here's what ten of the top Wall Street analysts who cover Apple expect from the world's largest company.

Morgan Stanley analyst Katy Huberty (Overweight, $143 price target)
"We expect December quarter results in-line with consensus estimates. We model revenue of $76.8B, gross margin of 39.8%, and EPS of $3.25, driven by 74M iPhone shipments. Our forecast is generally in-line with consensus and at the midpoint of Apple's revenue guidance of $75.5 to $77.5B and high end of gross margin guidance 39% to 40%. Since Apple started its current guidance philosophy 11 quarters ago, it exceeded consensus revenue and EPS estimates by 3% and 6% at the median. Our AlphaWise Smartphone Tracker, which compiles sell-through data using web search analysis, indicates 75M end demand for the December quarter, slightly above our estimate of 74M units and our Asia Tech analyst Jasmine Lu's estimate of 72M supply chain build."
Goldman Sachs analyst Simona Jankowski (Buy, $155 price target)
"Apple shares are down 12% over the last month, in line with our coverage but worse than the S&P/Nasdaq decline of 8%/10%, as a number of negative supply chain datapoints have pointed to weaker iPhone sales. Indeed, our survey of 1,000 U.S. consumers last week shows that holiday purchases of the iPhone were below original expectations, while higher prices in key int'l markets (to offset their FX depreciation) have dampened demand in certain regions such as Japan.
"We see the current weakness as a buying opportunity, for several reasons: (1) we believe the guide-down is already expected/priced in, (2) Apple is a defensive stock relative to the current market sell-off, (3) the March quarter represents the trough in yoy revenue growth, which is typically a good time to buy hardware stocks, with easing comps and the next product cycles (iPhone 5e, 7) driving acceleration for the remainder of the year, and (4) we expect the multiple to increasingly reflect the evolution to "Apple-as-a-Service" (recurring hardware & services as users shift to iPhone installment plans and adopt new products/services in the Apple ecosystem, such as Apple TV, Music, Pay, Watch, etc., making the 500mn iPhone installed base stickier)."
Sterne Agee analyst Rob Cihra (Buy, $160 price target)

"Apple reports its Dec-qtr (FQ1) Jan 26 and we est revs $79B (+6%Y/Y) and EPS $3.36 (+10%Y/Y) ahead of consensus $77B/$3.23, w/ 76mil iPhones +2%Y/Y vs. last yr's big +46%Y/Y. Focus is clearly rather on the Mar-qtr as iPhones turn negative and we trim our est 3mil units to 49mil (now -20%Y/Y), yet also continue to see the Mar-qtr already marking the trough in Y/Y declines. One help is comps get easier through CY16 while the other is Apple launching a mid-cycle refresh of its $450 iPhone 5s in time to narrow Jun-qtr declines back to ~5%Y/Y, then Sep-qtr comps flat on iPhone 7. Anniversary'ing iPhone 6 could set up growth again FY17E. Swing factors are a weaker China and elongation of 2yr replacement cycles but AAPL overly discounts both." 
William Blair analyst Anil Doradla (Market outperform, $135 price target)
"Summary: Over the past few weeks, we have witnessed multiple companies that are exposed to Apple's supply chain highlighting headwinds resulting from slowing demand. Notable companies that have preannounced include Qorvo (QRVO) ($36.60), which receives roughly 40% of its revenue from Apple; Cirrus Logic (CRUS) ($26.94), for which Apple represents approximately 60% of revenue; and TSMC (TSM) ($21.10), which receives 20% of its revenue from Apple.
"Based on our industry interactions, the handset industry is experiencing strong headwinds that include a combination of macro-driven weakness, severe pricing pressures, and a crowded competitive landscape (predominantly on the price-sensitive Android handset front). While we expect the rest of the industry to be affected much more significantly, nevertheless we believe Apple will be affected by these headwinds. Consequently, we are lowering our estimates for the March quarter and the remainder of fiscal 2016. At $97.13, Apple trades at 10.4 times our revised fiscal 2016 EPS estimate, a discount to the company's three-year historical average of 12.6 times. We maintain our Outperform rating."
Hilliard Lyons analyst Stephen Turner (Buy, $140 price target)
"Our FY'16 and FY'17 revenue outlook has been reduced due to softer emerging market and global macroeconomic growth, considerable currency headwinds, and a trade down by consumers to older/cheaper iPhone models which reduces our average selling price. We also expect a lengthening in the iPhone replacement cycle as consumers are pushed away from two-year contracts and, in our opinion, will enjoy a lower wireless bill after their phones are paid in full. This is offset by Apple's and others' iPhone Upgrade Program which allows for an upgrade to the latest iPhone every year.
"We continue to believe the potential launch of the iPhone 7 will be a significant upgrade cycle, especially if Apple offers larger device storage, improved battery performance, wireless charging and waterproofing. We maintain our long term view that the iPhone user base continues to grow and the recurring base of revenue generates strong cash flows."
RBC Capital Markets analyst Amit Daryanani (Outperform, $130 price target)
"While 'noise' currently surrounds AAPL's Mar-qtr iPhone units, we think AAPL should work appreciably higher through CY16 driven by: 1) higher ASP's across iPhones; 2) iPad Pro to drive ASP's higher; 3) potential 4" iPhone refresh that could target new price points; 4) we expect buybacks to remain robust on the back of high FCF and 5) Product refresh/new launches through CY16."
JPMorgan analyst Rod Hall
"J.P. Morgan U.S. Apple analyst Rod Hall expects Apple to report US$76.7bn in revenues and 76M units of iPhones shipped in the December quarter. For the March quarter, he forecasts US$55.5bn in revenues (-28% qoq) and 55M iPhones."
Barclays Research analyst Mark Moskowitz (Overweight, $150 price target)
"Sentiment has been very negative around Apple, but if results and guidance suggest iPhone sales do not fall off severely (i.e. down 15-25% in the March quarter), we could see a relief rally. Longer-term catalysts include: iPhone 7 launch (prototypes could start to emerge in late 1Q), continued market share gains in emerging markets (China, LatAm, India), and smartphone replacement cycles shortening due to finance programs"
Nomura analyst Jeffrey Kvaal (Buy, $145 price target)
"The alarming supply chain news is impossible to ignore. However, demand checks indicate only slightly lower YoY volumes. Ongoing share gains imply growth will return, and we thus consider inventory concerns ephemeral. We slightly lower estimates to reflect sluggish demand and retain our Buy rating."
BTIG analyst Walter Piecyk (Buy, $160 price target)
"We cut our December unit estimate by 4.0 million to 76.0 million and our March quarter estimate by 6.0 million to 56.5 million. The cuts imply slight unit growth in the December quarter and an 8% decline in the March quarter. Those reductions eliminated any unit growth for F2016, but we expect a rebound to 5% growth in units in F2017.

"The negative impact of the unit cuts was softened by a $15-$18 increase in our ASP estimate, which still implies a decline from the robust ASP deliver by iPhone 6+ sales and lower mix of legacy phones sold last year. The net impact of our revisions was to reduce iPhone revenue by $3.3 billion. To put that in perspective, we estimate the Apple Watch has generated over $2.6 billion of revenue in the first six months of its launch and could generate $15 billion in F2016 depending on what new features are introduced with its next iteration."