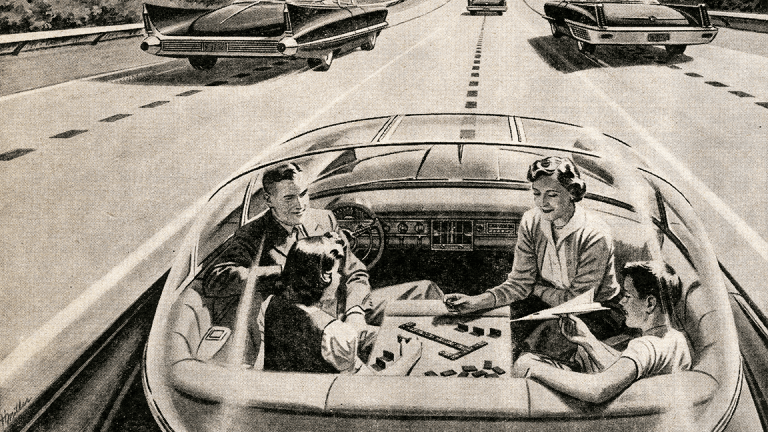 Apple Could Let You FaceTime From Your Windshield
Apple could transform your windshield into an augmented-reality wonderland.
Autonomous driving continues to develop at a rapid pace. That means big opportunities for the companies that get the technology right, as the transportation industry is massive and operates on a near-constant basis.
Whether that's autonomous trucking, robo-taxi services or self-driving features to make our commutes safer and more convenient, there are plenty of different avenues to choose from. While Ford (F) and General Motors (GM) make strides, and Nvidia (NVDA) and Alphabet (GOOG) (GOOGL) via Waymo show early leadership, many are wondering, what is Apple (AAPL) doing on this front?
There has been relatively little information available on what Apple is doing. A few months ago, reports surfaced that Apple is teaming with Volkswagen to modify some of the latter's T6 transporter vans for autonomous capability. However, that's only being done for Apple's campus right now and apparently the project is running behind schedule. Compare that to GM's Cruise, which is looking to launch its autonomous taxi service sometime next year, or Waymo, which is now giving 400 robo-taxi drives a day in Phoenix.
Others are getting in on the mix too and soon, Apple could find itself very far behind despite its record horde of cash.
Apple's a tough one, though, because it's so secretive about its plans. Aside from a recent lawsuit that showed just how many people are working on its autonomous project - almost 2,700, by the way - relatively little is known. However, more of Apple's patent applications are starting to become known. There was one involving virtual reality and now the latest involves using augmented reality, or AR.
AR has been a big and passionate area for CEO Tim Cook, who believes the segment has plenty of potential. But Apple's potentially looking for more than funny selfies, it's looking to bring AR in the car.
Apple, Alphabet and Nvidia are holdings in Jim Cramer's Action Alerts PLUS member club. Want to be alerted before Jim Cramer buys or sells AAPL, GOOG or NVDA? Learn more now.
Apple's AR in the Car Ambitions
If you've ever driven a fancy car, you've probably seen the displays that project onto the windshield. Things like speed, RPMs, that sort of thing. Apple is looking to do something similar, but on a much larger scale.
Remember these are just patent filings, so it wouldn't be surprising if they never made it out to the real world. In any regard, the company is exploring making the windshield into an AR display. Presuming it is projected, it will allow passengers of high-level autonomous vehicles to have a giant, interactive screen.
Perhaps it uses car updates, such as speed and travel time. More convenient though would be the use of applications. One fun one? Car-to-car FaceTime calls. Allowing friends and family to connect via FaceTime during their commutes would be an excellent way to stay in touch - and see people you love - all while killing some time on your way to work.
On TheStreet, we have long talked about Apple's potential in the autonomous car revolution. Given the strides other companies are making and the deep pockets that Apple has, why not? However, seemingly every company is working on the autonomous driving portion. Be it Uber, Ford, GM, Mercedes, Waymo and countless others.
Is it really worth Apple's time - and billions in R&D - to get into a crowded race that it's not guaranteed to win and seemingly already behind in? Short of buying up an automaker, perhaps not.
That's not to say Apple should play no role, though. While others like BMW and Mercedes have turned down a chance to work with Apple because the company wanted too much control over the user experience, the tech giant could seemingly build a top-of-the-line inner-A.I. system.
Mercedes' MBUX infotainment system is a high-quality system powered by Nvidia. But aside from that, not as many companies are focusing on the inside vs. the outside of the car.
This is the gap that Apple could (and perhaps is aiming to) exploit. It's already a stud with user interfaces and could turn the inside of the car into an tech-rich, conveniency-driven cockpit. An interface that's easy to control and provides a number of top-notch applications that link with our current Apple devices could be a hit with consumers. Further, it doesn't need to be an AR windshield right off the bat - and the technology could be licensed to automakers, expanding Apple's market potential tremendously. 
This article is commentary by an independent contributor. At the time of publication, the author had no positions in the stocks mentioned.