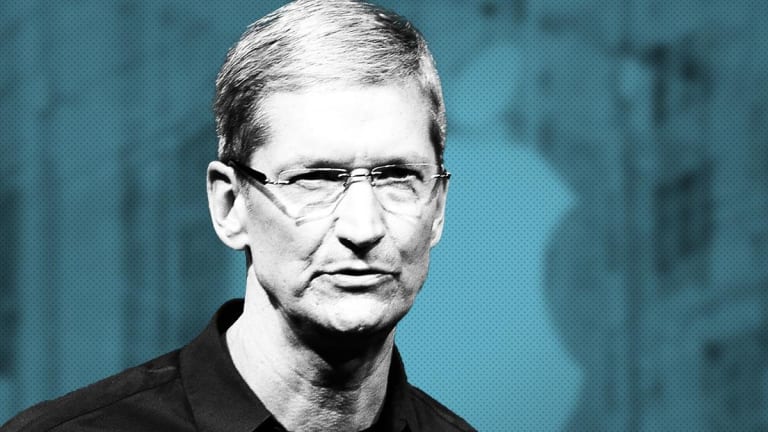 Apple Reportedly Weighing Move Away from Manufacturing in China Due to Tariffs
Apple could move some of its iPhone production out of China if tariffs worsen, according to a Bloomberg report. Other tech companies could follow.
Apple could be looking to kick its China habit.
Apple's (AAPL) suppliers are reportedly considering shifting iPhone production out of China if tariffs reach 25%. According to Bloomberg, Apple and its suppliers plan to stick with their existing production process even if a tariff of 10% is levied on Apple devices manufactured in China. But if those tariffs increase to 25%, as the Trump administration has considered, the companies could shift some production out of China, which has long served as the manufacturing base for iPhones.
For Apple and its investors, the threat of tariffs have been a moving target for some time -- and a potential shift in manufacturing could muddy the picture even further.
In November, Trump suggested that he could levy a 10% tariff on iPhones, MacBooks and iPads, saying that "people could stand that very easily." Days later, during the G20 summit, the White House announced a 90-day "trade truce" in lieu of a planned tariff hike to 25%. However, new worries about a trade war escalation by China were ignited last week with the arrest of Huawei executive Meng Wanzhou, who was detained in Canada at the request of U.S. authorities on charges that she violated U.S. sanctions on Iran.
In a recent research note, RBC's Amit Daryanani estimated that a 10% tariff could result in Apple's earnings per share declining by $1, whereas a 25% tariff could produce an EPS decline of $2.50. Apple's EPS estimate for fiscal 2019 is $13.27, according to a FactSet consensus.
It's not clear how exactly a shift in production out of China would play out for investors, but a shift away from China as a manufacturing base could be a tall order for Apple. Apple's reliance on China as a manufacturing base has deepened in recent years, with the number of China-based suppliers nearly quadrupling since 2012 according to an annual suppliers' list published by the company. And the air of uncertainty around U.S.-China trade relations certainly hasn't been kind to Apple's stock, which has sagged about 27% since hitting a high of $233.47 on Oct. 3. 
Apple wouldn't be the only well-known company to shift manufacturing out of China. Earlier this week, camera maker GoPro  (GPRO) said that it will relocate most of its production out of China by the summer of 2019, citing impact from the tariffs.
"Today's geopolitical business environment requires agility, and we're proactively addressing tariff concerns by moving most of our U.S.-bound camera production out of China. We believe this diversified approach to production can benefit our business regardless of tariff implications," said Brian McGee, GoPro's CFO, in a statement.
It's also possible that even more companies could follow Apple or GoPro's lead in shifting production out of China: In a September survey, the American Chamber of Commerce in China found that 18% of companies were considering moving manufacturing out of China to other regions such as Southeast Asia, and 30% were considering adjusting their supply chains by sourcing components or assembly elsewhere.
Apple is a holding in Jim Cramer's Action Alerts PLUS member club. Want to be alerted before Jim Cramer buys or sells the stock? Learn more now.