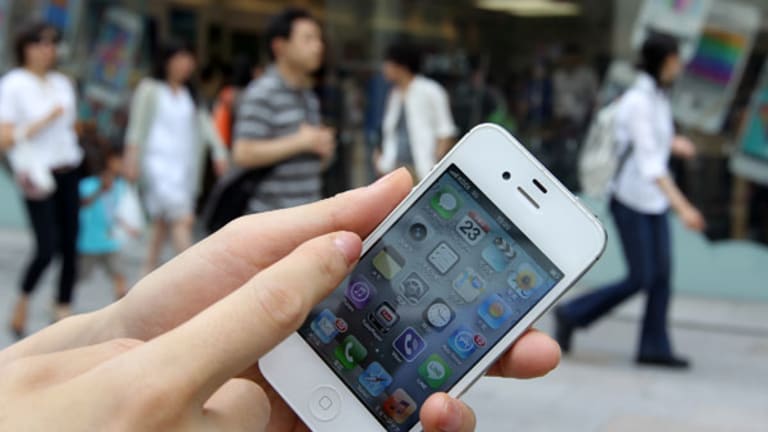 Publish date:
Apple, China Mobile: Can You Hear Me Now?
China will officially launch 4G cellular networks on Dec. 18. That bodes well for the iPhone in the world's most populated country.
China will officially launch 4G cellular networks on Dec. 18. That bodes well for the iPhone in the world's most populated country.
NEW YORK (TheStreet) -- Apple's (AAPL) - Get Report deal with China Mobile (CHL) - Get Report to officially bring the iPhone to the largest cellular network in the world is almost done. That should make investors, including Carl Icahn, very happy.
China's official state news agency, Xinhua, announced China will start commercial use of the 4G network and services starting Dec. 18, bringing high-speed Internet access, data and advanced smartphones to the world's most populous country. China Mobile will also officially start using 4G on that day, allowing the company's more than 700 million users to begin using the high-speed network.
The new network will roll out first in Beijing, Guangzhou and Chongqing. Shanghai, which is building its own 4G network, will launch later.
This is welcome news for Apple shareholders, as the tech giant and China Mobile have been in advanced negotiations for some time now. Though no deal has been finalized, the official launch of the 4G network in China is expected to be the last major hurdle between the two companies.
Apple has already been granted a license to use China Mobile's network. The permit was issued in August, and expires in Feb. 2014, allowing for a deal to get done between now and then. It allows Apple to use China Mobile's 4G TD-LTE network, 3G TD-SCDMA network, and its GSM network.
In August, China Mobile Chairman Xi Guohua was optimistic about a deal between his company and the iconic iPhone maker, saying the two sides are "actively negotiating." He noted that there are some "commercial and technology issues that need time to resolve." This official 4G network launch appears to be one of the "issues" he was talking about.
At the end of June, China Mobile had 740 million customers, 137.9 million of them being 3G users. That's the segment Apple is targeting, as they use data, and are less price sensitive than other customers. It's thought that there are already as many as 10 million iPhones on the network, though the world's largest carrier doesn't officially support it yet.
China has become an increasingly important market for Apple. During the company's most recent earnings call, CEO Timothy D. Cook said Apple had a "pretty good quarter" in China, but that there's scope to do more.
"Yes, Ben [Reitzes] we had a pretty good quarter in China," Cook said, in response to a question from Barclays Capital analyst Ben Reitzes. "We obviously want to do better. But if you look at the quarter, we did grow by 6%. Underneath that, iPhone units were up 25% year-over-year despite significant constraints on iPhone 5s that affected the whole company [ph]. However, we were able to launch in our first round this time in China and that was a big change in the result of a close work relationship with the carriers in China and the government."
During the quarter, Apple's revenue in Greater China was $5.73 billion, up 24% sequentially.
Apple's primary revenue driver is the iPhone, which generated $19.51 billion of the company's total sales of $37.5 billion revenue. Getting the iPhone 5s and 5c, especially the 5s, Apple's high-end smartphone, into the hands of more consumers can only boost Apple's revenues.
That ultimately should begin to drive the share price higher, something that's been an issue over the past 12 months. The tech giant has lagged the S&P 500 in total return this year, something that's caused activist investor Carl Icahn to initiate a position. Apple shares are down 2.6% year-to-date, while the S&P 500 has gained 26.53% over the same timeframe.
With China officially getting 4G licenses for commercial use, this is welcome news for Apple and its shareholders.
--Written by Chris Ciaccia in New York
>Contact by Email.