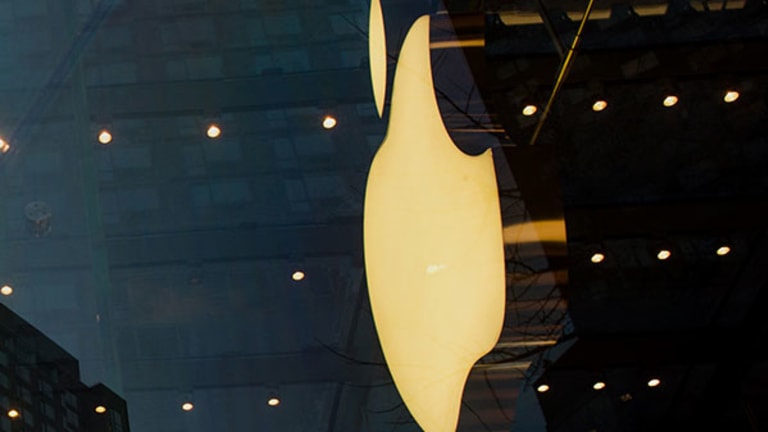 Apple Buys Beats: What Wall Street's Saying
After weeks of anticipation, Apple finally did it, buying Beats Electronics for $3 billion in cash and stock. The unusual purchase brings a major brand under the Apple umbrella for the first time, firmly putting CEO Tim Cook's stamp on the company.
After weeks of anticipation, Apple finally did it, buying Beats Electronics for $3 billion in cash and stock. The unusual purchase brings a major brand under the Apple umbrella for the first time, firmly putting CEO Tim Cook's stamp on the company.
Updated from 10:45 a.m. to include new product announcement from Beats.
NEW YORK (TheStreet) After weeks of anticipation, Apple (AAPL) - Get Report finally did it, buying Beats Electronics for $3 billion in cash and stock, making an unusual purchase that brings another major brand under its umbrella for the first time, firmly putting CEO Tim Cook's stamp on the company.
The purchase will include Beats Music and Beats Electronics, which makes the popular Beats headphones, speakers and audio software. During the Re/Code conference this week, Beats (soon to be Apple) executive Jimmy Iovine noted that Beats Music has over 250,000 subscriptions for its streaming service and more than 5 million downloads.
As part of the deal, Apple is paying $2.6 billion in cash, and approximately $400 million in equity that will vest over time.
An email to Apple was not immediately returned concerning Beats headquarters in Ireland, which may allow Apple to use some of its offshore cash to pay for the deal.
Upon the deal's closing, which Apple expects in its fiscal fourth-quarter, Iovine and Beats co-founder Dr. Dre (real name Andre Young) will join Apple. The deal is subject to regulatory approvals.
"Music is such an important part of Apple's DNA and always will be," said Eddy Cue, Apple's senior vice president of Internet Software and Services. "The addition of Beats will make our music lineup even better, from free streaming with iTunes Radio to a world-class subscription service in Beats, and of course buying music from the iTunes Store as customers have loved to do for years."
The deal comes at a time when music downloads, of which Apple is the leader with its iTunes platform, declined for the first time in 2013.

WATCH: More market update videos on TheStreet TV | More videos from Debra Borchardt
In an interview with Re/Code yesterday, CEO Cook said the deal is expected to be accretive starting in fiscal 2015. Beats is said to have generated over $1 billion in revenue in 2013, a number that has never been confirmed. Beats was privately owned prior to the deal with Apple, with private equity firm Carlyle owning a stake in the company.
Update: Beats announced a new pair of headphones the day after the acquisition was made official, the Solo2 headphones.
"The value of what the Beats team has built -and their ability to continue driving innovation and growth in the premium audio accessory market - is incredible," Carlyle Managing Director and Head of Consumer and Retail Sandra Horbach said in an emailed comment to TheStreet. "We have greatly enjoyed our partnership with Jimmy Iovine, Dr. Dre and their talented management and product teams. We wish them every continued success going forward."
Earlier this month, the Financial Times broke the story that Apple was in deep negotiations to buy Beats Electronics for $3.2 billion to bring the headphone maker and streaming music service under Apple's roof in Cupertino, Calif. Reports suggested that the deal could be announced soon, but no timeframe was given.
Beats Electronics' music streaming app, Beats Music, is currently ranked 13th in Apple's App Store under the music section. That's up from 18th, when news of the deal first broke several weeks ago.
Following the deal, there was a lot of head scratching on Wall Street, with some analysts confused over the deal and what it means for the future of the company. Here's what a few of them had to say.
UBS analyst Steve Milunovich (Buy, $700 PT)
"Apple finally announced the acquisition of Beats Music and Electronics for $3bn, including $2.6bn of mostly cash and $400mn vesting over time. We are moderately positive on the deal as there is product and cultural compatibility. Beats had $1.1bn of revenue in 2013 and we estimate close to $1.5bn this year. A price of 2x sales seems reasonable to us given apparently high margins. Apple acquired two US LLCs, so it probably used US cash. The deal will close in F4Q and be "fully accretive" in F15, meaning including amortization included in reported EPS."
Credit Suisse analyst Kulbinder Garcha (Neutral, $560 PT)
"The deal shows Apple's own foray into iTunes Radio may not be yielding the right results and shows pragmatism on the part of the company. Second, Apple's brand and distribution should accelerate Beats growth. Third, it shows Apple is taking an open attitude to external talent, which may be a key to stimulating innovation."
TheStreet's Jim Cramer and Stephanie Link
"We believe the main reason Apple has done this is in order to get Dr. Dre and Jimmy Iovine -- two very talented people in the music industry -- and also for Beats' subscription music-streaming business, for which it charges $10 a month per subscription. Apple's iTunes Radio division has plateaued in recent quarters, so the deal could potentially reignite that segment. That said, Beats streaming is fairly new and has just 250,000 subscribers. That compares with Pandora, which has been around since 2005 and has 76 million members, and Spotify, which has 24 million subscribers and was launched in 2008."
Oppenheimer analyst Ittai Kidron (Perform, No PT)
"The keys to the deal are likely the creative leadership Apple is adding with Jimmy Iovine, brand-equity, and the streaming music service. Mr. Iovine's industry credibility and connections could be an asset as Apple works on content deals going forward and as it potentially enters new market segments. Beats Music is still emerging (small subs-base (<1M)/unproven monetization potential), but the technology/content could enhance Apple's own iTunes Radio platform. Apple has quickly ramped the number of iTunes Radio users, but it is yet to take much mind-share from competitors such as Spofity (~10M paying subs) and Pandora (~70M active users).
Beats products have long been available as accessories at Apple stores and its premium brand name (which Apple will continue to support) is well aligned with Apple's own premium branding approach. That said, Apple has historically shied away from diluting its own brand so the success/support of the Beats brand (and the younger demographic it serves) is an area to watch."
Pacific Crest Securities analyst Andy Hargreaves (Outperform, $650 PT)
"As expected, Jimmy Iovine and Dr. Dre will join Apple, although their roles are unclear. Both are proven music executives/producers with talent and relationships that may help Apple expand vertically in the music business, which could provide revenue and cost synergies to the company. We do not view this opportunity as large on Apple's scale, but the cultural importance of music could provide a positive infusion to Apple's brand."
--Written by Chris Ciaccia in New York
>Contact by Email.