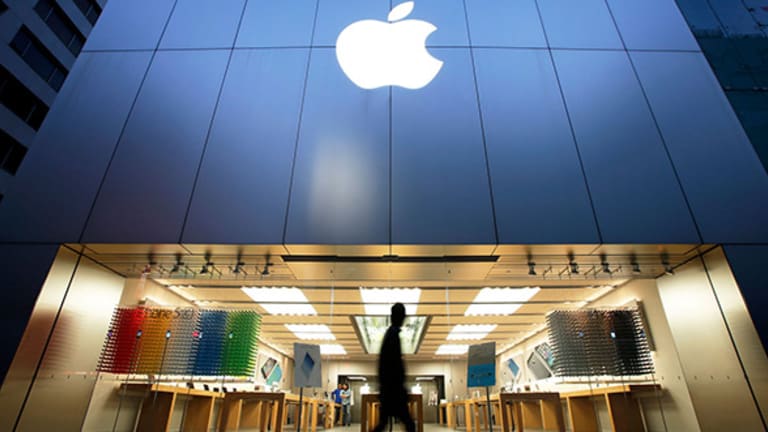 Apple Beats Earnings Estimates, Lags on Revenue -- Tech Roundup
Quarterly sales came in at $75.9 billion, slightly below forecasts of $76.6 billion.
Apple (AAPL)  shares were falling in after-hours trading on Tuesday after the company released fiscal first-quarter earnings that beat analysts' estimates but fell short on revenue.
Apple reported earnings of $3.28 a share for the quarter ended Dec. 26, beating analysts' estimates of $3.23 a share. Revenue of $75.9 billion however, came in slightly under forecasts of $76.6 billion. Read the full report by TheStreethere.
The company's stock was down by 2.7% to $97.30 per share as of 7 p.m. ET. Shares closed just shy of $100 in regular trding. 

The operative word is deal -- but that's drawing to a close.
Alphabet's (GOOGL) Google will have to pay the United Kingdom £130 million ($185 million) in back taxes for the past 10 years.
But that's just a drop in the bucket compared to what the tech giant -- and other companies that do business overseas -- can expect to pay going forward. A change in tax law in April 2015, dubbed the "Google tax" by the BBC, will penalize Google and other companies diverting profits outside the country.
Under current tax law Google, which earns fees from an Irish sister company and its U.S. parent, benefits by paying taxes on a "cost-plus" basis that may reduce its bill to 5% or less, says Richard Murphy, a professor at who tracks the company's tax arrangements at City University in London.
"That's an astonishingly low rate of tax," Murphy told Quartz. Based on the company's 2014 revenue of $6.48 billion, the company should be paying $336 million, he estimates, four times the current bill -- and every year. Google recently reached a $350 million settlement on taxes with Italy, which had asked for nearly $975 million. Discussions with France, which is demanding $1.4 billion in taxes, are ongoing.
According to BEPS, the Base Erosion and Profit Sharing framework introduced in October 2015 by the OECD, the Organization for Economic Cooperation and Development, European countries are losing $240 billion in corporate taxes every year.
Alphabet shares closed Tuesday at $733.79, up a fraction of a percentage point.
Well, Twitter (TWTR) CEO Jack Dorsey finally got some sleep Monday night.
Dorsey didn't tweet news of Leslie Berland's appointment as chief marketing officer until 8:32 a.m. local time. Berland most recently headed up marketing at American Express (AXP) . "She will join as our CMO to help tell the stories of our iconic product!" said Dorsey. Re/code reported on Sunday that Berland was on Dorsey's wish list.

The news lifted Twitter stock by 1.82% in early trading Tuesday, to $17.33 before dropping back down to $17.01 at the end of the day. Investors are clearly skeptical, despite those chirpy Tweets.
Berland tweeted back how excited she was to unleash the product's "power, uniqueness and magic of Twitter." She'll surely need some of all three. Last fall, Twitter launched a big marketing campaign around Moments, its new multimedia feature, to attract new users and woo back current users who have cooled on using Twitter.
In related news, GoPro (GPRO) , the maker of that nifty action camera, announced that it is integrating with Periscope, Twitter's livestreaming app. The move will make it possible for owners of GoPro's HERO4 camera to broadcast their every move directly to Periscope.
The alliance hopes to improve the fortunes of both companies, according to TechCrunch. Both are at a crossroads in attracting new users. On Monday, Twitter stock dropped near an all-time low of $17.02; last week, GoPro stock drove down with the news of several layoffs.
Twitter shares closed around $17 while GoPro rose nearly 3% to $10.88.
Sprint (S) reported a lower-than-expected quarterly loss, which sent the stock soaring 18.85%. Sprint shares ended the day at $2.99.
At the same time, reported Re/code on Tuesday, during a conference call with analysts, Sprint CEO Marcelo Claure pledged a "progressive build" to improve customer experiences as plans progress to improve the company's networks.
It doesn't matter that that Mark Zuckerberg owns the majority share of Facebook (FB) said the judge in an investor lawsuit in Delaware County Chancery court. He still has to follow the rules, according to the story, reported by Bloomberg.
Officials at the company will now revise pay schedules. In the lawsuit, Ernesto Espinoza said that Zuckerberg allowed non-employee directors to set their own pay by as much as 43% more than their industry peers, for an average of $461,000 in stock.
Facebook shares closed at $97.34, up a fraction of a percent.