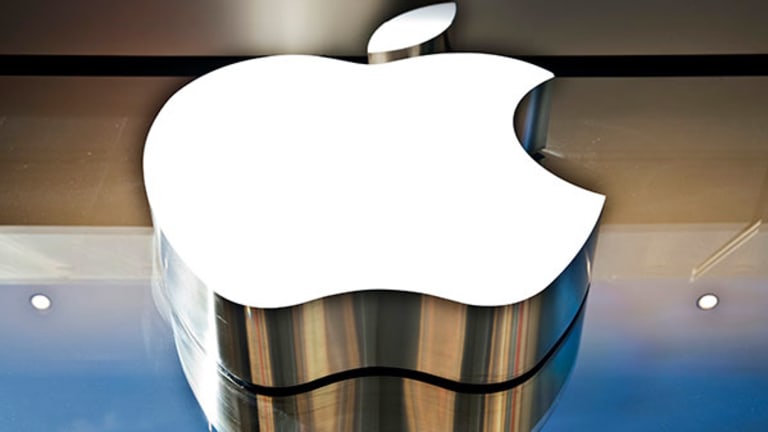 SAN DIEGO (TheStreet) -- Apple (AAPL) - Get Apple Inc. (AAPL) Report is having a major China moment. The region, already Apple's second-largest iPhone market, is now number one in the world when it comes to App Store downloads, according to the latest data from app analytics firm App Annie.
In the first quarter, China overtook the U.S. as the country with the most iOS downloads. China's ascendance to the top of the download leaderboard is likely linked to the region's growing infatuation with Apple's iPhone 6 and iPhone 6 Plus models, which helped Apple post record total sales of $74.6 billion in its fiscal 2015 first quarter.
The data underscore the growing significance of China to Apple's operations. For its fiscal 2015 first quarter, Apple posted sales of $16.14 billion, or more than a fifth of total sales, from the Greater China region, which includes Hong Kong. The company grew revenue in the region by 70% from the year-ago quarter.
What are Chinese consumers doing with their supersized screens? Playing games and perfecting their pictures. Downloads of apps from the games category and the photos and videos category drove China's surge in the region, according to App Annie.
"Pitu, published by internet giant Tencent (TCEHY) , became one of China's most popular photo apps in Q1 2015 thanks to its easy to use beauty, make-up and cosplay filters. Photo sharing apps like IN and Fotoplace also performed well in the quarter," the company said in its report.
App Annie provides download and sales tracking tools to mobile application developers. For its quarterly reports, the company analyzes the app data it collects in aggregate, which represents more than 150 countries on both the iOS App Store and Google (GOOGL) - Get Alphabet Inc. Class A Report Play. To date, App Annie claims to have tracked more than 83 billion downloads and more than $25 billion in gross revenue.
China also had "strong growth" in iOS revenue during the first three months of 2015, according to the firm, which did not disclose specifics on sales. The country ranked third behind the U.S. and Japan in terms of app-related revenue. 
China could prove instrumental in making Apple's newest product, the Apple Watch, into a consumer sensation. Nearly a million people ordered the Apple Watch on the first day of pre-orders, according to third-party data, but it's still early days. Cantor Fitzgerald analyst Brian White believes China could be the "'dark horse around the Apple Watch story," over the next year. "With over 1.3 billion people in Mainland China, it does not take a large penetration rate to drive incremental demand for Apple Watch," White wrote in a recent note.
In the interim, China can help Apple grow its share of app-related revenue. Apple's App Store worldwide revenue in the first three months of 2015 was around 70% higher than revenue on Google Play, up from about 60% in third quarter of 2014, according to App Annie. "The revenue performance on iOS continued to be buoyed by two of Apple's core markets -- China and the United States," the firm said.