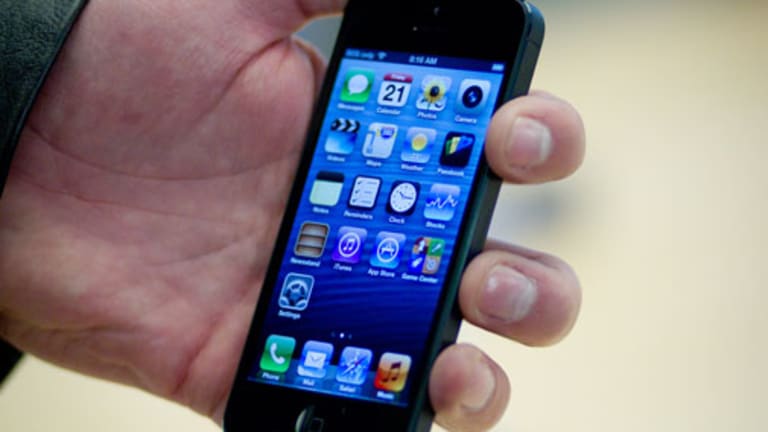 Apple and the China Mobile 'Concern'
When Apple and China Mobile officially signed the deal to bring the iPhone to the world's largest carrier, it was hailed as a monumental deal, potentially revolutionizing Apple's smartphone business. That may take more time, though, than some were expecting.
Updated from 8:41 A.M. to include thoughts from Cantor Fitzgerald analyst on the second page.
NEW YORK (TheStreet) -- When Apple (AAPL) - Get Apple Inc. (AAPL) Report and China Mobile (CHL) - Get China Mobile Limited Sponsored ADR Report officially signed the deal to bring the iPhone to the world's largest carrier, it was hailed as a monumental agreement, potentially revolutionizing Apple's smartphone business. That may take more time, though, than some were expecting.
Following China Mobile's announcement of annual earnings, which saw the company's first profit decline in more than a decade, the world's largest carrier said it added around 1 million iPhones in February, according to The Wall Street Journal. China Mobile's Chairman Xi Gouhua told the paper that the company, which has more than 770 million subscribers, added 1.34 million 4G users in February, and "most of them are iPhone users."
Apple could not be immediately reached for comment to confirm the number Gouhua gave in the interview.
Shares of Apple were slightly lower in early trading, losing 0.28% to $529.76, while China Mobile shares were off 3.3% to $43.17.
Analysts on Wall Street had expected that by bringing China Mobile into its fold, Apple could boost iPhone sales significantly, not only boosting revenue growth, but also the company's lagging stock price. Some put annual iPhone sales at an additional 12 million to 15 million units because of the deal. On an annual average run rate, Apple would hit the low-end of that target, assuming that China Mobile iPhone activations stay constant, and there's no drop off.
For comparison, Apple sold 51 million iPhones in its fiscal first-quarter, ended Dec. 28, 2013.
Over the past two years, Apple shares have lost 9.3% in value, excluding dividends. That compares to a 44.1% return in the NASDAQ, of which Apple is one of the largest components.
The deal went into effect starting Jan. 17, 2014, and Apple continues to cite China as an incredibly important market. Apple's iOS devices accounted for 57% of all mobile browsing in China, despite competition from other handset makers, including Samsung, Xiaomi, Huawei and others.
On Apple's fiscal first-quarter earnings call, CEO Timothy D. Cook noted that the week following the deal was the best week ever for activations in China. "So it's been an incredible start, and at this moment, we're just selling in 16 cities with China Mobile, and as [Apple CFO] Peter [Oppenheimer] alluded to, this number is projected to be over 300 cities by the end of this year," Cook said on the call. "And so we've got quite the ramp in front of us, and we're incredibly excited."
The news comes following a research report from Morgan Stanley analyst Katy Huberty, who noted sales of the iPhone were trending higher than she expected, according to her AlphaWise Smartphone Tracker. As of March 15, there was demand for 42 million iPhones, compared to Huberty's original estimate of 38 million to 39 million iPhones. She cited the following as the reasons:
"(1) Supply chain production tends to lead Apple's revenue recognition, so as iPhone production declines from its peak in C4Q13, demand could outstrip supply. (2) New US carrier promotions in C1Q14 driving incremental demand vs. late 2013 when carriers strictly enforced their 24-month contract terms. (3) Similarly, several large US retailers ran iPhone promotions this quarter, including Walmart and Best Buy."
Huberty did note that some of the bump in demand could be attributed to the deal with China Mobile, but that Greater China, which includes deals with China Telecom (CHA) - Get China Telecom Corp. Ltd. Sponsored ADR Class H Report and China Unicom (CHU) - Get China Unicom (Hong Kong) Limited Sponsored ADR Report, as well as China Mobile could have a tougher comparison this quarter, due to earlier iPhone releases in the country. 
Apple recently unveiled an 8GB iPhone 5c, targeted not only at the Chinese market, but also several markets in Europe to boost sales of the device. The 8GB iPhone 5c, according to Apple's Web site, costs RMB 4,088, while the 16GB and 32GB models cost RMB 4,488 and RMB 5,288, respectively.
Apple is trying to boost its position in China, where according to research firm IDC, it held just 7% of the smartphone market, up from 6% in the third quarter of 2013. Apple trails Samsung, which runs Google's (GOOG) - Get Alphabet Inc. Class C Report Android operating system, in China. The South Korean-based company owns 19% of the Chinese market, where it tops the list.
The opportunity for Apple is enormous in China, with China Telecom, China Mobile and China Unicom having 448.4 million 3G subscribers, the segment Apple is focusing on. "While China Telecom and China Unicom had an early start with the iPhone, China Mobile finally began offering the iPhone for official delivery on 1/17, and we believe this relationship represents an attractive long-term opportunity for Apple in China," Cantor Fitzgerald analyst Brian White wrote in a note to investors.
Apple's story in China will not be measured by one month's worth of data, nor a single quarter. Cook and his team in Cupertino have continuously stressed that China is an enormous opportunity for Apple. China Mobile will continue to be a huge part of Apple's success, simply due to the sheer size and scope of its network, in the world's most populous country. White notes that 2014 is poised to be an exciting year for Apple, "as it relates to the ramp with China Mobile and the potential introduction of larger iPhones (i.e., 4.7-inch and 5.5-inch versions) that we believe can help Apple gain market share in the country this year."
Even if that success takes a little longer than some originally thought.
--Written by Chris Ciaccia in New York
>Contact by Email.