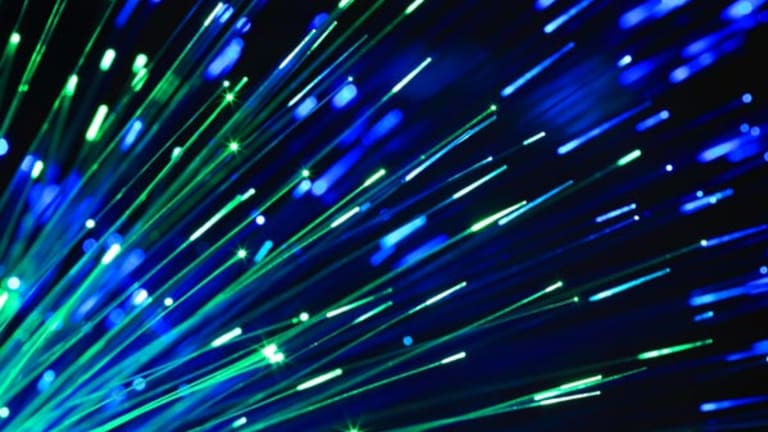 Apple and Nintendo: A Match Made in Purgatory
It's no secret that Nintendo has had its struggles, as the Wii U gaming system has proved to be a flop and the rise of mobile games are increasingly taking attention away from traditional console gaming. While some look to Apple to be Nintendo's savior, it may not be so easy as that.
It's no secret that Nintendo has had its struggles, as the Wii U gaming system has proved to be a flop and the rise of mobile games are increasingly taking attention away from traditional console gaming. While some look to Apple to be Nintendo's savior, it may not be so easy as that.
Updated from March 13th to include news surrounding Mario Kart 8.

NEW YORK (TheStreet) -- It's no secret that Nintendo has had its struggles, as the Wii U gaming system has proved to be a flop and the rise of mobile games are increasingly taking attention away from traditional console gaming. While some look to Apple (AAPL) - Get Report to be Nintendo's savior, it may not be so easy as that.
Nintendo has come under increased pressure recently to rethink its strategy, which has been to make and sell its hardware and build software for that hardware, similar to what Apple has done with its iDevices and iOS, its mobile operating system. Hedge funds, in particular Seth Fischer of Oasis Management, have asked Nintendo's President Satoru Iwata to start making mobile games, despite Iwata's continued resistance to do so.
Fisher's point is that Nintendo sits on arguably the largest library of casual games, including Super Mario, Donkey Kong, Zelda and others. The people who grew up playing those games are now active on smartphones and tablets. This is a demographic whose engagement on the smartphone is worth more than $100 billion, according to Fisher, and it looks like Nintendo is missing out on a big opportunity.
While it looks like it would be an open-and-closed case, with Apple's strength in hardware (iPhone and iPad) and Nintendo's incredible library, not all consumers want to see a tie-up.
"I think it would be too problematic playing a game like The Legend of Zelda without a controller," Michael Urbanski, 30, said via text to TheStreet. "It [iPhone] would vastly change the gameplay. How are you to watch a TV while looking at an iPad to see where to touch as a 'controller'... doesn't work."
That mind set is part of the reason why the Wii U Gamepad would allow Nintendo to stand out from the likes of Microsoft (MSFT) - Get Report and Sony (SNE) - Get Report, with their Xbox and PlayStation consoles, respectively.
In a note to clients, Hudson Square Research analyst Dan Ernst noted this: "Nintendo said part of the failure of the Wii U has been their failure to create unique gaming experiences for the Gamepad, and that they were making such development a priority for the coming year. However, while many developers are interested in second screen gaming, the concept is not currently central to having fun with video games, and in this regard the Game Pad is more feature than benefit, and given the added cost to the system, it really more of a burden."
The console market is slowing, despite PlayStation 4 winning this go-round so far. According to data from NPD via TechCrunch, the console market has sharply contracted over the past seven years. In January 2007, North American console sales were approximately 2 million, with Nintendo's Wii selling more than 400,000 consoles. Fast forward to 2014, and the PS4 topped the market in January, with just 271,000 consoles sold. The Wii U has only sold around 49,000, nearly nine times less what it sold in January 2007.
TechCrunch noted the January 2014 data isn't official, since the data wasn't officially released, but it still shows that the console market, and Nintendo's position in gaming, has been cut down sharply no matter which way you look at it. The other companies which make consoles, Sony and Microsoft, have other businesses besides gaming -- Nintendo does not.
Update: In February, it appears that Nintendo's fate has turned around a bit. Nintendo sent out a press release noting both the Wii U and 3DS increased in sales year-over-year, with the Wii U growing 180%, thanks in part to the success of Donkey Kong Country: Tropical Freeze. Research firm NPD said sales rose 25% year-over-year, as the company sold 100,000 consoles.

Update 2: The Wii U may have some life to the platform after all, as sales of Mario Kart 8 have helped boost interested and awareness of the platform. Nintendo said it sold 1.2 million units of the game across Japan, Europe and the Americas in its first weekend, while industry research firm GFKnoted "Mario Kart 8 helped boost sales of Wii U in the United Kingdom by 666%, "of which 82% are the Mario Kart 8 Bundle."
Mobile games are increasingly taking a larger percentage of mind share, even if it isn't wallet share. Games such as Candy Crush by KingEntertainment (which recently went public), Simpsons Tapped Out from Electronic Arts (EA) - Get Report, and some offerings from Zynga (ZNGA) - Get Report have exploded in recent years, as the iPhone and the smartphone market have exploded app development. Apple has said previously it topped 50 billion app downloads, and Google has recently surpassed that number as well. Neither company breaks out the percentage of games that are downloaded from their respective app stores, but it's a healthy percentage.
In King's S-1 filing with the Securities and Exchange Commission, it said it had 93 million daily active users (DAUs) for Candy Crush, as of December 2013, so it's clear that mobile games are eating into traditional gaming. "We believe Candy Crush Saga, our top title to date, is one of the largest interactive entertainment franchises of all time," King said in the filing.
That said, mobile games are sold at much lower rates than traditional disc games. Despite the fact that Zynga has nearly 200 million monthly active users (MAUs), just 1.7% of them spend money on their games. In January, EA said that Simpsons Tapped Out had surpassed $130 million in lifetime revenue, a far cry from the annual $2.75 billion in sales Nintendo generates from its largest properties.
Angry Birds, perhaps the most well-known of all mobile games, helped Rovio surpass 1 billion downloads, but Ernst noted the company did less than $200 million in revenue from Angry Birds, with a third of that coming from merchandise sales. "By contrast, Pokemon X/Y alone did $460 million since its launch on the 3DS in October. However, with more and more casual and family gamers bypassing dedicated gaming systems -- not just handhelds, but consoles too, Nintendo's popular games and characters risk not being introduced to a new generation of gamers."
While not all of Nintendo's catalog would work on a smartphone or tablet, some of them would. Harrison Fox, 30, believes there's a number of Nintendo games that lend themselves to the mobile market. "Some would," Fox said, referring to Nintendo's games on mobile devices. "Mario Kart, Mario Party and Pokemon are ones that come to mind." According to Ernst, Nintendo's primary software drivers are Mario, Pokemon and Zelda, with $2.75 billion in annual sales, though that number is down from $6.75 billion at its peak.
Nintendo must do something to stem further losses. In January, the company warned investors that lower-than-expected sales of the Wii U would lead to an operating loss of 35 billion ye vs. prior guidance of 100 billion yen profit.
The 3DS has proven to be Nintendo's biggest success in hardware, though that was initially met with mixed reviews. A quick price-cut (from $249 to $169) and an expansion of games available for the system saved Nintendo from having a failure on its hands in mobile gaming. In January, the 3DS sold roughly 97,000 units, more than double the Wii U, despite having been released in March 2011 compared to November 2012 for the Wii U. Since the 3DS was launched in November 2011, Nintendo unveiled the 3DSXL, which has a screen that's 90% larger than the original 3DS, which has helped boost sales.
Despite that boost from the 3DS, Nintendo's fate had been tied to the Wii U, which has proved to be an unmitigated disaster. Ernst cut his estimates for the console to 22.9 million, down from 49.8 million consoles in a February note. As a result of weak Wii U sales and guidance cuts, Nintendo's market cap is down to roughly $17 billion, from more than $50 billion in 2010. Much of Nintendo's market cap is in cash, with the company holding 596.7 billion yen in cash, which equates to roughly 42% of the company's market cap. If Apple were indeed to buy Nintendo, it would only cost the company a fraction of its net $130 billion in cash, and alleviate some of the concerns about repatriating overseas cash, as Nintendo is headquartered in Japan.
Apple CEO Timothy D. Cook has said in the past that Apple isn't opposed to making large acquisitions if they fit into the company's plans. By bringing Nintendo under its umbrella, not only does it combine two companies with high regard for aesthetics, but it could give Apple a much needed boost in iTunes/Software/Services revenue. During Apple's fiscal first quarter, iTunes/Software/Services revenue rose 19% year over year to $4.397 billion.
Right now, Nintendo is facing a very similar situation that happened to Sega years ago. Sega, which made the popular Genesis system, could not keep up with Nintendo in the console market, and decided to become just a software maker licensing its popular games, such as Sonic the Hedgehog, to other consoles. "Sega had to face the music years ago and go from a hardware and software company to just software, and although their catalog of 'hits' was much more narrow, they still put out plenty of titles -- not all have been hits, and quite a few have been severe misses, but they're able to continue to stay afloat without having to do through the costly development cycle of hardware," said avid gamer Dan Peck, in an email.
Certainly, Nintendo needs to do something, and fast, given the marketplace right now. The temptation is there for Nintendo to move its entire library to mobile devices -- to the appeasement of Wall Street -- but that's not likely to solve the issue. "Unless an Apple/Nintendo device released a more traditional controller, most of these games would be rendered inert," Peck said. "And then at this point, they'd be making a games first, traditional controller, graphics intensive game console ... which is what the PS4 and Xbox One are, except because of the 'Apple tax,' it'd cost more."

The most likely solution for Nintendo seems to be the release of a limited number of games (Pokemon, Mario Kart, and perhaps a few others) for mobile consumption, while continuing to work on its next-gen gaming console and "non-wearables" strategy (something Iwata discussed at the company's investor meeting earlier this year), and entertain the thought of releasing some of its software (Mario, Zelda and a select group of others) to third-party consoles.
Because, in this game, there is no reset button.
-- Written by Chris Ciaccia in New York
>Contact by Email.