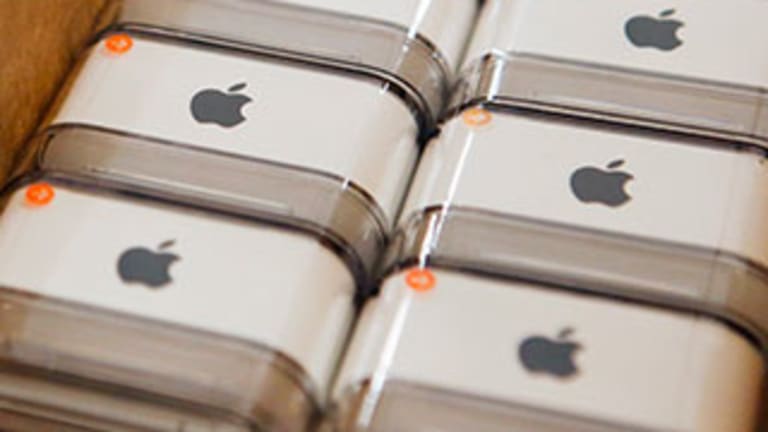 Apple and IBM Unveil First Part of Relationship -- What It Looks Like
Apple and IBM unveil the first benefits of their working relationship together, announcing 10 new apps for enterprises that should boost Apple's position in the workplace.
NEW YORK (TheStreet) -- Apple (AAPL) - Get Apple Inc. (AAPL) Report and IBM (IBM) - Get International Business Machines (IBM) Report have unveiled the first benefits of their working relationship together, announcing 10 new apps for enterprises that should help to boost Apple's position in the workplace.
Named IBM MobileFirst for iOS, the apps in areas such as travel, banking, insurance, government, retail and communications will bring IBM's data prowess to iPhone and iPad users in the workplace, as the bring-your-own-device trend continues to grow ever stronger.
Kathryn White, IBM vice president of marketing and head of sales for the Apple and IBM partnership, said this is an enormous moment for enterprise.
"It's opening up amazing opportunities," White said in an interview with TheStreet. "Marrying the apps with amazing back-end analytics is absolutely opening up different kinds of conversations. Organizations know they've underinvested in their employees, and oftentimes their customers have more capabilities than the employees do, so the intersection between mobility and analytics to change the way employees do their job is opening up all kinds of areas."
Bridget van Kralingen, senior vice president of IBM's global business services group, said in a news release:
"What we're delivering aims directly at the new quest of business-smart technologies that unlock new value at the intersection of big data and individual engagement. Our collaboration combines IBM's industry expertise and unmatched position in enterprise computing, with Apple's legendary user experience and excellence in product design to lift the performance of a new generation of business professionals."
"This is a big step for iPhone and iPad in the enterprise, and we can't wait to see the exciting new ways organizations will put iOS devices to work," said Phil Schiller, Apple's senior vice president of marketing, in a press release. "The business world has gone mobile, and Apple and IBM are bringing together the world's best technology with the smartest data and analytics to help businesses redefine how work gets done."
Apple and IBM teamed up earlier this year to help Apple sell more iOS devices in the workplace, something Apple CEO Timothy D. Cook has repeatedly talked about in earnings calls as being a benefit.
On the fiscal third-quarter earnings call, Cook said that Apple's partnership with IBM "will be one such catalyst for future iPad growth."
The partnership will bring more than 100 industry-specific enterprise solutions including native apps, developed exclusively from the ground up, for iPhone and iPad, as well as IBM's cloud services and data analytics expertise.
White said that even though the initial announcement included only 10 apps, many of them have cross-sector capabilities already.
"The retention app for insurance might be used for learning what your best sellers do," she said. "The customization of these apps are 70% the same for a particular industry, but the other 30% are data and analytics and workflow."
Here's the first wave of apps:
•    Plan Flight (Travel and Transportation) addresses the major expense of all airlines -- fuel -- permitting pilots to view flight schedules, flight plans, and crew manifests ahead of time, report issues in-flight to ground crews, and make more informed decisions about discretionary fuel.
•    Passenger+ (Travel and Transportation) empowers flight crews to offer an unmatched level of personalized services to passengers in-flight -- including special offers, rebooking and baggage information.
•    Advise & Grow (Banking and Financial Markets) puts bankers on premises with their small-business clients, with secure authorization to access client profiles and competitive analyses, gather analytics-driven insights to make personalized recommendations and complete secure transactions.
•    Trusted Advice (Banking and Financial Markets) allows advisers to access and manage client portfolios, gain insight from powerful predictive analytics -- in the client's kitchen or at the local coffee shop, rather than the adviser's office -- with full ability to test recommendations with sophisticated modeling tools all the way to complete, secure transactions.
•    Retention (Insurance) empowers agents with access to customers' profiles and history, including an analytics-driven retention risk score as well as smart alerts, reminders, and recommendations on next best steps and facilitation of key transactions like collection of e-signatures and premiums.
•    Case Advice (Government) addresses the issue of workload and support among caseworkers who are making critical decisions, one family or situation at a time, on the go. The solution adjusts case priorities based on real-time, analytics-driven insights, and assesses risk based on predictive analysis.
•    Incident Aware (Government) converts an iPhone into a vital crime prevention asset, presenting law enforcement officers with real-time access to maps and video-feeds of incident locations; information about victim status, escalation risk and crime history; and improved ability to call for back-up and supporting services.
•    Sales Assist (Retail) enables associates to connect with customer profiles, make suggestions based on previous purchases and current selections, check inventory, locate items in-store, and ship out-of-store items.
•    Pick & Pack (Retail) combines proximity-based technology with back-end inventory systems for transformed order fulfillment.
•    Expert Tech (Telecommunications) taps into native iOS capabilities including FaceTime® for easy access to expertise and location services for route optimization to deliver superior on-site service, more effective issue resolution and productivity as well as improved customer satisfaction.
When the deal was first announced, Apple and IBM said there would be at least 100 business software programs rolled out.
-- Written by Chris Ciaccia in New York
>Contact by Email.