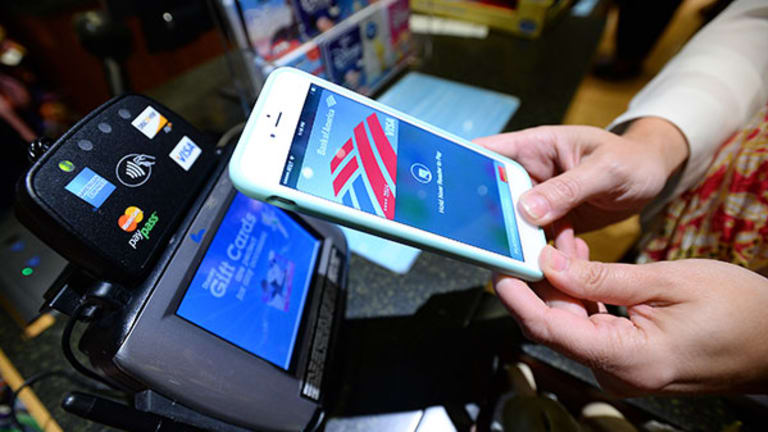 Apple and Google Look to Rewards to Win at Mobile Payments
The tech giants see loyalty programs as a way to persuade customers to use their mobile-payment services.
Updated from 9:33 to include more details shared at Google I/O.
NEW YORK (TheStreet) -- Google (GOOG) - Get Free Report and Apple (AAPL) - Get Free Report are spicing things up in the mobile-payments arena as both companies are expected to announce product updates at their developer conferences.
Google and Apple are just two of the many players in the increasingly crowded field of mobile payments. The two companies have a huge set of resources and funds to figure out what will attract consumers, make acquisitions, and form partnerships with retailers and banks.
The problem with mobile payments is that there isn't exactly a problem to be solved. Credit cards and cash work just fine. So Apple and Google are left trying to figure out why a consumer would use a mobile wallet instead. Both companies seem to be betting heavily on loyalty as the answer.
Apple Pay is already accepted at hundreds of thousands of stores, including retailers such as Macy's (M) - Get Free Report and Toys R' Us. Though Apple does not share current numbers on how many consumers use the service, CEO Tim Cook said earlier this year that more than 1 million consumers activated a credit and debit card on Apple Pay during the first 72 hours after it was released.
At its developer conference on Thursday, Google announced a new platform called Android Pay, which essentially acts like Apple Pay but for Android phones. Android Pay -- which Google's Sundar Pichai, senior vice president of Chrome, Android and apps, briefly discussed at Mobile World Congress in March -- will allow consumers to connect their credit cards so that they can pay for purchases with apps and in physical stores. Android Pay will use fingerprints to authorize transactions and will work at any store that has an NFC terminal (the same technology used with Apple Pay).
Some of the stores that will accept Android Pay include Best Buy, Nike, Gamestop, Macy's, Walgreens, Subway and a host of others.
"Android Pay is focused on simplicity, security, and choice," Google's VP of Engineering Dave Burke said at the conference.
It will also tie into retailers' loyalty programs, according to the New York Times. The Times also reported that Google will reintroduce Google Wallet as a peer-to-peer payments platform (money transfers among third parties that avoid traditional bank networks), similar to PayPal's Venmo.
Apple is also expected to make some payments-related announcements at its Worldwide Developer Conference, which starts on June 8, according to the
Times
. Apple will reportedly add a rewards program to Apple Pay.
Apple could not be immediately reached for comment.
Both Apple and Google likely hope that a mobile-payment platform will compel consumers to use other products and services from the companies, with Apple selling more devices and Google getting more targeted data. 
"At both I/O and WWDC, I'm expecting both Apple and Google to provide more details on how they will make their payment systems more attractive," Patrick Moorhead, president and principal analyst at Moor Insights & Strategy, said. "One of these ways (is) through a loyalty or rewards program. These are devised to incent use and add extra reasons to choose one payment method over another."