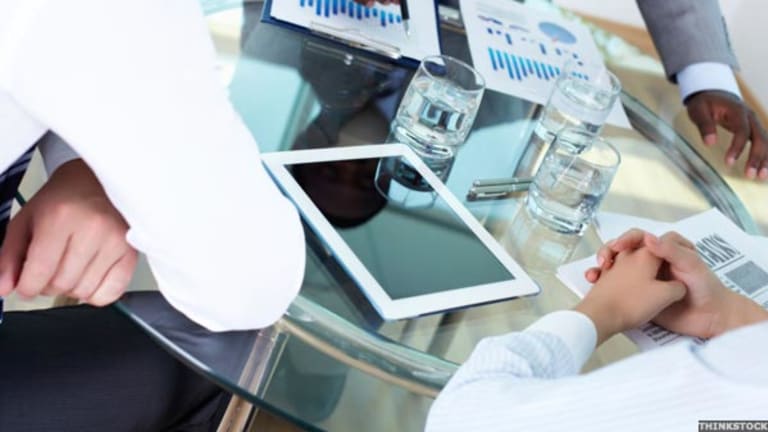 Apple, Amazon Tablets Can Co-Exist
Apple's strong iPad sales during the first quarter aren't likely to impact Amazon's Kindle Fire.
NEW YORK (
) -- Despite
Apple's
(AAPL) - Get Report
strong iPad results during its fiscal first quarter, it's unlikely the tablets will eat into sales of
Amazon's
(AMZN) - Get Report
Kindle Fire.
Rather, say analysts, the two devices can co-exist because they're fundamentally different from one another.
"I look at the products as serving different markets," said Morningstar analyst RJ Hottovy. "Apple products are skewing to higher demographics than the Fire, which has a more attainable price point."
Amazon, which reports its fiscal fourth-quarter earnings next week, is expected to report Kindle Fire sales of 4 million to 5 million. The Fire, which debuted in September with WiFi-only and a 7-inch color touchscreen, retails for $199.
The Kindle Fire's perceived success stands in comparison to other Android tablets, which have found it difficult to capture consumer interest in light of the iPad.
"All other Android tablets seem to be struggling and barely treading water," said Colin Sebastian, an analyst with Robert Baird & Co. "I think Kindle Fire is one of the only Android tablets that has the potential to really gain momentum."
Consumers eyeing the Kindle Fire may have been drawn to its strong ties to Amazon-related content, which provides an affordable way to access services such as books, movies and TV shows, said Benchmark analyst Dan Kurnos.
The 9.7-inch iPad, meanwhile, which announced record quarterly sales of 15.4 million on Tuesday, retails starting at $499. It's more of an all-purpose device than the Fire, with a camera, microphone and a larger selection of apps.
Initially, some analysts were concerned that Amazon's tablet could erode iPad sales, with Morgan Keegan's Tavis McCourt predicting the Kindle Fire could cost Apple $1 billion this holiday season.
But Apple CEO Tim Cook said the impact of the Kindle Fire and other inexpensive tablets was negligible on iPad sales.
"We don't really see these limited-function tablets and e-readers being in the same category," he said.
The only likelihood of Apple competing directly with Amazon would be the release of a budget iPad or the launch of a Kindle Fire with a larger screen, said Scott Tilghman, an analyst with Caris & Co.
"If Amazon does get a larger-format tablet into the market in the next couple quarters, as is speculated, then you would have a product that would be in direct competition to the iPad," he said. "You could increase screen size, move beyond WiFi to a 4G LTE-connected device, and of course, Amazon already has the content ecosystem in place."
-- Written by Olivia Oran in New York
>To follow the writer on Twitter, go to
.
>To submit a news tip, send an email to:
.