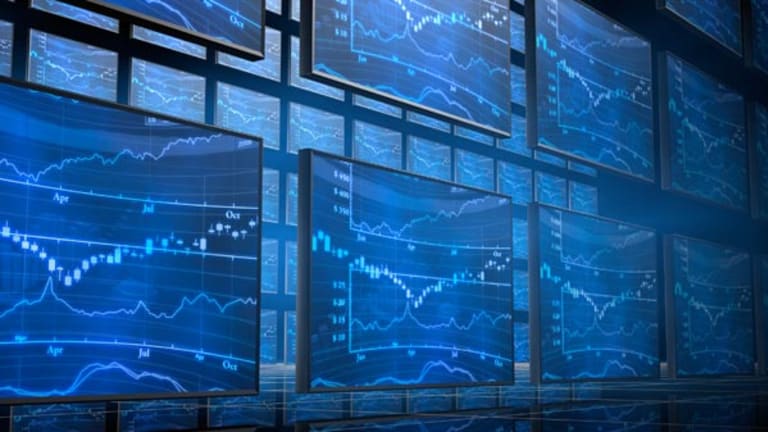 Publish date:
Apple Alum Wozniak Bangs Storage Drum
Apple co-founder and reality TV star Steve Wozniak predicts a storage revolution for the tech sector.
Apple co-founder and reality TV star Steve Wozniak predicts a storage revolution for the tech sector.
NEW YORK (
) --
Apple
(AAPL) - Get Report
co-founder Steve Wozniak says that the tech sector is on the verge of a revolution driven by low-power, high-performance disk storage.
Wozniak, who nabbed the role of chief scientist at storage startup
Fusion-io
earlier this year, touted the company's Solid State Disk (SSD) technology at an event at the New York Stock Exchange on Thursday.
"I think that we're on the verge of a revolution in computer storage architecture," explained the technology guru and reality TV star. "We have the fastest SSD-based on NAND Flash in the world."
SSDs, which offers faster data-access speeds than traditional hard disk drives, have been gaining momentum in the last couple of years, with companies such as
EMC
(EMC)
,
Sun
(JAVA)
, and
IBM
(IBM) - Get Report
pushing
the technology.
Fusion-io, based in Salt Lake City, recently received a strategic investment from
Samsung
and claims to have developed a better alternative to hard disk drives that also takes up less space.
"Fusion-io attracts me because they do more with less and that is the key tenet of my own engineering life," added Wozniak, who helped drive the home computer revolution during his time at Apple. "When things are clean and simple, it's easier to understand -- the best hardware and software products seem to have that simplicity."
Wozniak and Fusion-io used the Manhattan event to discuss the upstart's new partnership with IBM. The tech giant will use the startup's ioMemory product in its System x servers.
Under the terms of the Other Equipment Manufacturer (OEM) deal, IBM will sell Fusion-io's SSD technology as the IBM High IOPs Adapter. Targeting data-intensive applications in sectors such as social media, e-commerce and financial services, the PCI Express adapter fits into IBM's System x servers.
Because its product features fewer moving parts than hard disk drives, Fusion-io says the power and cooling costs of its SSDs are a fraction of the cost of traditional storage. This message certainly seems to be getting through. In addition to IBM, the startup also counts
Hewlett-Packard
(HPQ) - Get Report
and
DELL
(DELL) - Get Report
as OEM partners.
"We are developing Flash SSD technology and products," said Tom Bradicich, IBM's vice president of systems technology. "It's creating a new tier of storage -- it has tremendously more I/O operations."
IBM shares closed up $1.59, or 1.25%, at $128.39 on Wednesday, outpacing the broader advance in tech stocks that saw the Nasdaq rise 0.49%.
-- Reported by James Rogers in New York