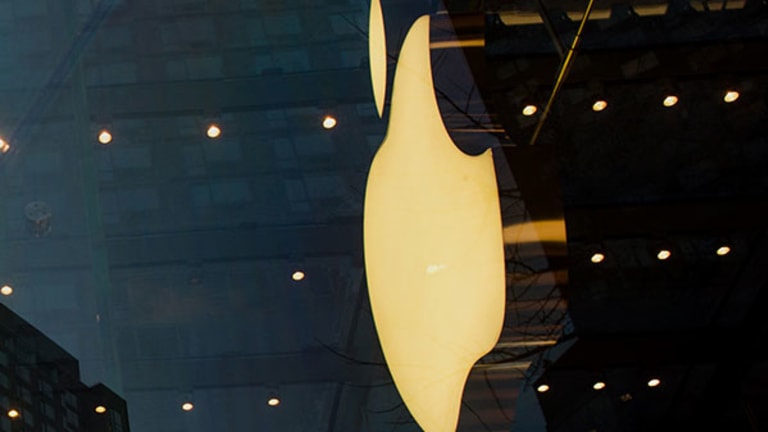 Another Fee Bonanza Looms for Apple Debt Underwriters
Now that Apple is planning to tap debt markets once more to boost dividend and buyback activity, Wall Street underwriters may be readying for a fee bonanza.
NEW YORK (TheStreet) -- When Apple (AAPL) - Get Free Report decided to finance some of its rising capital returns to shareholders in 2013, it prompted the biggest debt offering in corporate history at the time. Now that the company is planning to tap debt markets once more to boost dividend and buyback activity, Wall Street underwriters may be readying for a fee bonanza.
Goldman Sachs (GS) - Get Free Report and Deutsche Bank (DB) - Get Free Report, the lead underwriters of Apple's first debt offering, are the most likely to benefit from Apple's decision to return to credit markets.
In fiscal second-quarter earnings, Apple said it would increase its capital return to shareholders to over $130 billion by the end of 2015, with repurchases rising by $30 billion to $90 million. Apple also said it would boost its quarterly dividend by 8% to $3.29 a share.
"The Company also plans to increase its dividend on an annual basis. With annual payments of $11 billion, Apple is among the largest dividend payers in the world," Apple said.
More to the point for Wall Street investment banks, Apple said it would finance much of that increased dividend and share repurchase activity.
"To assist in funding the program, the Company expects to access the public debt markets during 2014, both domestically and internationally, for an amount of term debt similar to what the Company raised during 2013," Apple said.
In April 2013, Apple raised $17 billion in debt, a record for a non-financial corporate issuer at the time. Goldman Sachs earned $38.3 million in fees for that debt offering, while Deutsche Bank earned $9.3 million in fees.
Apple was advised well in that debt offering. The company's $5.5 billion in 10-year notes issued at an interest rate of 2.4% now trade at just under 93 cents on the dollar, given a rise in interest rates as the Federal Reserve began to change communications surrounding its bond buying in the Spring of 2013. Thirty year bonds issued at an interest rate of 3.85% now trade at under 90 cents on the dollar.
Goldman Sachs and Deutsche Bank declined to comment.
Investors Press Debt-Funded Buybacks
David Einhorn of hedge fund Greenlight Capital Management was the first large Apple shareholder to propose the company issue debt to fund dividend payments and share repurchases. Einhorn initially applauded Apple's decision in 2013 to finance capital returns to shareholders, however, in subsequent public appearances he has given Apple's capital management mixed reviews.
Through a spokesperson, Einhorn declined to comment.
Carl Icahn waged a public campaign to have Apple increase its repurchase activity in the fall of 2013. On Wednesday, Icahn took to Twitter to applaud Apple's move.
Icahn Enterprises owns over 4.7 million Apple shares, Securities and Exchange Commission filings show. At current market prices, that stake is worth around $2.7 billion, one of Icahn's largest single stock investments.
Some Apple investors such as the California Public Employee Retirement System (CalPERS) criticized Einhorn and Icahn's recommendations.
Apple's Earnings
On Wednesday, Apple reported second-quarter earnings of $11.62 a share, generating $45.6 billion in revenue. Analysts surveyed by Thomson Reuters were expecting the Cupertino, Calif.-based Apple to report earnings of $10.18 a share on $43.53 billion in revenue, as Apple continues to promise new products and new categories.
The company shipped 43.7 million iPhones, 16.4 million iPads, and shipped 4.1 million Macs during the quarter. Gross margin, a highly watched level for Apple, came in at 39.3%. On the conference call, Apple noted there are more than 800 million iTunes accounts, up from a previous number of around 600 million.
Apple CEO Timothy D. Cook noted on the call that Apple has sold more than 20 million Apple TV set-top boxes since the product was introduced.
For the fiscal third quarter, Apple said it expects revenue between $36 billion and $38 billion, with gross margins between 37% and 38%. Operating expenses will be between $4.4 billion and $4.5 billion, and it will have a tax rate of 26.1%.
From August 2012 through March 2014, Apple has spent $66 billion in cash on its capital return program.
Apple shares were rising nearly 8% to $566.58 on the better-expected earnings results and a decision by the company to split its stock 7:1.
-- Written by Antoine Gara, with Chris Ciaccia in New York.