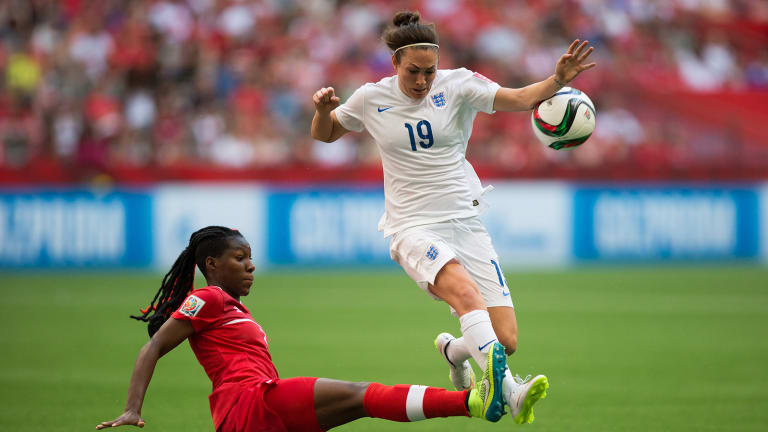 NEW YORK (TheStreet) -- Tonight the U.S. women's soccer team will play before another packed stadium as it challenges Germany for a spot in this year's World Cup final.
Arguably, its biggest fan won't be in the stands but behind the camera.
That honor goes to the Murdoch family's 21st CenturyFox (FOX) - Get Fox Corporation Class B Report, which owns the rights to broadcast this year's FIFA Women's World Cup. Fox has reason to cheer since the U.S. quarterfinal match against China attracted 5.7 million viewers, making it the most-watched non-final women's soccer match ever. The broadcaster has enjoyed a 23% ratings boost since the tournament began on June 12, according to an analysis by Bloomberg.
Fox, which has cornered the broadcasting rights for FIFA World Cups through 2026, is hoping that's a sign of more viewers to come.
But the Murdochs have paid a hearty fee for that privilege. As U.S. audiences for the World Cup have mushroomed, so have the bids to broadcast them. While ESPN scored the 2010 and 2014 World Cups for $100 million, Fox agreed to a $425 million deal for this year's contest as well as upcoming men's World Cups in 2018 and 2022. FIFA later awarded Fox the women's tournament in 2023 and the men's in 2026 without a bidding process.
Regardless of ratings, getting the rights to the World Cup affords Fox an opportunity to appear to viewers who may not be rabid fans, said Mark Friederich, chief operating officer at sports sponsorship consultants Navigate Research, which has worked with ESPN and Major League Soccer.
"The short-time finances might not work out, but it accomplishes other things Fox," said Friederich. A big sports tournament like World Cup can help the company in "establishing itself as a leader in the sports industry" and attracting viewers to FoxSports.com for other content.

Estimates by Fox suggested that the U.S.-China game on June 26 was the network's best Friday night prime-time rating since December 2014. In fact, combined viewers on FOX, FOX Sports 1 and FOX Sports 2 have averaged 42% above the ratings at ESPN and ESPN2 during the previous Women's World Cup in 2011.
Fox has benefitted from good timing.
This year's contest in Canada and last year's men's World Cup in Brazil both fell within the same time zone as the United States, making it easier to net big audiences, said Eoin Connolly, an editor at Sport Pro Media.
"It really helps being in that prime time slot," said Connolly, "because it mops up a lot of casual viewership."
But Fox won't always have those advantage. The 2020 World Cup is in Russia and the following contest, hosted in Qatar in 2022, will likely compete with NFL season for U.S. viewers' attention.
The English Premier League, which has achieved a healthy stateside viewership in recent years, has not faced a similar dilemma. It airs on Saturday and Sunday mornings, U.S. when broadcasters rarely have to worry about a major sport sporting event on another station.
"It's kind of one of the last things that can deliver a broad, universal audience - not just in the U.S., but around the world," said Connolly. "Whether that's still the case in 10 years time, we don't really know yet."
The U.S.-Germany semifinal match will be broadcast on Fox at 7 p.m. ET. The winner of tonight's contest will play the winner of Wednesday's match between England and Japan, to be shown on
Fox 1,
again at 7 p.m. ET.