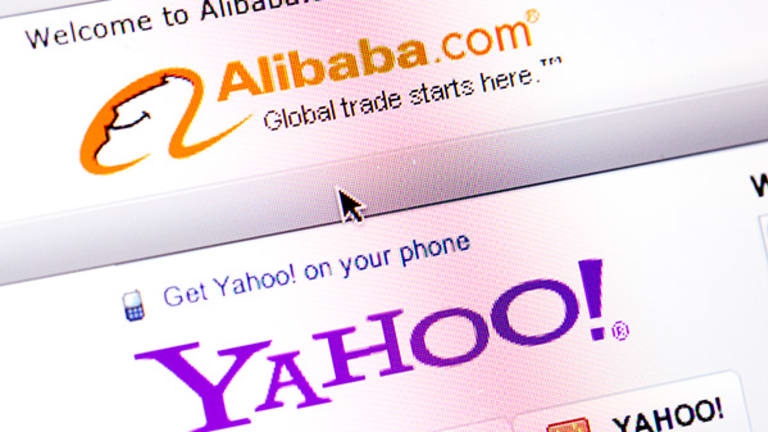 Analysts Are Optimistic Ahead of Yahoo! Earnings: What Wall Street's Saying
Yahoo! reports its fourth-quarter earnings on Tuesday, and analysts expect to hear good news.
NEW YORK (TheStreet) -- Yahoo! (YHOO) is expected to report on Tuesday fourth-quarter revenue of $1.19 billion, up from $1.09 billion in the third quarter, though profit is expected to decline to 29 cents a share from 52 cents.
Since the last quarter, Yahoo!'s shares have jumped about 21.7%, compared to the Nasdaq's 7.5% increase. The boost in confidence likely stems from Yahoo!'s $40 billion stake in Alibaba (BABA) - Get Alibaba Group Holding Ltd. Sponsored ADR Report spilling over to shareholders.
The 384 million Alibaba shares that Yahoo! owns are locked up until Sept. 21. Yahoo! is expected to provide more details on the distribution of shares on Tuesday's conference call. Yahoo! is expected to spin off its stake in Alibaba, which would return the focus to core Yahoo! goals, a positive outlook for shareholders.
During the past quarter, Yahoo! also acquired video ad platform Brightroll, which is expected to add to revenue. Additionally, a search partnership with Mozilla is thought to help Yahoo! gain search market share. Yahoo! is also working a mobile app network with its analytics company, Flurry, and rolling out new advertising services with Tumblr.
Here's what analysts said about Yahoo!:
Rob Sanderson, MKM Partners (Buy, $49 PT)
Owning YHOO into the quarter requires two beliefs: (1) BABA shares will achieve our $125 PT within 12-months; and (2) investors can see a pathway to shelter 65% of the tax liability from its remaining Asian investments and return this value to shareholders. Under this scenario, we believe there is still 15-20% upside in the stock independent of any value from core YHOO. We will wait to learn more on mechanics of the spin and adjust our target (or opinion) as necessary.
There is potential for a "messier" distribution than investors would like. We would advise traders to consider taking profits on half of long positions, looking to revisit should the stock retreat on the distribution details.
We think management truly believes they are turning the business around. We've noticed a significant difference in energy and activity at HQ. They have definitely made product improvements, have created a position in mobile and have acquired and since nurtured one of the more interesting social media properties. Metrics disclosed last quarter highlight a growth story trapped beneath significant declines in the core PC-display business.
Mark May, Citi (Buy, $63 PT)
Despite negative press coverage and consensus forecasts that call for only 2% net revenue growth (ex-FX) this year, we believe core Yahoo! is showing green shoots as fast-growing mobile revenue becomes increasingly material to overall results.
Over the past few years, when looking at Yahoo! investors have been almost entirely focused (and rightfully so) on the company's Alibaba stake and the associated value creation from monetization of that asset. However, with BABA's IPO behind us and an announcement with respect to tax-free monetization of YHOO's remaining BABA stake expected to be forthcoming on its 1/27 earnings call, we believe the focus will increasingly move to the underlying trends at core YHOO-a story we believe is gradually improving as fast-growing mobile revenue becomes increasingly material to overall results.
Heath P. Terry, Goldman Sachs (Neutral, $46 PT)
We expect Yahoo to report 4Q revenue slightly ahead of consensus and adjusted EBITDA in line as strength in search, mobile traffic growth, and early mobile native ad monetization offset declines in desktop traffic and pricing when Yahoo reports on Tuesday.
While expected details on the structure for tax-efficient monetization of Yahoo's Alibaba ownership remains the focus point for investors given the potential for as much as $15/share in incremental value should the company be 100% successful, management's progress in driving engagement, particularly in search, along with the recent effort to refocus monetization around mobile, potentially offer as much long term value to shareholders. In the interim, we remain Neutral rated.
Victor Anthony, Topeka Capital Markets (Buy, $60 PT)
We are expecting an in-line quarter with upside risks to estimates due to share gains in search as a result of the Firefox win, and greater mobile traction. The plan to avoid tax leakage on the Asian assets will dominate interest on the call and is likely to serve as a meaningful catalyst for the stock.
-- Written by Rebecca Borison in New York
>Contact by Email.