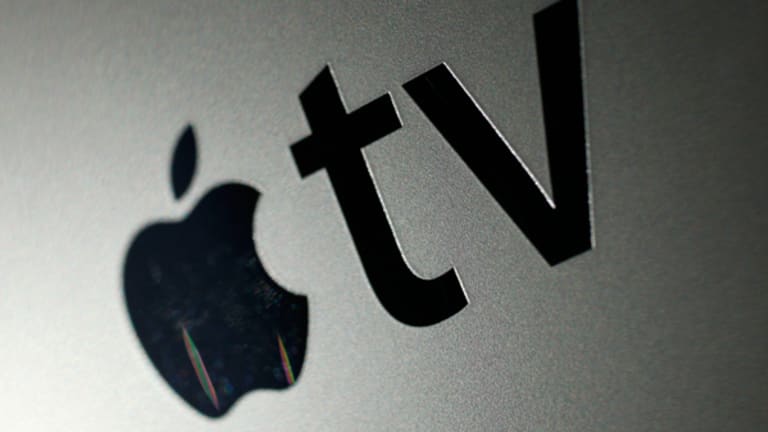 An Apple Acquisition That Could Squash Netflix
The more you think about, the more sensible the idea of Apple moving aggressively into streaming video becomes.
NEW YORK (TheStreet) -- Given that Apple (AAPL) - Get Apple Inc. (AAPL) Report has shown it's willing to dabble in large scale M&A, the big question is what does it do next? While there's work for Apple to do with respect to digital music and streaming radio, the next frontier could very well end up being streaming video.
Also see:10 Best Apple Products Ever
If Apple goes there -- and there's no shortage of rumors speculating it will -- the logical place to look to propel the strategy is Hulu. Here's what we know about Hulu:
The owners of Hulu might actually be able to execute a Hulu grand plan using Apple as a conduit, however the question is ...
Is this -- streaming video -- an area Apple wants to get into?
I'm on the record -- it makes more sense for Apple to focus on hardware and leave streaming video to others. But, clearly, Tim Cook's willing to alter focus because, there's no doubt Apple's not just buying Beats for the headphones. So, if Apple's going to expand (and revive) its digital music empire, we have to consider the possibility it will do likewise with other streaming media.
Don't forget -- we keep hearing that Apple wants to either enhance the existing Apple TV with content and/or build an actual television set with a significant content component, but can't because major programmers aren't willing to corporate. If there's any truth to this speculation, we must consider how Apple gets it done. A takeout of Hulu could very well represent the endgame.
If Apple buys Hulu it would, ideally, become the cornerstone of Apple TV. If that happens, Hulu's owners would be smart to convene with the rest of the nation's big programmers and agree to sell the most premium content to Apple.
Apple certainly has more cash than Netflix -- or any other streamer for that matter -- will ever have on the books. So it shouldn't come as a surprise to regulators, who might be concerned the programmers are colluding to favor Apple over others, particularly Netflix, that Apple suddenly starts winning all the deals. It wouldn't be collusion; rather it would be that Apple simply decided to open its war chest and get in the game. Thus, it changed the game and we have no choice -- financially -- but to sell the best programming to Apple, the most able and highest bidder.
This would not be a major departure from what the programmers -- across the board -- are doing with Hulu now. Hulu, not Netflix or Amazon.com (AMZN) - Get Amazon.com, Inc. Report, gets a ton of primetime programming within hours after it airs. Everything from broadcast network shows to cable hits such as The Daily Show and Colbert Report. By selling to Apple, Hulu's owners make the brand sexier and, in a perfect world, work out a sweet advertising revenue share deal to compensate for cord cutters that result from Apple's foray into streaming.
If you're transitioning away from the current model over time (and that's exactly what the major programmers are doing and positioning themselves to do), doing it in partnership with Apple makes all the sense in the world. The TV guys are smart and savvy enough to ensure Apple doesn't take them for all they're worth the way Steve Jobs did the record labels when he launched iTunes and iPod. The programmers will get a lucrative deal because they're smart and, if Apple's as serious as rumored about marrying content with Apple TV, they have considerable leverage.
Hulu's having no trouble selling ad inventory. From what I understand, it's sold out and dying for more content so it can continue to fill ad space. So, if Apple buys Hulu, it's getting a dynamic, you can even call it a mature advertising business it can integrate horizontally, vertically and upside down with everything from its cross-platform devices and its underwhelming (relative to Google (GOOG) - Get Alphabet Inc. Class C Report and Facebook (FB) - Get Facebook, Inc. Class A Report) iAd/mobile advertising network.
From there, it becomes even more clear than it is now that all Netflix has is its original programming. With that reality spotlighted, we would find out just how valuable that original programming is. Apple could drive millions of free users and subscribers to Hulu who have never even heard of it or simply don't understand how good it is (it isn't necessarily marketed well or aggressively by the programmers). If people don't move to or add Hulu, then maybe Netflix becomes an attractive acquisition target as well and becomes Apple's primary original programming contributor to Hulu, the cornerstone of the new Apple TV.
If that's not the case and Netflix's original programming is propped up by little more than hype ... well, then Netflix could be in for a world of hurt. If Apple were to buy Hulu and move aggressively, it's not hyperbole to think the combo could "squash" Netflix. We've seen Netflix's business on the brink of unraveling overnight before.
--Written by Rocco Pendola in Santa Monica, Calif.
>>Read More:
5 Things Apple Doesn't Want You to Know
Apple Has Opportunity to Succeed Where Pandora Has Failed
Here's Why Apple Can't Dawdle in Replacing Leadership
Rocco Pendola is a full-time columnist for
TheStreet
. He lives in Santa Monica. Disclosure: TheStreet's editorial policy prohibits staff editors, reporters and analysts from holding positions in any individual stocks.