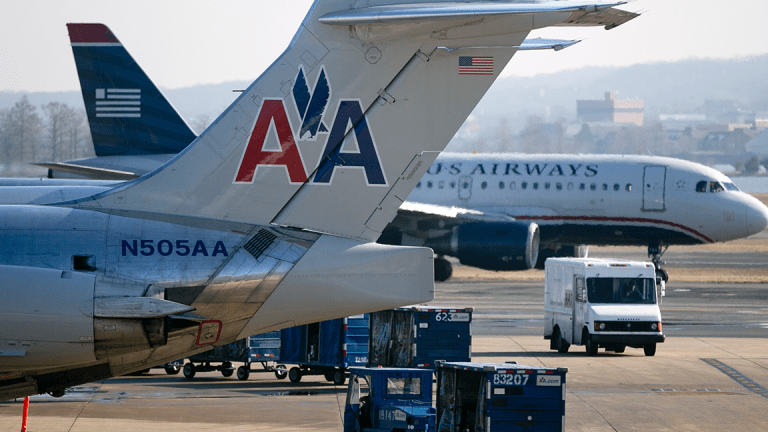 American Airlines Grounds Boeing 737 MAX Jets Through Aug. 19
Boeing and American see slight after-hours losses as largest airline again extends grounding of aircraft involved in fatal accidents.
Just a week after extending its grounding of Boeing (BA) - Get Report 737 MAX jets, American Airlines Group  (AAL) - Get Report has again pushed out the deadline for letting the controversial aircraft take off with its passengers. 
"We have made the decision to extend our cancellations for the Boeing 737 MAX aircraft through Aug. 19," wrote American's chief executive Doug Parker and President Robert Isom on Sunday morning in a statement.
Last Sunday, April 7, the airline said it was holding its fleet of 24 Boeing 737 MAX jets through June 5, causing some 90 flight cancellations a day and reworking prior reservations. The airline now says 115 flights per day -- about 1.5% of American's total daily summer flying -- will be canceled through late August. The 737 MAX was involved in two fatal jet crashes since October, one over Indonesia and one over Ethiopia, killing hundreds of passengers and crew members. 
As American, the world's largest airline by several measures, revealed the delay, Boeing fell by about 49 cents in after-hours trading to $379.15. But that was after jumping at Friday's close by nearly $9.50 to $379.64 on the New York Stock Exchange following news of successful trial runs with a potential new fix for the aircraft.
Despite earlier saying that American believed based its work with the Federal Aviation Administration and Boeing that the MAX jets will be recertified by late spring, Parker and Isom now feel that by extending cancellations through the summer the airline can plan more reliably for the peak travel season.
"Once the MAX is recertified, we anticipate bringing our MAX aircraft back on line as spares to supplement our operation as needed during the summer," they said. "As we prepare for summer, our focus is around planning for the busiest travel period of the year."
The airline says it continues to work with Boeing, the FAA, Department of Transportation, National Transportation Safety Board, and other regulatory authorities to eventually use the Boeing jets. 
American fell about 8 cents in after-hours trading to $34.61, after losing 12 cents on the Nasdaq at Friday's close to hit $34.69.